Politics aside, meeting professional viewers watching the virtual Democratic National Convention may, understandably, have experienced flash backs to roaming the aisles of IMEX America during the creatively staged state roll call on Tuesday night. And, they may have learned a thing or two about hybrid meeting production values along the way.
More DNC behind the scenes insights from Wisconsin Center District.
Show Time
First, let's talk about the pivot from a chaotic, in-person convention marked by long political speeches and lots of jostling in a cavernous hall for a view of the action. The necessary shift to a virtual format started with a "Behind the Rhyme" pre-show featuring celebrities and DJ Beverly Bond. It was streamed live on Twitch and archived for on-demand viewing on demconvention.com.
The formal convention program was a tightly produced mix of pre-taped and live presentations, some as short as two minutes and optimized for prime time viewing on Pacific and East Coast. Sizzle reels played highlights from the last 44 years. And performers as diverse as Fort Worth, Texas-based soul singer Leon Bridges; rising star from Easton, Maryland, Maggie Rogers; Springfield, Ohio-based star John Legend; and newly renamed country pop band The Chicks from Dallas, Texas.
The host city of Milwaukee showed off with sporting event-style panoramic shots and hot takes from inside Wisconsin Center District.
The entire package resembled a variety show with the audience chiming in live on the platform and on Social Media feeds such as Twitter. "The stage for the acceptance speech was awesome," said Cindy Brewer, principal with Memphis, Tennessee-based Leo Events. She called out the socially distanced head nod between the newly minted official Democratic presidential and vice presidential candidates and the wave to Zoom fans for emotional production values. "All content was short and easy to enjoy," she said.
A Sense of Place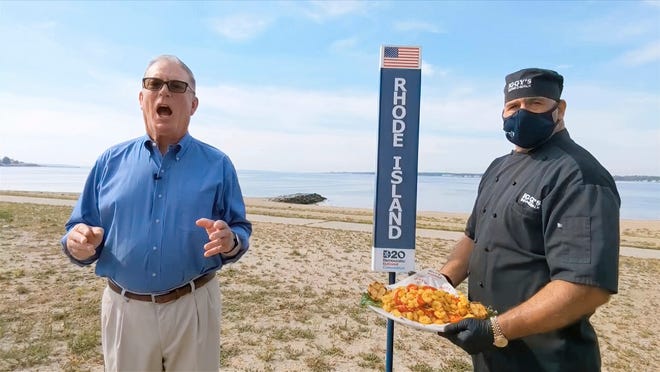 The segment that was near and dear to many travel industry hearts was the stream of videos from all over the country that featured mayors, celebrities, scenery, and in some instances food from each of the districts as they announced their choice for presidential candidate as part of a visual roll call.
The Washington Post columnist Alexandra Petri called the 30-second vignettes "a thing of beauty" and demanded that henceforth all roll calls be conducted virtually. Brewer agreed. "It was a joy to watch. They should never do that live again. The roll call nailed recognition."
The Twitterverse particularly salivated over Rhode Island's video of a masked chef with a giant platter of fried calamari and labeled the Northeastern destination the "calamari comeback state."
Somewhere, there's an amazing team of #eventprofs who just pulled off the 1st virtual #DNC2020. They'll sleep for the first time in weeks. You'll never know their names but they figured out a way to bring people together to spark change during a pandemic because that's what we do

— Anh Nguyen, CMP (@atnguyen) August 21, 2020
Anh Nguyen, principal of Spark Event Management sent kudos to the event professionals behind the scenes who pulled it all off.
Other segments included glimpses of the Welcome to Fabulous Las Vegas Nevada sign, farmers in cornfields in Iowa, a fisherman in Alaska, historic Edmund Pettus Bridge in Alabama.