If you aren't a native to Orlando—which, as it turns out, not many of the city's residents are—it can be difficult to disassociate the city with Disney World, nightly fireworks and the mouse who is so popular he need not be named.
But if there's one thing that should be known, it's that reducing Orlando to these internationally known attractions would be a disservice to not only the city, but also to those planners who opt out of visiting because they seem to be all the city offers.
More: Greater Orlando: The Yummiest Place on Earth
Underneath the attractions, which reel many people in like babies to candy, is a destination unlike anywhere else; in addition to all there is to explore, Marriott's Florida Convention & Resort Network properties are a destination in themselves. There is adventure, relaxation, family fun, team-building activities and meeting space in abundance. Disneyland may be the happiest place on earth, but Orlando is a close second.
Grande Lakes Orlando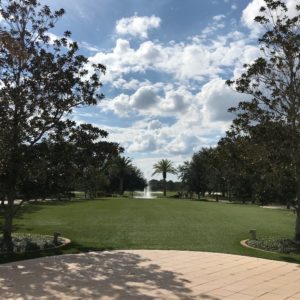 The 500-acre Grande Lakes Orlando resort comprises the 1000-room JW Marriott Orlando and the 582-room Ritz-Carlton Orlando. Eleven lakes and two handfuls of adventure are sitting there, waiting to be explored by meeting planners and their attendees.
While the amount of meeting space is impressive—more than 147,000 sq. ft., which visiting groups can utilize at both properties—the beautiful outdoor space is where the meetings at Grande Lakes really shine. The lakes on the property serve as perfect backdrops to the Astro-Turfed outdoor venues. One of the spaces, Da Vinci lawn, sits directly in front of a beautiful waterfall, ideal for attendees looking to add some pizzazz to their Instagram feeds.
And did we mention adventure? Yes, we did, and there's plenty of it. Kayak or canoe along Shingle Creek on a two-hour guided eco-tour; fly-fish with Capt. Mark Benson, the property's director of fly-fishing (yes, that's his title); mountain bike the 2-mile Hidden Lake trail; be one with the falcons at the falconry school, which can accommodate groups of up to 50; or play the 18-hole golf course that runs along the back end of the property. And enjoying those activities is merely dipping toes in the waters of the many attractions.
Unique to Grande Lakes is Whisper Creek Farm, a 7,000-square-foot vegetable garden, where much of the property's fruit and vegetable supply is grown, including edible flowers, bananas, peppers, cucumbers and sweet potatoes. The farm is also home to hen, quail and bees, whose honey is used in many dishes and in various spa treatments. For a true farm-to-fork experience, a 11,000-square-foot event space adjoins the farm, where plated dinners can be served by the chefs, right in front of guests. The space can be bought out for groups of up to 800.
Disney Springs
Spending all your leisure time in a hotel room isn't much fun, and Orlando is the last place you want to do that. Enter Disney Springs, the ultimate shopping and dining destination, with 60 places to eat, 102 shops, and 21 daily events and shows. Attendees have access to all this, and at a bargain through Disney Springs' Show Your Badge discount program. All attendees need to do it present their meeting/convention name tag to any participating food, beverage or retail location, each of which offers its own special discount.
The Disney company is known for offering memorable experiences, and Disney Springs has them aplenty, including House of Blues Music Hall; Aerophile, an air balloon adventure that holds up to 29 people; and NBA Experience, an interactive option that puts visitors on the court.
Gaylord Palms Resort & Convention Center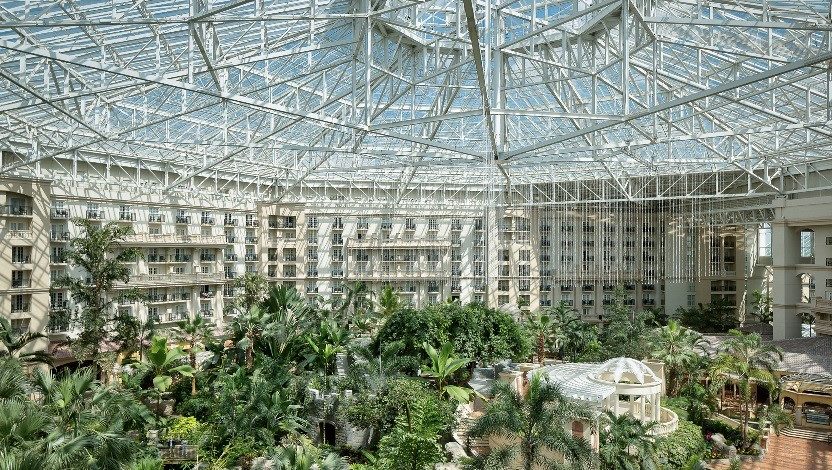 Gaylord Palms is one of five Gaylord Convention Resorts. Despite being the smallest of the bunch, the property is still massive. Boasting 1,416 guest rooms and 400,000 sq. ft. of meeting space, it is the epitome of "having it all in one place."
The Gaylord Resorts brand knows about the life of planners, including their need to skip meals and coffee breaks to make sure their event is going according to plan. Gaylord has tried to boost planners with its butler service, which enables them to devote more time to their work.
If you're on or near Gaylord Palms from Nov. 16 to Jan. 6, you'll want to stop by Ice, an incredibly icy Florida attraction. Guests will witness 2 million pounds of ice being transformed into Christmas symbols, lifelike figures and architecture. Be sure to layer up, as the space is kept at 9 degrees.
In mid-2021, the property will expand, adding 302 guest rooms and 90,000 sq. ft. of meeting and convention space.
Renaissance Orlando at SeaWorld
Renaissance Orlando at SeaWorld is mainly an event- and culinary-focused property; it has a smaller room count (781) than some other large properties, but a whopping 215,000 sq. ft. of space. One especially fun and innovative team-building activity there is the hands-on cooking experience, in which attendees can sit alongside the chef's kitchen and even get the chance to make dishes.
And the aesthetically pleasing ballrooms are something to get excited about. The Peninsula ballrooms are the newest additions to the event space. Floor-to-ceiling windows, walls decorated with a modern feel and linear lighting make for a very beautiful space.
The property doesn't allow processed, prepackaged food to enter the building—there is a "scratch-cooking mentality," where everything is prepared and cooked on site. Chefs cure their own meats and grind their own chicken; the salmon is top-notch, coming in from Scotland three times a week.
JW Marriott Bonnet Creek Resort & Spa
Situated near a 70-acre nature preserve and scheduled to open in February, JW Marriott Bonnet Creek will be the latest offering by the brand. The 516-room property has more than 50,000 sq. ft. of meeting space, but there's more, including the sixth-floor activity area, which includes a nine-hole miniature golf course, a rock-climbing wall and outdoor yoga. The ninth-floor terrace is the perfect place for receptions, during which attendees can watch the nightly Disney fireworks.
Satellite check-in makes life easier for planners and attendees, as groups can check in before they ever step into the lobby. And a strong focus on culinary makes the experience all the better. JW Bonnet Creek will have seven dining options, with a signature steak and seafood restaurant, as well as a biergarten.
Walt Disney World Swan and Dolphin
Walt Disney World Swan and Dolphin Resort is a Disney-branded Marriott property—so yes, you'll get your Marriott Bonvoy points. Separated into two different properties—Swan and Dolphin—each carries its own distinct mark. The 2,270-room Dolphin Hotel is the larger of the two. Enjoy unlimited wining and dining at Swan and Dolphin's 10th annual Food & Wine Classic, set for Nov. 8–9.
More: Walt Disney World Swan and Dolphin Resort to Add Hotel Designed for Groups
In March 2021, The Cove will join Swan and Dolphin, which will add 349 guest rooms and more than 22,000 sq. ft. of meeting space, giving the complex a total 2,600 guest rooms and 350,000 sq. ft. of event space. The Cove will be a more meeting-oriented property, with nearly half of the rooms being business suites that can be transformed from traditional rooms into meeting spaces with conference tables and built-in audiovisual capabilities.
Orlando World Center Marriott
Orlando World Center Marriott is one of the largest properties in Orlando, with 2,009 guest rooms and 338,306 sq. ft. of meeting space, as well as the largest ballroom in the state, at 105,000 sq. ft.  The emphasis on natural light is noticed upon entering the property's spaces. Recreational facilities include an 18-hole golf course, a gym and two 200-foot waterslides.
Speakeasies have been trending in the last of years, including in hotel properties—but none are quite like the one at Marriott World Center. On the west side of the property, a secret door provides access to The Stockroom (it served as a stockroom for 20 years). Designed like a speakeasy, this intimate, Prohibition-style bar features dim lighting, brick walls and cushy sofas. Its specialty is craft cocktails, served as blues music plays. It's available only to groups, and can fit up to 50 people. To say it's "hidden in plain sight" isn't just an expression.