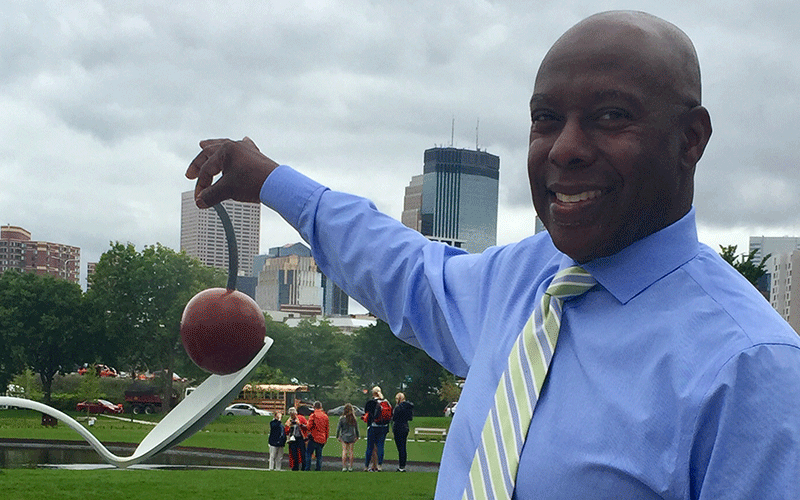 Meet Minneapolis
President and CEO Melvin Tennant took part in the time-honored tradition of taking his selfie at the newly reopened Minneapolis Sculpture Garden after its two-year, $33 million renovation in June 2017. Spoonbridge & Cherry, the iconic sculpture, is the No. 1 spot to get your photo taken in Minneapolis, City by Nature. Added this year, the bright blue rooster, Hahn/Cock, is another selfie-taking hit. This crown jewel of the city's park system unites two of Minnesota's most cherished resources—its parks and its cultural life. Since opening in 1988, the 19-acre garden has welcomed millions of visitors, showcasing more than 40 works. A partnership between the Walker and the Minneapolis Park & Recreation Board, the garden is must-see destination for visitors of all ages.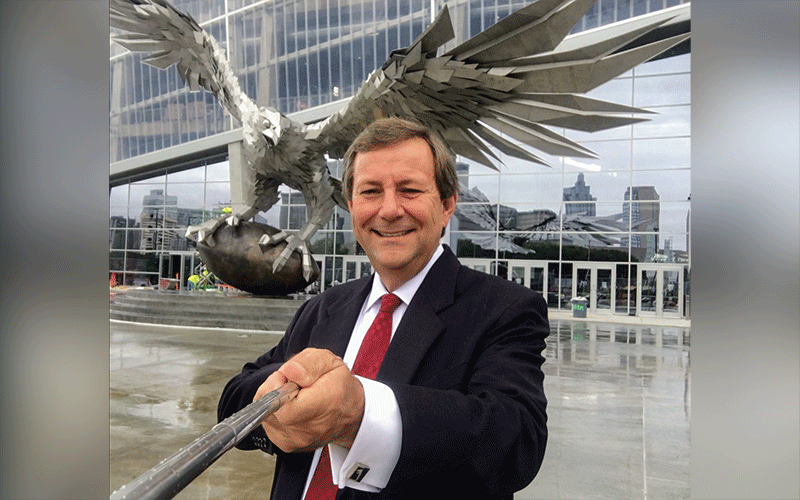 Atlanta Convention and Visitors Bureau
President and CEO William Pate welcomes the city's newest Downtown venue, Mercedes-Benz Stadium. Along with the iconic falcon statue, the world's largest bird sculpture, the stadium will host a slew of major events over the next several years, including the College Football Playoff National Championship in 2018, Super Bowl LIII in 2019 and NCAA Men's Final Four basketball championship in 2020. Mercedes-Benz Stadium will host private events, giving attendees one-of-a-kind views of the city and access to a 360-degree HD video halo board adorning the unique oculus roof.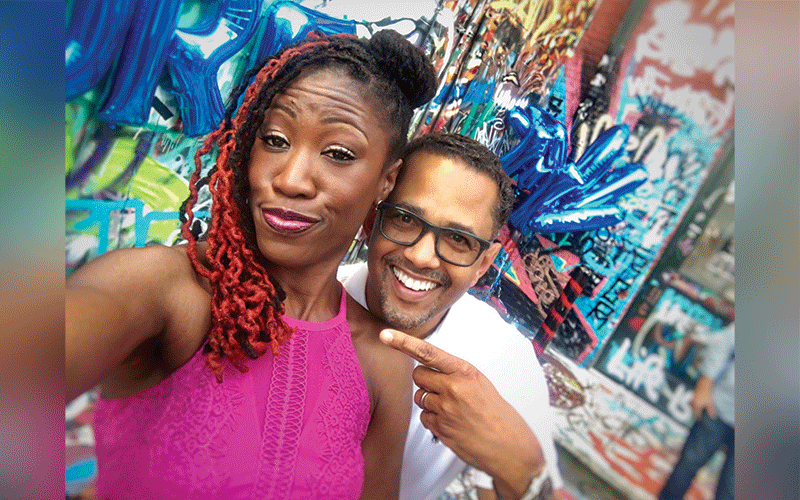 Visit Baltimore
President and CEO Al Hutchinson and Vice President of Marketing and Community Affairs Dionne Joyner-Weems visit Graffiti Alley, a wall-to-wall covered alley that positive local graffiti artists use as a canvas. Baltimore's Station North Arts and Entertainment District is an oasis of color and the perfect spot to take a vibrant #MyBmore selfie when visiting Charm City. The art adorning the alley is ever-changing as the walls are constantly being sprayed over with fresh coats of paint.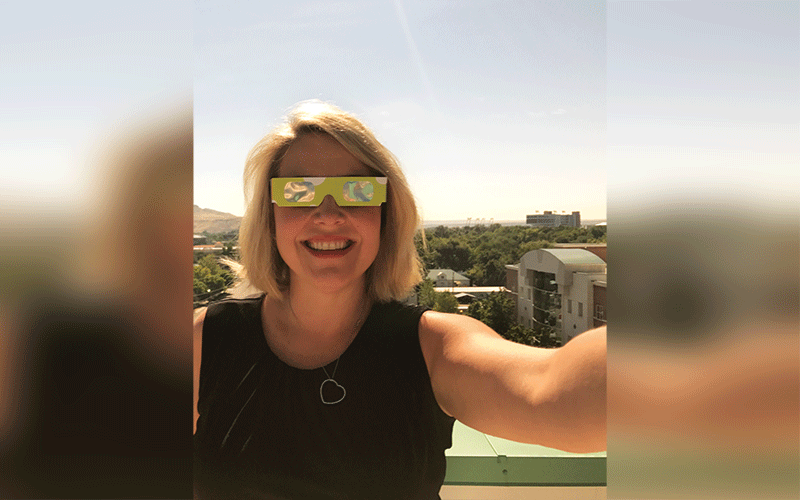 Boise Convention & Visitors Bureau
Executive Director Carrie Westergard is viewing the solar eclipse on the rooftop of one of the area's newest boutique hotels that opened in 2017, Inn at 500 Capitol. This hotel, along with two other new hotel openings, has added 40 percent more guest room space to the downtown inventory this year. Along with the newly expanded Boise Centre convention center, which nearly doubles event capacity to more than 80,000 sq. ft., this opens the possibility to much more of the potential meeting market. In the distance, you can see Albertson's Stadium, home of the Boise State Broncos football team and the famous blue turf located on the Boise State University campus.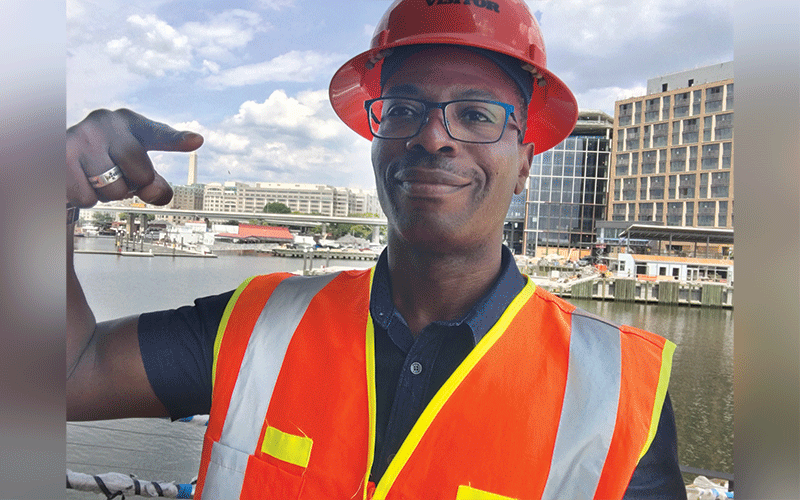 Destination DC
President and CEO Elliott Ferguson was photographed on a hard hat tour of The Wharf. Located just south of the National Mall, The Wharf will completely transform D.C.'s prized Southwest Waterfront. Opening Oct. 12, the 1-mile-long, $2 billion development will add three hotels, more than 15 restaurants, four public piers, a water taxi and a new concert venue that accommodates 6,000 people. Meeting planners will have an entire new area of the nation's capital to explore, from rooftop event spaces to fire-lit rooms. Exquisite views of the Potomac River and landmarks including the Washington Monument await!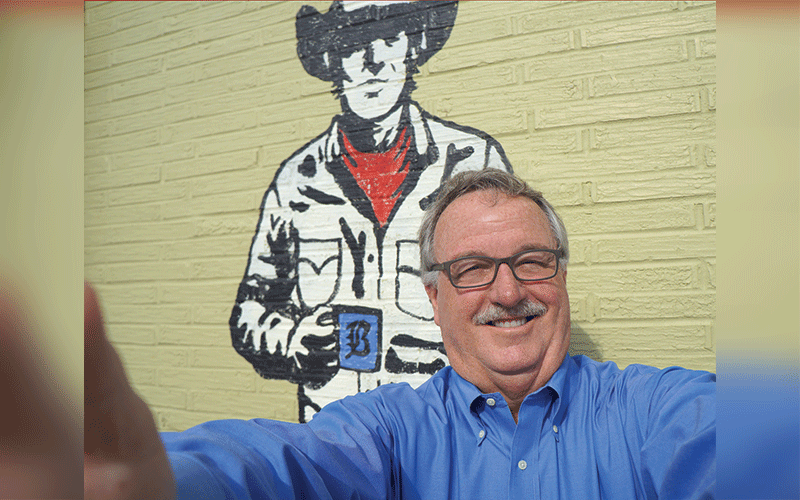 Fort Worth Convention and Visitors Bureau
President and CEO Bob Jameson poses in front of the wall of the popular Near Southside coffee shop, Brewed. The "Love the Fort, Worth The Love" mural has quickly become a favorite selfie stop among locals and visitors. Hundreds have stopped to snap a picture with the rugged cowboy, symbolic of Fort Worth's Western heritage and growing creative class. Snap a selfie and tag #LovetheFort next time you're in Fort Worth!
Visit Indy
President and CEO Leonard Hoops reminds visitors that The Indy 500 is the world's largest annual single-day sporting event, drawing as many as 350,000 fans to Indy Motor Speedway on race day! The winner must make 800 left turns and take the checkered flag before anyone else. And in Indy, USA Today's No. 1 convention city, we like to say that there's a surprise around every one of those turns.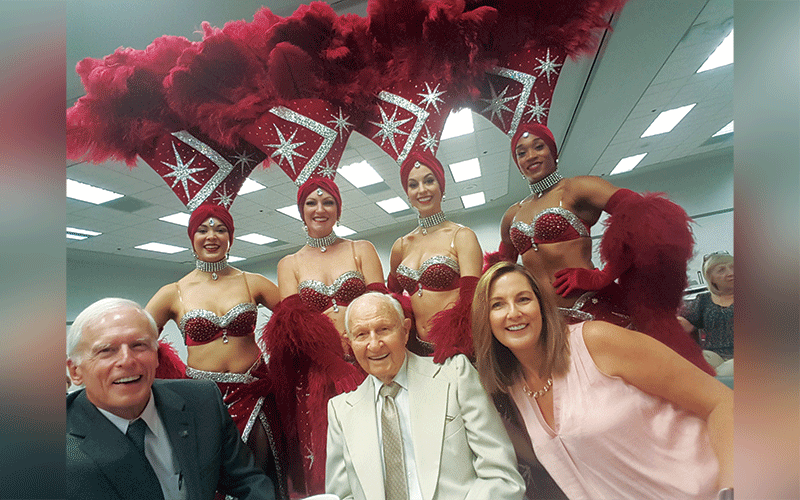 Las Vegas Convention & Visitors Authority
LVCVA celebrates what makes Las Vegas truly special, the dedicated hospitality-industry employees who welcome the destination's nearly 43 million annual visitors! This August we had the honor of celebrating our eldest employee, WWII veteran Bill Darwin. Bill turned 100 years-old on August 19. Since starting with the LVCVA's registration services in 2008, Bill has worked at more than 100 Las Vegas-based shows, often at the request of clients. Bill (center) is pictured with LVCVA Vice President of Customer Experience Hugh Sinnock and LVCVA Chief Human Resources Officer Barbara Bolender, along with several of Las Vegas' iconic brand ambassadors. Happy birthday, Bill!
San Francisco Travel
President and CEO Joe D'Alessandro says even though San Francisco has many famous sections—North Beach, Chinatown, the Mission District—the city's unique ethnic neighborhoods also include side streets and alleys that offer very different perspectives. Here you'll find interesting shops where English is a second language, but visitors are always welcome. In this case, he stopped in Golden Gate Fortune Cookie Factory, which has been supplying fortune cookies to the world for nearly 70 years. Did you know that the fortune cookie was invented in San Francisco and first served in the Japanese Tea Garden in Golden Gate Park? Walking tour companies can share discoveries like this with groups large and small. Depending on the tour, the itinerary may include history, culture, food or all of the above. It's all part of the intricate tapestry that is San Francisco.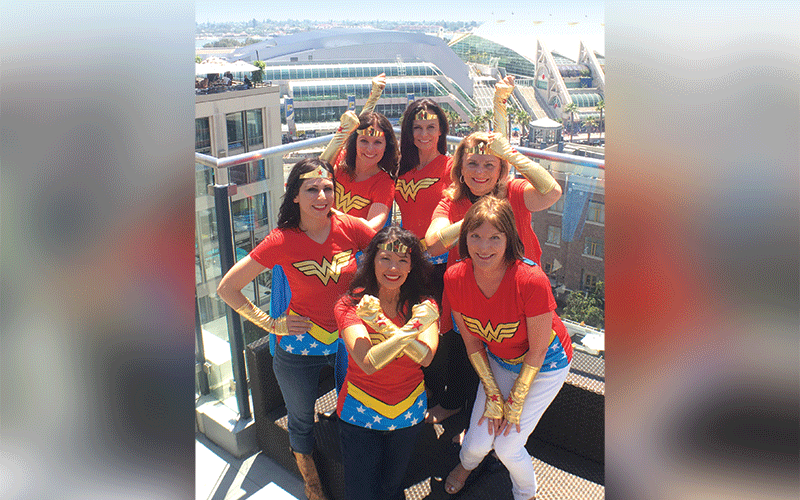 San Diego Tourism Authority
From Hard Rock Hotel's VIP balcony, San Diego Tourism Authority's fearless league of female leaders snaps a pic overlooking San Diego Convention Center. COO Kerri Kapich, Vice President of Information Technology Isabel Sauerbrey, Senior Vice President of Sales Margie Sitton, Director of Communications Candice Eley, Vice President of Human Resources Althea Salas and National Sales Director Anne Hartley welcome you to the site of Comic-Con International. Held downtown, just steps from the bustling Gaslamp Quarter of restaurants, shops and nightlife venues, this is one of San Diego's most iconic (and most photographed) events. Wonder Woman had a major presence at this year's Comic-Con. In appreciation of the character that inspires women and girls around the world, our selfie pays tribute to the importance of female leadership.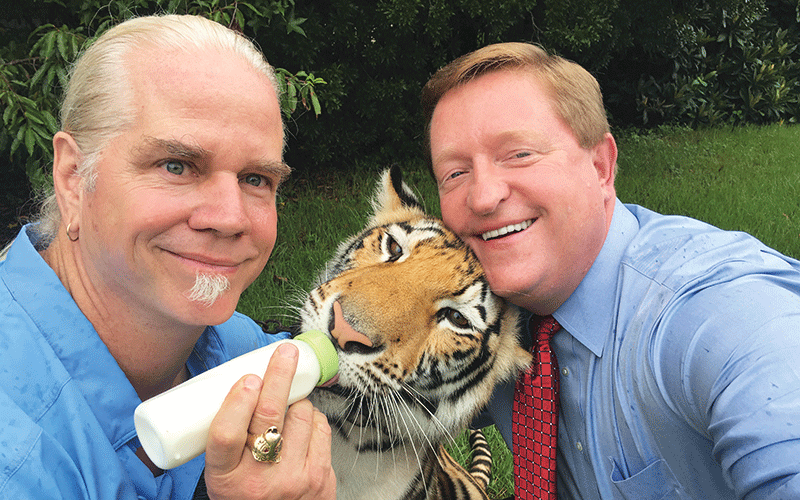 Myrtle Beach Area Chamber of Commerce
Chamber President and CEO Brad Dean and Doc Antle, founder and director of T.I.G.E.R.S. (The Institute for Greatly Endangered and Rare Species), invite you to visit the wild side of Myrtle Beach. The world-renowned wildlife preserve is located on 50 acres of tropical paradise and home to more than 130 endangered animals, including 60 big cats, wolves, apes, an African elephant and the liger, the world's largest cat, at 900 pounds. Attendees participate in a customized three-hour Wild Encounters Tour, and meet and interact with the world's most amazing and iconic creatures. This unforgettable once-in-a-lifetime experience is only available in Myrtle Beach.