Atlantic City is a hidden gem along the New Jersey shoreline, offering visitors much more than a seaside destination. As Atlantic City has gone through numerous transitions, the destination is in the midst of the dawn of a new era, drawing from its rich history to meet the demands of the future.
Atlantic City offers round-the-clock fun and excitement after the work and meetings are through. Take a stroll on the famous historic Boardwalk, bask in the glowing sun or take a dip in the Atlantic Ocean. You can unwind and dine with plentiful dining options all customized to fit your convention delegates taste bud from brand name eateries to celebrity chef restaurants. The Entertainment Capital of the Jersey Shore will have you laughing, singing and dancing all night long. Shopaholics can shop till they drop at our tax free outlet shopping, Tanger Outlets The Walk with over 100 retail stores that won't disappoint with incredible deals and just steps out of the convention center. While in town, try your luck on the table games or slot machines at any of our eight casino resorts.
Atlantic City is made up of over 16,400 first-class hotel rooms that will suit the perfect accommodations for your attendee's complete comfort and relaxation. The Atlantic City Convention Center provides over 600,000 square feet of exhibit space, as well as 45 meeting rooms, ample pre-function space and all the amenities you would expect. Harrah's Waterfront Conference Center is the largest convention center-hotel complex from Baltimore to Boston with its two 50,000-square-foot ballrooms, which offer state-of-the-art, technologically advanced meetings space that can be utilized by up to 5,000 attendees. Resorts Conference Center has added an additional 15,000 sq. ft. of meeting space spread over 12 rooms. The new conference center brings the total offerings at Resorts to 24 meeting and function rooms with more than 64,000 sq. ft. of usable space, most featuring natural light and ocean views.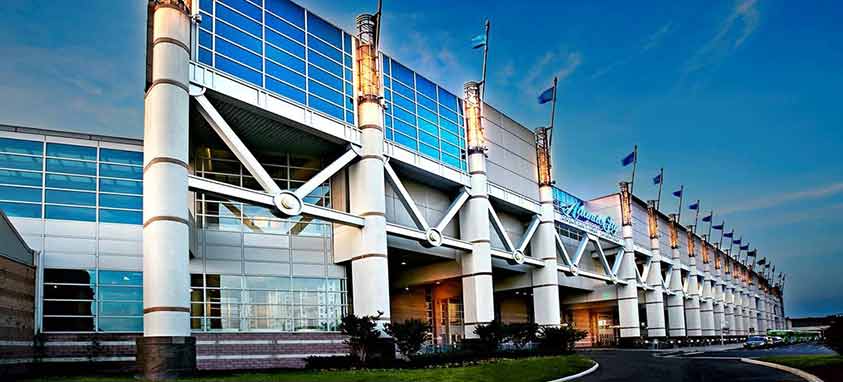 Historic Boardwalk Hall, formerly known as Atlantic City Convention Hall is Atlantic City's first convention center and an iconic landmark to Atlantic City that was built in 1929. Home of the Miss America Pageant, it played host to the city's growing convention industry. Boardwalk Hall has hosted an amazing list of dazzling entertainers and knockout sporting events throughout its 85 year history.
Atlantic City is 60 miles from Philadelphia, 125 miles from New York, and 175 miles from Washington, DC. Any way you look at it, Atlantic City guarantees fast-paced excitement and non-stop year-round activities. Meet AC will be happy to help you locate the right space, assist with attendance building, housing and much more.
Explore the new, along with reminiscing on the long-standing history for which Atlantic City is best known. We know that America's favorite playground will have a special place in your heart after you visit.