There's a time and place for flow charts, power points and productivity. There's also a time and place for fun. As luck has it, this is the place and now is the time.
Anaheim Majestic Garden Hotel is currently rewarding meeting planners for booking meetings! Book before December 31, 2015 and hold your meeting before June 30, 2016 and you will earn Majestic Meeting Rewards in the form of a Visa Gift Card for up to $1000! You are Royalty in the meeting planner world. Now it's time to reap the rewards! Visit our exclusive Group1000 webpage for more information.
While groups, corporations and conferences consider Anaheim a place worthy of getting down to business, there's one glaring reality you can't ignore: this is Anaheim. And when you say Anaheim, you almost always think Disneyland® Resort.
Now, planners have a new and entertaining arrow in their quiver when it comes to Anaheim gatherings. Located only ½ mile from the happiest place on Earth, the Anaheim Majestic Garden Hotel let's you get down to all things business one minute and, in five minutes flat via their free Dream Machine shuttle bus, find yourself either at the Anaheim Convention Center or, better yet, in the midst of Downtown Disney's famed restaurants and entertainment, not to mention Disneyland® Park itself.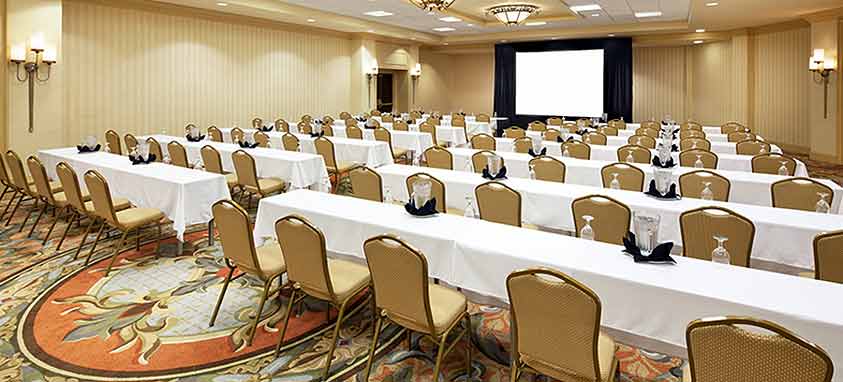 The 20,000-square-feet of space at "Anaheim Majestic" can be divvied up to handle groups ranging from 10 to 600 people banquet-style (up to 1,000 theater). Fifteen smaller rooms ranging in size from 504 sq. ft. to 8,280 sq. ft, allow groups multiple options, state-of-the-art audio-visual and beautiful natural lighting.
Breakout rooms are located adjacent to the ballroom and out of the way of hotel foot traffic, giving you easy access to a multitude of space. Or, if you are looking to for a change of perspective, take your event outside and enjoy the peaceful Majestic Gardens.
The dedicated and experienced banquet team provides top-notch service that is recognized again and again by past groups. Personal, flexible, and attentive, your servers and hotel staff will give you more than enough reasons to come back.
Catering services provide standard menus or custom menus to accommodate themes or budget. You will find nothing less than exceptional cuisine and flawless service from the hotel's banquet and catering staff.
When guests are on their own, they can enjoy exquisite cuisine from a quick bite in the California Deli to a more relaxed experience in the indoor/outdoor Garden.
489 incredibly spacious lodging options (averaging 500 sq. ft.) offer guests  comfortable, smoke-free rooms including the newly renovated Castle Rooms & Suites. Rooms are well appointed with amenities like complimentary high-speed WiFi, mini refrigerators, hair dryers, coffee makers, and bottled water.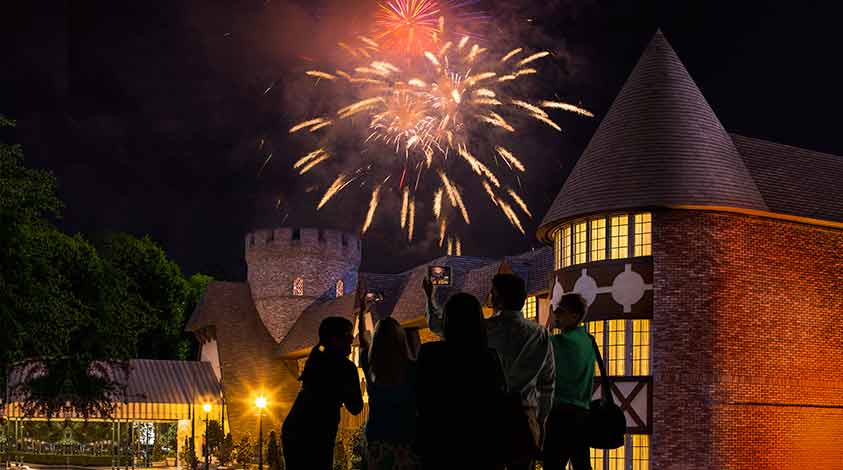 In the perfect blend of business with pleasure, meeting guests that bring their families have found the epicenter of family entertainment and enjoyment at Anaheim Majestic Garden Hotel. Whether it's a visit to Disneyland® Resort, an excursion to the beach or an exciting Anaheim Ducks game, your family is sure to have a thrilling vacation experience.
Free daily Dream Machine Shuttle service takes you to and from Disneyland® Resort every 1/2 hour. And, to save you even more time, we have also been selected as a Disneyland Good Neighbor® Hotel, an authorized Disney ticket seller.
Visit the website for more information on this spectacular hotel and let their friendly, flexible and professional staff guide you through a truly majestic experience, assuring a smooth event from beginning to end.