Meet in Toronto
Toronto Is More Than a Meeting Place
Toronto is North America's fourth most populous city, making it Canada's largest and most visited destination. The city is built on a collection of diverse communities that thrive on economic, innovative, and cultural inspiration and is open to embracing rising talent and opportunities. Find yourself surrounded by towering skyscrapers, artistic alleyways, and stunning venues that contribute to the charm of the city, making it an ideal destination for meetings and conferences. There is much to explore, from big-ticket events, top attractions, award-winning restaurants, and Canada's leading business sectors.
Innovative Economic Sectors
Toronto is the driving force in key business sectors, including life sciences, technology, and financial services. Toronto ranked first in North America for both high-tech job creation and population growth and in the world for working women. It was also named the globe's second-safest city, its sixth-best for remote workers, and ranks among the top in international smart-city rankings. An established business powerhouse, the city is home to more than a quarter of Canada's largest businesses that have set their headquarters in Toronto, and a thriving start-up culture. 
The Discovery District, a 2.5 km downtown Toronto research park and health innovation hub, comprises 7 million square feet of facilities representing Canada's largest concentration of hospitals, research institutes, business incubators, and venture capital organizations, along with the University of Toronto.
Industry-leading Venues
With 442,000 square feet of exhibition space, 77 meeting rooms, multi-purpose ballrooms, and a theatre equipped for performing arts as well as corporate events the Metro Toronto Convention Centre is the country's largest convention facility. The centre is recognized as top-of-class by meetings and event organizers around the world and has hosted over 21,000 events during its four-decade history. The Centre is committed to making a positive impact through initiatives such as its Food and Beverage Program, focused on sourcing local and donating leftover items.
Exhibition Place is a leading green venue and has been ranked in numerous awards and accolades for its sustainability efforts. The entire facility has signed the Net Zero Carbon Events Pledge. In addition to the facility's GREENSmart initiative, which started in 2004 and focuses on implementing sustainable development practices across the site, its Enercare Centre and Beanfield Centre venues have earned LEED Platinum and Silver certification, respectively.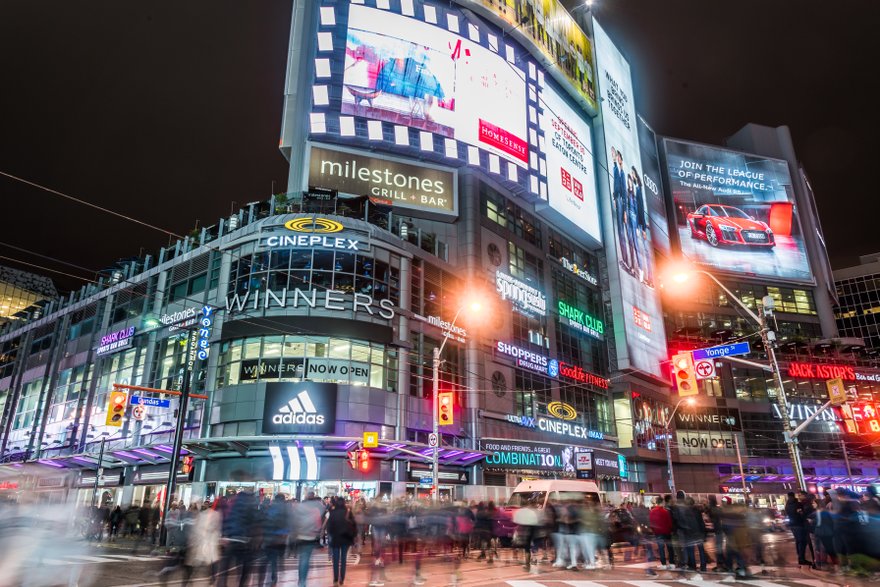 A Mosaic of Unique Voices
Multiculturalism is the root of Toronto's inclusive and collaborative spirit. The city owes much of its success to its diverse communities—53 percent of the population is foreign-born, representing 250 ethnicities and 180 dialects spoken. The result: a perfect foundation for collaboration to initiate new and engaging experiences. Toronto's mosaic of cultures is indeed unique and inspirational, creating a space that promotes and cultivates ideas and perspectives. It is the place to be to collaborate, experiment and create.
Global Intersection
Easily accessible with two international airports that serve over 180 global destinations in 55 countries, Toronto serves as the gateway to Canada. Getting to the downtown core is easy, the UP Express train quickly connects Toronto Pearson International Airport (YYZ) to the downtown Union Station by a 25-minute direct transit.
Connect with Destination Toronto's team to tap into a wealth of tips, resources, and local expertise to serve your needs. Destination Toronto's 6ix Stack program is a comprehensive attendance marketing program that offers a range of services, from 24/7 on-demand assets to highly customized assets.
For more information, visit DestinationToronto.com