The embodiment of Sheraton's new "Where the World Comes Together" tagline, Sheraton Phoenix Downtown is poised to become one of the Southwest's top destinations to come together for meetings and events. Now in the midst of a massive transformation, this visionary hotel will place attendees at the epicenter of a blossoming arts and culture scene, just moments from the Light Rail and a short ride from Phoenix Sky Harbor International Airport.
As the newest, complete-room product in all of downtown Phoenix, the hotel will revolutionize style and comfort, both for work and relaxation, with 1,003 guest rooms welcoming abundant natural light. But with innovative new spaces, unmatched event expertise and personalized meeting programming, Sheraton Phoenix Downtown is becoming more than just a hotel—it is transforming into a place where guests connect, minds are expanded, and attendees can harness the power of the collective.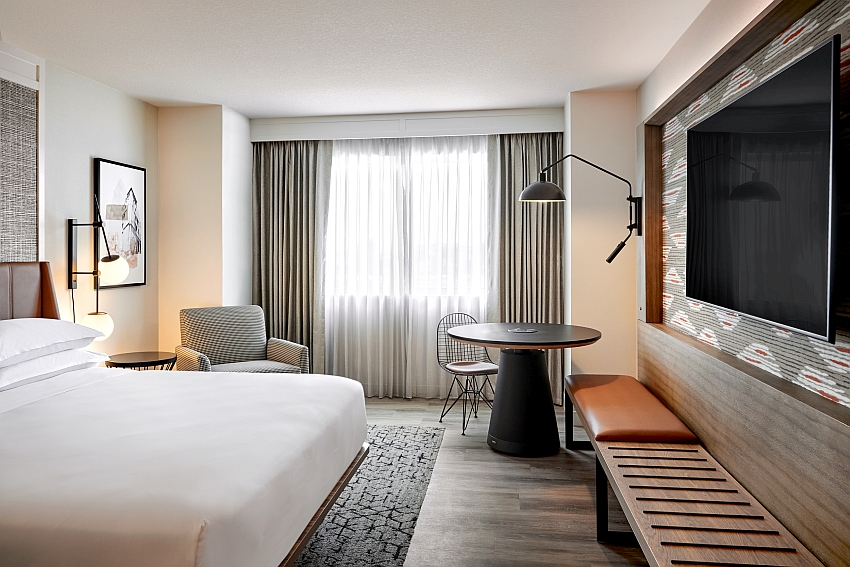 Optimize your time together
All meeting space is contained within two levels, with thoughtful design and logical flow that enables seamless event experiences. And with more than 110,000 square feet of total meeting space spanning 26 rooms, you and your attendees will enjoy unmatched flexibility, the latest meeting technology and the attentive Sheraton service you've known for more than 80 years. Catering menus created by a talented culinary team will transform the food and beverage experience, elevating everything from quick coffee breaks to grand events for up to 1,850 guests.
Feel welcome, and well-fed
A dynamic and versatile environment with functional décor, our reimagined lobby will welcome guests with new spaces to collaborate and connect, and Community Managers to help meet every need. Entertain the palate with a menu crafted from locally sourced ingredients at our signature restaurant. Or step into our elevated bar and coffee experience, where attendees can order fresh pastries and their favorite hot beverages in the morning, and small plates, creative cocktails and local craft beers at night.
Break for the collective
Guests and locals alike can reserve one of several tech-enabled studios. Each will provide a private, light-filled space that is thoughtfully designed for collaborating, meeting or brainstorming. And for longer sessions, mobile order will be available to keep you fueled and the ideas flowing.
Find some quiet time outside of the guest room to listen to music, connect with colleagues or jump on a video call. New lobby booths will offer an unexpected level of privacy. Or just relax in comfort at the Sheraton Club, located in the new lobby and designed to meet the needs of early arrivals and late departures, with business lockers included for your convenience.
Get extra perks for being first
Sheraton Phoenix Downtown is offering Marriott Bonvoy™ bonus points and additional incentives for events booked in 2020 and beyond. For more information contact Debbi See, Director of Sales, at 602-817-5350.