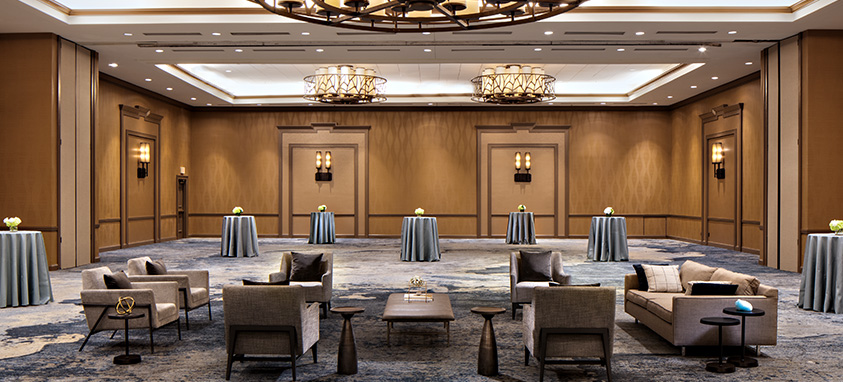 Local attractions are much of what makes a town appealing. But occasionally, you come across a hotel that gives you every reason to stay on-property.
The newly reimagined Sheraton Dallas Hotel—a town in and of itself—is a case in point. Boasting 1,841 guest rooms, the property is the largest hotel in downtown Dallas. The calm ambiance and neutral tones of white, copper and champagne, complemented by hints of blue and gray, are a welcoming invitation for guests.
The Sheraton Hotel Sleep Experience provides guests with the proper bedding for a restful night's sleep, but when there's so much to do (and eat), you won't want to rest your head for very long. Five new culinary options have made Sheraton Dallas a must-visit for first-timers, as well as locals.
It won't take much to keep attendees satisfied. Guests can grab coffee at Moka Pot Coffee Shop, taste the latest in American cuisine at Open Palette, or enjoy handcrafted cocktails or any of the 12 local beers at Draft Sports Bar & Lounge. Whether you're dropping by for a nightcap or the night is just beginning, The Parlor's upscale and inviting atmosphere offers craft cocktails and delectable bites that attendees can indulge in to their heart's content.
When the dining is over, guests can work it all off at the 5,884-square-foot fitness center and outdoor heated pool, located on the center tower's fourth floor, providing incredible views of Dallas' downtown landscape.
After a $100 million transformation, Sheraton Dallas' more than 220,000 sq. ft. of meeting space, divisible into 60 different breakout rooms, has been reinvented with new carpeting, lighting and technology. With the high-speed internet and top-tier audiovisual technology filling each meeting room, technological hiccups will be a thing of the past.
Downtown Dallas is surrounded by numerous beautiful neighborhoods and entertainment districts, such as Dallas' Deep Ellum, home to a thriving arts and music scene, and Trinity Grove, a 15-acre dining and entertainment mecca. It's home to more Old School and experiential restaurant concepts than you'll be able to chow down on in a single day.