Lively but laid-back. Bustling but casual. Phoenix has a vibe all its own, with a trendy yet unpretentious ambiance that's accessible to all. The city offers an award-winning downtown convention center and urban core, easy air access, sun-drenched beauty and unmatched value. Lately an infusion of youthful energy and investment of more than $5 billion has propelled downtown Phoenix into the spotlight as a modern urban center.
Currently, there are six large-scale residential projects under construction or in the pipeline that will add more than 2,000 units to the downtown area. At least two new hotels are slated to be built in the next two years. Residents and visitors are getting the first downtown grocery store – scheduled for completion in 2019. And Arizona State University recently announced that they are relocating the Thunderbird School of Global Management to downtown. Thunderbird's new building will be the sixth ASU college headquartered on the Downtown Phoenix campus.
When it comes to getting here and getting around, few meetings and event destinations rival Phoenix for ease and convenience. Phoenix Sky Harbor International Airport is served by 16 airlines with more than 1,200 daily flights. American Airlines, Southwest and Frontier as well as international carriers, British Airways, Condor Airlines and Air Canada are all adding new flights in 2018. Terminal 3 is undergoing an extensive $590 million modernization, which will be completed in 2020.
https://www.youtube.com/watch?v=xZNXy6Rnpic
Sky Harbor is just four miles from downtown and 15 to 30 minutes from most area hotels and resorts. Arriving meeting attendees can take the free PHX Sky Train from the airport to the nearest Valley Metro Light Rail station, which can move people around town all day for only $4. Downtown Phoenix is pedestrian-friendly. Just two blocks from the convention center is CityScape, a sophisticated mixed-use shopping, dining and entertainment complex. The high-rise development is home to fun after-hour spots, including a live-music venue, comedy club and an upscale bowling alley.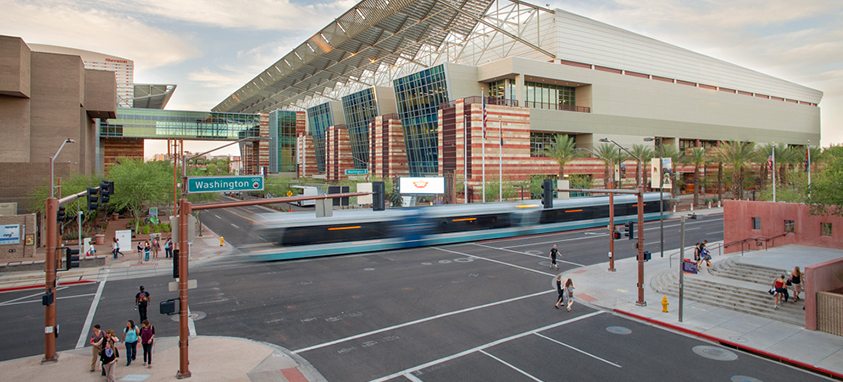 The Phoenix Convention Center is one of the nation's most-acclaimed convention centers, offering nearly 900,000 square feet of meeting and exhibition space. Inspired by the Grand Canyon, the center was designed to amaze, making use of natural colors and textures that mirror surrounding desert and canyon landscapes, and incorporating energy- efficient design principles and ongoing sustainability programs.
From all-American diners to Asian-inspired eateries to ambitious, chef-driven restaurants where anything goes, Phoenix's dining and bar scene is blossoming. Throughout downtown and midtown, the vast array of options gives diners a variety to choose from, morning, noon and night. Phoenix also boasts a dynamic and eclectic homegrown arts scene, best experienced in the Roosevelt Row arts district and along Grand Avenue.
Phoenix is blessed by the sheer beauty of its rugged mountain and desert landscape, with towering cacti and clear starry nights. And, while the landscapes are unchanging, the development of downtown and the general growth of the Greater Phoenix area will make your next meeting in Phoenix a brand new experience.