Surrounded by some of the most breathtaking scenery in the world, the iconic Fairmont Chateau Lake Louise resort and conference center is nestled deep within Banff National Park, a UNESCO World Heritage Site. This internationally recognized location provides a spectacular mountain resort setting and 36,000 square feet of flexible, inspiring meeting and event space for your meeting, conference or celebration.
Located a scenic two hour drive (195 km/120 miles) from the Calgary International Airport (YYC), our year-round luxury resort features 552 renovated guest rooms.
Historical ambience in a dramatic mountain setting
Meeting and conference attendees will enjoy the historic ambiance of the luxury resort, which offers dramatic meeting space equipped with wireless high speed internet access and the latest multimedia technology.
Signature event spaces
The Victoria Ballroom is one of the Chateau's signature spaces that features breathtaking views of Lake Louise and the surrounding mountains. Since it first opened in 1913, the Victoria Ballroom has been the venue of choice for special events, given its undeniable elegance and refined atmosphere. Now meticulously restored to its original grandeur, this historic ballroom continues to lend itself to hosting memorable meetings and special banquets for up to 400 guests.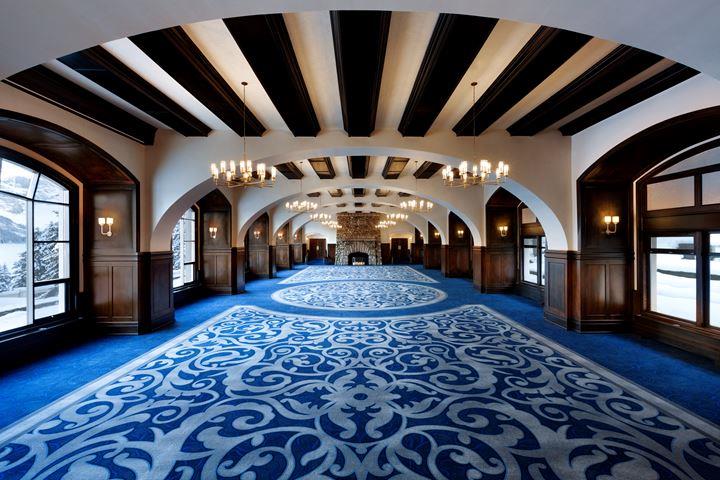 Signature Events
Our luxury resort specializes in offering Guided Mountain Adventure Programs and themed group itineraries, which encourage active participation and exploration of our pristine natural environment. Step into our backyard and bond with your delegates in our adventure paradise.
Imagine incorporating some old-school hooky into your programming and taking your group outside to play in the afternoon. Enter our winter snow globe, a land of dog-sledding, snowshoeing, ice-skating, world class skiing, and more. Many of these activities are accessible from our doorstep.
Create the buzz you have always wanted with one of our signature events: a Western Barbecue at the Brewster's Cowboy Barbecue and Dance Barn. The on-site Dance Barn offers authentic western atmosphere and entertainment that makes for an unforgettable Western Canadian rodeo experience.
Whether you choose an on-site themed event or you opt for an off-site experience, our events are unique, turn-key celebrations that simply cannot be replicated anywhere else. All you have to do is choose an option and your work is done! Our planners have already planned everything for you.
Picture yourself here:
Please e-mail our Sales Team at rfp.mtn@fairmont.com for more information or call +1 866 540 4413.