Editor's note: This Week in Travel (TWT) is your essential guide to smoothing the road from here to there for your attendees and yourself.
A new survey from JD Power, US Travel and Tourism Economics (an Oxford Economics company), shows good news for meetings, albeit in tandem with a lag on behalf of corporate to allocate funds for meeting and business travel.
Andrea Stokes, practice lead for hospitality at JD Power, told Smart Meetings that according to data "81% of business travelers expect to travel at least once in the next 6 months to attend conferences, conventions or trade shows, which is good news for the meetings and events industry. Nearly half (46%) of this group agree these events are critical to developing relationships with customers, suppliers and others. One in four (26%) agree these events are critical to building awareness of my organization's products or services. (These results are on par with our Q1 survey.)"
She adds, however: "Among those who are uncertain if they will travel for conferences/conventions/trade shows, 1 in 3 cite availability of virtual events as a reason for the uncertainty. And 1 in 5 cite the fact that these events are not occurring at all due to the pandemic."
In addition to these findings specifically on meetings and events, the study found that while business travelers themselves were keen on getting back on the road, corporate management was not as enthusiastic due to budgetary concerns. However, these were noted to be short and not long-term cuts.
Read More: 7 Business Travel Trends Set to Shape 2022
According to the forward-looking Business Travel Index, business travel activity is expected to increase over the next quarter. Also, according to an accompanying Business Travel Survey for Q2 2022, business travelers expect to resume traveling at a frequency only slightly reduced from pre-pandemic levels, averaging about 2.1 trips per month over the next 6 months. While that seems to be trending in a promising direction, the survey results show that business travelers—particularly those at large companies—remain skeptical that travel will increase dramatically in the near term.
More than two-thirds (68%) of corporate executives expect the company they work for will spend less on business travel during the next six months compared with the same period in 2019. While there are many factors keeping business travel in check, chief among them are corporate policies. Half of executives surveyed say their firms still have policies in place restricting business travel due to the pandemic. The most frequently mentioned policy restrictions include fewer business trips overall (71%) and fewer employees sent per business trip (58%).
One-in-five (20%) employee business travelers say they are unsure they will make a trip for purposes such as a customer meeting during the next six months. The most frequently cited reasons for this uncertainty are video conference substitutes for business travel, company cost constraints and companies restricting employee business travel.
Bigger Companies Mean Restrictions
A bigger proportion of larger companies (45%) continue to have restrictive policies governing business travel in place vs. smaller companies (24%). That is despite the fact that 80% of executives at large companies consider business travel essential (vs. 73% of all executives). More than one-fourth (28%) of business travelers at larger companies have budget constraints to attend conferences, conventions or trade shows.

Executives appear particularly focused on the expectation that reduced business travel may represent short-term savings, but bring long-term reductions in sales (51%), while half of business travelers (49%) perceive reduced business travel will have a negative impact on company financial performance.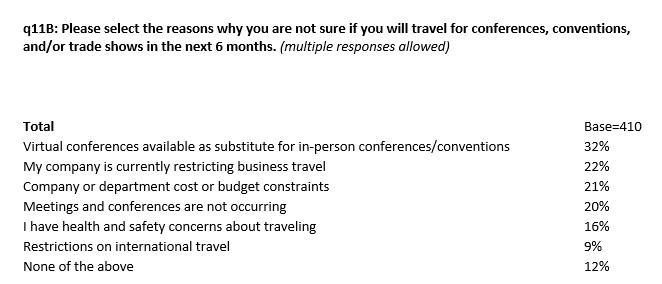 Meeting Planner Takeaways: While boots-on-the-ground meeting-goers know the importance of face-to-face meetings, corporate is lagging behind in prioritizing it, preferring a slower return to a "new normal" than otherwise. As this dynamic occurs, meetings participants or want-to-be participants remain entrenched in the knowledge that meeting in person makes a difference both on the bottom line and beyond and will most likely push to influence management to gain a more flexible and meetings-forward point of view.