Island meetings offer enhanced opportunities for productivity and play
Aaah. That's the collective sigh of June, after a grueling winter of massive snowstorms and rain washouts that pummeled the country last winter.
As you're looking ahead to plan meetings for next winter, maybe it's island time—you know, time for a change of pace and short-sleeve weather that signals a break in routine and a fresh perspective. Right now, even the C-suites and managers may agree.
But those same C-suites and managers may be concerned about the perceived focus on umbrella drinks and beach activities, rather than getting everyone's full attention and achieving their meeting goals. Not to worry: Islands provide built-in opportunities for both productivity and play. Once they arrive, participants get into the slower, more relaxed groove; but that same tempo, the one that pushes the shoulders down, also creates an atmosphere that clears the mind for fresh, new ideas and renewed enthusiasm.
Of course, island time isn't limited to winter: Some islands have their own charming appeal in summer, although who's to say your group won't dream about the trip all winter? Nor do island destinations mean "incentives" only. (Let's face it: Even the most committed participants could use a little extra incentive from time to time, no matter the season.)
In the meantime, to assist your research, we've taken a look at some popular island destinations and found no lack of new venues to pique attendee interest, along with wonderful existing properties that returnees look forward to enjoying again.
We say it's time to book an island. See you at the dock!
Aruba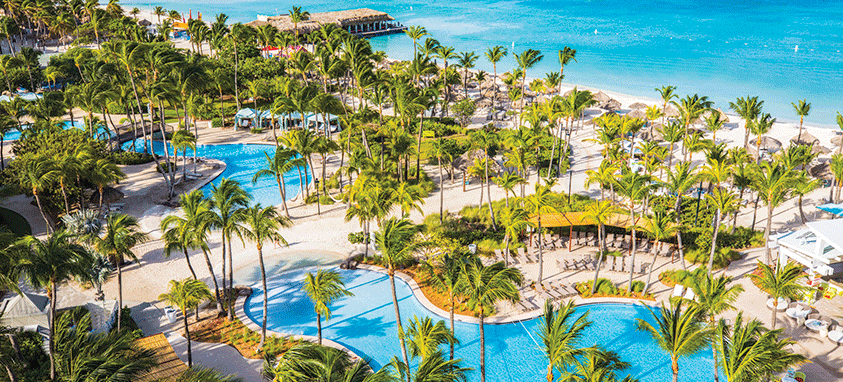 Travel & Leisure designated Aruba as "the Caribbean island you have to visit in 2018," with its idyllic, unspoiled beaches and fresh Caribbean cuisine. There's much more to its appeal, however. There's the island's location, just north of the Venezuelan coast (on the outer perimeter of the hurricane belt), which offers a warm, sunny climate year-round. And its hospitality industry is primed for business as well as leisure travelers.
According to Ronella Tjin Asjoe-Croes, CEO of Aruba Tourism Authority, Aruba is home to multiple world-class resorts and properties, and offers top-notch business facilities, spacious accommodations, flexible meeting space and state-of-the-art audiovisual equipment, ideal for dynamic meetings and special events.
A clutch of new and renovated properties are good examples. For instance, 116-room Hyatt Place Aruba Airport Oranjestad—the first of the brand on the island— adjacent to Reina Beatrix International Airport (AUA) will open this year.
Renovations include those at Aruba Marriott Resort & Stellaris Casino, which has added three new rooms to Tradewinds Club as well as recent updates to its 414 guest rooms and meeting space, which consists of 10,450 sq. ft., plus a grand ballroom for 880 guests. Fresh from a full, property-wide renovation is Hilton Aruba Caribbean Resort & Casino, with 357 guest rooms and 39,000 sq. ft. of indoor and outdoor function space.
Catalina Island, California
An unexpected gem off the coast of Southern California, Catalina immediately sets the tone for an island meeting. Its picturesque harbor in Avalon, a crescent-shaped bay fringed by a sandy beach and palm-tree lined promenade, is the hub of the small, walkable city.
"Catalina offers a great alternative to the 'been there, done that' California meeting and event destinations," says Jim Luttjohann, president and CEO of Catalina Island Chamber of Commerce & Visitors Bureau. "Attendees can get to Catalina in as little as an hour from mainland ports like Long Beach, Newport Beach or Dana Point, and enjoy a scenic boat ride to do so instead of sitting in traffic."
Several updated meeting and event venues have either come online recently or will do so soon. Among these is Holiday Inn Resort Catalina Island, a full-service property tucked into the hills that recently renovated its 75 guest rooms. It features 3,000 sq. ft. of flexible indoor and outdoor meeting space.
Another is Metropole Hotel's renovated Beach House, an 1,800-square-foot private hideaway overlooking the ocean that recently hosted MPI's Southern California Chapter for a board retreat. Scheduled to open in summer 2019, the completely rebuilt, historic Hotel Atwater (circa 1919) will have 95 rooms and a meeting room for up to 50 guests.
Other options include Catalina Island Museum, which offers seven event spaces—including a 100-seat amphitheater—in its new, grandly designed home. These can be booked individually or in combination to accommodate up to 300 people. Debuting this fall is Catalina Island Conservancy's Trailhead Visitor Center, which will serve as "Catalina's Wildlands concierge" for outdoor activities and feature multipurpose meeting spaces for corporate events.
Grand Cayman, Cayman Islands
The largest in a group of three Cayman Islands in the Caribbean, Grand Cayman is known for its luxe, exclusive resorts, particularly along Seven Mile Beach, a long crescent of coral sand on the island's western end. It's home to George Town, the Caymans' capital city and favored port for duty-free shopping.
Kimpton Seafire Resort & Spa, located along this famous beach, was the first new property to open in a decade when it debuted in 2016—and its contemporary boutique style was a first, as well. It features 266 guest rooms and 20,000 sq. ft. of event space.
Renovated in 2017, The Westin Grand Cayman Seven Mile Beach Resort & Spa has 343 guest rooms and 8,877 sq. ft. of indoor meeting space, as well as 73,040 sq. ft. of outdoor function space. This Conde Nast Gold List property also features a 7,000-square-foot spa. Also renovated in 2017, Margaritaville Beach Resort Grand Cayman has the Jimmy Buffett-vibe you would expect, along with 285 guest rooms and a 4,000-square-foot ballroom. It's located on a private beach cove at the beginning of Seven Mile Beach.
Golden Isles of Georgia
Just off the coast of Georgia are four barrier islands with a common history dating back more than 400 years: Sea Island, St. Simons, Little St. Simons and Jekyll Island. Together, they're known as the Golden Isles of Georgia, due to the anticipated riches of their early explorers and their sun-splashed landscape.
Jekyll Island has recently upped its game for meeting planners. New on Jekyll Island, for instance, is The Westin Jekyll Island, with 200 guest rooms and nearly 6,000 sq. ft. of meeting space, ranging from a boardroom to a ballroom and outdoor options. It's located next door to the new 128,000-square-foot Oceanfront Convention Center, the only oceanfront convention center on the East Coast south of New Jersey.
"Jekyll Island Convention Center's oceanfront location and impeccable facilities make it a popular destination for meetings of all shapes and sizes," says Meggan Hood, senior marketing director for Jekyll Island Authority.
The iconic Sea Island Resort, with four lodging options totaling 390 guest rooms, has opened a new 17,000-square-foot Golf Performance Center. It's Plantation golf course was closed in December and is scheduled to reopen in October. One of its Sea Island's properties, The Cloister, offers 87,000 sq. ft. of meeting space.
Kiawah Island, South Carolina
The centerpiece of Kiawah Island, a barrier island 21 miles south of historic Charleston, Kiawah Island Golf Resort has been a renowned destination for meetings and leisure travel since 1976. This exclusive resort is currently comprised of The Sanctuary Hotel, a five-star hotel with 255 guest rooms, five golf courses, two tennis clubs and innumerable opportunities for beach and nature activities.
The resort has recently launched several major development projects that will further enhance the island's attraction for meetings. Top of the list is West Beach Village Hotel, a luxury, oceanfront, 150-room hotel opening in fall 2020 that will include a nearly 5,000-square-foot ballroom, a spa and dining options. Nudging this new property for the No. 1 spot is West Beach Conference Center, a new state-of-the-art conference facility due to open in fall 2019 that will have a 10,529-square-foot core meeting space and 11 breakout rooms.
The Bahamas
The capital city of the Bahamas, an archipelago in the West Indies, Nassau is located on New Providence island and charms with its spectacular beaches and vivid coral reefs. The Nassau news is all about the planned opening in mid-2019 of Margaritaville at The Pointe, a new 6-acre entry from the Jimmy Buffett brand in the heart of downtown. The development will include the 150-room Margaritaville Beach Resort.
Baha Mar, the new, $4.2 billion resort complex on New Providence Island's Cable Beach, made a splash in 2017 with the opening of Grand Hyatt Baha Mar, the first of three planned hotels, which features 1,800 contemporary guest rooms. The hotel also offers 200,000 sq. ft. of indoor and outdoor meeting and event space—82,000 sq. ft. of which is in the Baha Mar Convention, Arts & Entertainment Center.
Grand Hyatt was followed by the ultra-cool, ultra-exclusive SLS Baha Mar, which offers 299 guest rooms and 14,307 sq. ft. of its own function space. The third hotel, Rosewood Baha Mar, opened in 2018 with 237 residential-style rooms and 20,600 sq. ft. of outstanding indoor and outdoor event space—joining the golf course, spa and 100,000-square-foot casino already open on site.
Also in the Bahamas, Atlantis Paradise Island, which consists of five properties—The Royal, The Beach, The Coral, The Cove and The Reef. Renovations and property upgrades are planned for the coming months, including news of redesigned rooms and suites at The Reef and The Royal.
Atlantis Atlantis boasts 3,400 guest rooms and 200,000 sq. ft. of indoor meeting space, highlighted by the 50,000 sq. foot Imperial Ballroom and 25,000 sq. foot grand ballroom,
Puerto Rico
Less than a three-hour flight from Miami, this beautiful and resilient island went into full recovery mode after fall's hurricane devastation. So, look behind the outdated headlines. Puerto Rico's meeting and tourism industries reopened for business, with more than 100 flights arriving daily on 22 airlines, including major U.S. carriers.
El San Juan Hotel, part of Hilton's Curio Collection, had just completed a $65 million renovation when it was damaged by Hurricane Maria and closed. After the second renovation in two years, the 388-room hotel reopened last year with more than 40,000 sq. ft. of meeting space. Sporting the brand's sophisticated, avant-garde flair, Melia Coco Beach, with 486 guest rooms and 40,000 sq. ft. of event space, followed on Dec. 15.
Caribe Hilton San Juan, set on a secluded peninsula, was expected to reopen its doors in May. In addition to 652 guest rooms, it has 24 meeting rooms for up to 3,000 guests, for a total of 65,000 sq. ft. of indoor and outdoor space.
In addition to the brand-new Serafina Beach Hotel, which opened March 20, 2018 with 96 rooms and a 2,295-square-foot ballroom, several new hotels are opening in 2019. These include JW Marriott, Aloft San Juan Convention Center, Aloft Ponce, Four Seasons Cayo Largo and O:LV Fifty Five—a further testament to the island's continued viability as a meetings destination.
"Puerto Rico has shown the world that #PuertoRicoIsReady, and we have everything it takes to host a large-scale convention—a state-of-the-art convention center [and] a wide variety of major hotel brands," says Alma Pedrosa, acting president and CEO of Meet Puerto Rico."
Hawaii: Five Islands, Your Choice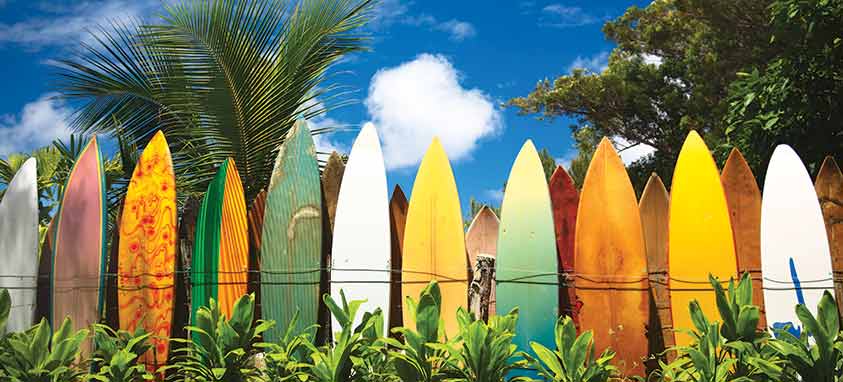 A favorite year-round destination for planners and attendees, the five major Hawaiian Islands offer exceptional venues for meetings of every kind. Here is a quick overview of the recent wave—tsunami, really—of openings and updates that will keep the islands on your radar.
Oahu
Hyatt Centric Waikiki Beach: Transformation of Waikiki Trade Center to an urban oasis/contemporary Hawaiian style property; 230 guest rooms; nontraditional meeting spaces, including an island-breeze lounge and restaurant for small to mid-sized meetings.
Holiday Inn Express Waikiki: Renovation and rebranding of Maile Sky Court; the first of the brand on Oahu, offering 596 guest rooms and a fifth-floor sky deck.
Aulani-A Disney Resort and Spa in Ko Olina: Enhancement of some of its pools and whirlpools Aug. 19 to Dec. 17; property has 800 guest rooms, 76,000 sq. ft. of outdoor meeting space and a 21,000-square-foot conference center.
Alohilani Waikiki Resort: Huge redevelopment of Pacific Beach Hotel with an aloha-chic vibe and a 280,000-gallon saltwater oceanarium in lobby; 839 guest rooms and nearly 38,140 sq. ft. of indoor and outdoor event space, including a grand ballroom for up to 1,500.
Maui
The Westin Nanea Ocean Villas Kaanapali: A new, all-villa luxury resort with Hawaiian design elements and an on-site cultural center with hula, music, Hawaiian language and crafts; 390 villas and a 518-square-foot boardroom.
Hawaii Island
The Westin Hapuna Beach Resort: Debuted this spring on the Kohala Coast after the rebranding and renovation of Hapuna Beach Resort; 249 refurbished guest rooms and 17 suites, plus 85,000 sq. ft. of meeting and event space.
Switch to Cruising Time
Why pick just one island? A cruise is an easy way to get your group of 100 to 200 people in a tropical state of mind. Suzanne Markarian, director of planning and purchasing with Landmark Incentive Marketing, says Caribbean cruises are perennial favorites because they combine the best of all worlds.
"They are an attractive price bracket because it is an easy domestic flight from anywhere on the East Coast for departures," Markarian said of the hundreds of cruises she has booked for sales incentives, management incentives and internal meetings. Once on board, the all-inclusive, double-occupancy price means nothing has to be paid out-of-pocket. Guests can enjoy all the amenities they want, but are contained on the ship so they see peers, vendors and hosts as they move around the decks. She usually arranges for reserved dining in the evening to ensure everyone comes together in a hosted environment once a day.
While seven-night, eight-day cruises are the most popular, four-night excursions can work when it is more difficult for people to get away. "People can do as much or as little as they want," Markarian says. Those choices—dining, entertainment and shopping—will be much higher-end than attendees would be able to find on land.
The group dynamic gives people a sense of safety—even as they get a taste of the exotic—on tours of Key West, Florida; Cozumel, Mexico; Charlotte Amalie, St. Thomas; Ponce, Puerto Rico; and Nassau, Bahamas. Royal Caribbean/Celebrity Cruises guests can even book a trip that docks at Labadee, Hispaniola, a private island owned by the cruise line. And they only have to pack once. —JT Long