Aloft lounge
Doing the robot in the summer of LUV
A new double-hotel is doing the robot.
Aloft and Element—two Starwood brands—just opened their doors as a combined hotel near Dallas Love Field. It's the first time the brands have joined forces under a single roof. There are other firsts, too, such as a robotic butler.
But let's not give in to humanoid tendencies and get ahead of ourselves.
LUV is in the Air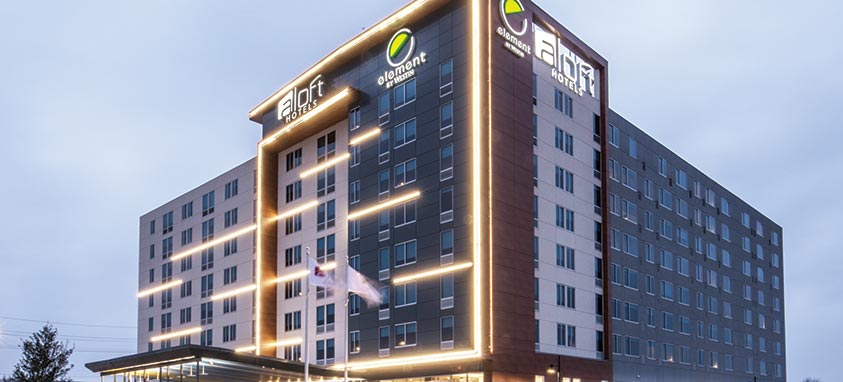 The dual hotel—Aloft/Element Dallas Love Field—arrives as part of a $200 million development that's revitalizing the North Dallas neighborhood. The West Love project stretches across 32 acres. Stores, restaurants and luxury apartments are rising as part of the mix. DART light rail connects the area to downtown Dallas, 7 miles away.
The hotel is located near the city's medical district, anchored by University of Texas Southwestern Medical Center.
"We've opened six, seven hotels now, and this is probably the most energetic," says General Manager Randy Elsmore. "The amount of pop-ins—people who wanted to see the hotel before it opened, brain surgeons, staff—was tremendous."
The neighborhood has been getting ready for takeoff since 2014, when flight restrictions were lifted at Love Field, home of Southwest Airlines. Southwest and other airlines got the green light to add flights and routes, helping fuel the rush for real estate investment. Flyers like the midsize airport for its coziness and convenience, compared with sprawling DFW.
The debut of Aloft and Element represents other firsts:
–First hotel to open near Love Field in 30 years
–First hotel to tie its branding to LUV, a symbol of the airport and Southwest's ticker symbol
–First hotel in Texas to employ Botlr, a robotic butler that delivers items such as towels and drinks from the bar to your room.
More on that later.
New Option for Meeting Planners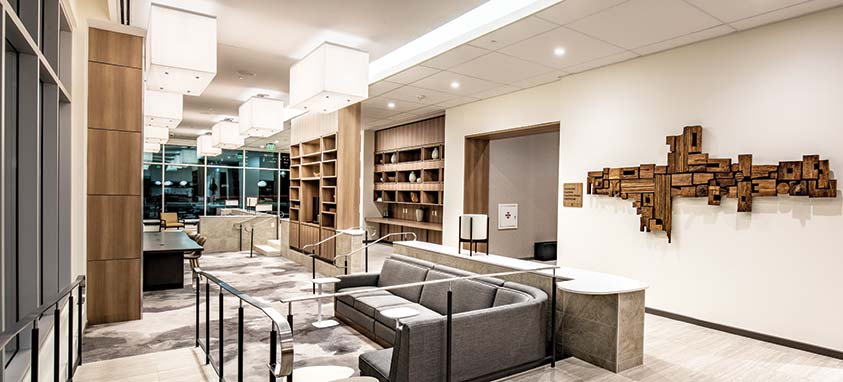 Element lobby
Aloft/Element has its sights on business and leisure travelers. The development offers a new option for meeting planners who want to be close to the airport or medical center.
The 11-story property brings 240 guest rooms and 6,500 sq. ft. of meeting space to the market.
Elsmore calls it "a new thing for the brand"—more meeting space and a flexible layout. The property can accommodate a sit-down dinner for 315 people or a classroom setup for 335. A pair of boardrooms handles meetings for up to 20 people each. Elsmore expects the property to be a strong draw for pharmaceutical meetings.
Aloft/Element decided to build its branding around a LUV theme, latching on to the neighborhood's rising profile. You've got West LUV Ballroom, for instance, and airport-style electronic flight systems showing all arriving and departing flights.
Time to Do the Robot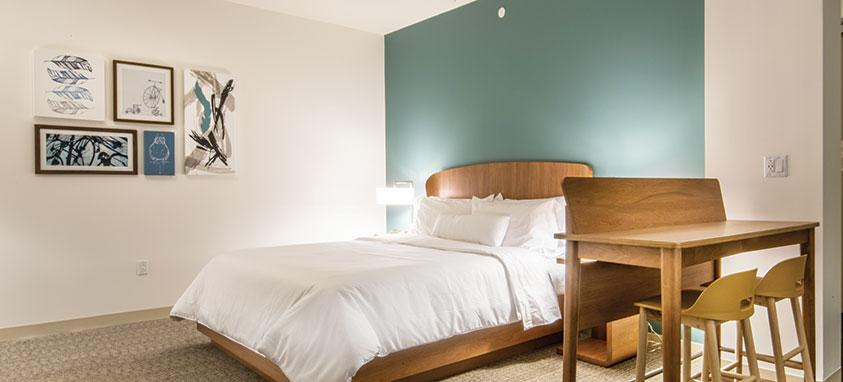 Element guest room
The double-hotel shares a front door—Aloft guests to the left, Element guests to the right (although both sides can check you in). Botlr works for Aloft, but is perfectly content with making deliveries to Element guests, as well.
Botlr stands 3 feet tall. It's nearly cylindrical, with a broader base for stability. The robot rides elevators, rolls along corridors and rounds corners to reach your room.
This is the first time Elsmore has worked with a robot.
"I'm not a technology buff," he says, "but to learn something new and different…and having a robot come to your door, call you on phone and let you know your toothbrush is here, is a great way to better serve guests."
And that's the whole idea. "Anybody can have a hotel," Elsmore says. "You create the experience."
---
The Robots Are Coming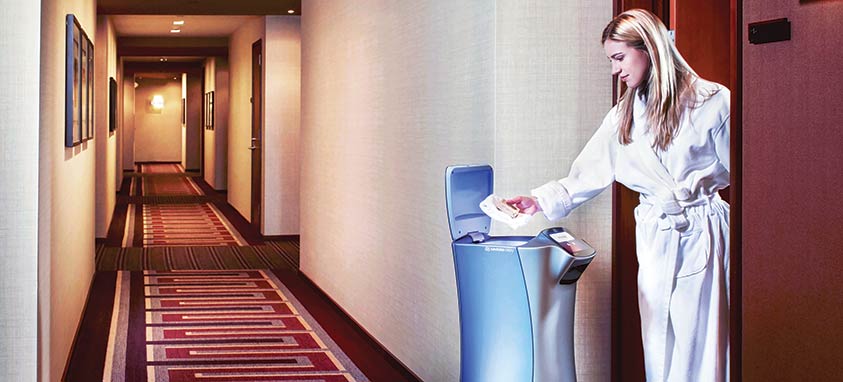 Savioke's Relay robot
The age of the hotel robot has arrived.
Savioke makes a robot called Relay, and Botlr shares the same DNA. It just gets its own branding.
The Silicon Valley tech company describes its creation this way: "Relay is a beautifully simple autonomous delivery robot who increases productivity, revenue and delight to people in a range of industries and organizations."
The company has installed Relay in 20 hotels, with 30 more on the way.
"Relay robots are proving most valuable in midsize to large hotels geared toward families and business travelers," says Savioke CEO Steve Cousins. "As you can imagine, children especially love seeing and interacting with a real robot, and parents enjoy the speed of Relay's room deliveries. For weary business travelers who arrive at all hours, the security and convenience of late-night robot delivery is always welcome. And everyone enjoys the fact that, when Relay delivers, he doesn't expect a tip."
Hotel guests have helped Relay evolve by making suggestions for small improvements, including added lighting and a more responsive lid. Bigger upgrades are coming in the next few months.
Savioke recently signed a partnership with Japan-based NEC Networks and System Integration Corp. that will expand Relay's market reach abroad and put it in places such as hospitals.
Heaven forbid you ever fall ill during a business trip and have to check into a hospital, but at least it will be comforting to see a familiar face.