Capitol Building, Richmond
The Commonwealth has a city, a landscape and a meeting place for every need
If you're looking for a state—excuse us, a Commonwealth—that offers almost unlimited diversity in its meeting cities and landscapes, consider The Commonwealth of Virginia. In this region of colorful contrasts, cities range from modern to historic and everything in between. From the bustling, high-rise avenues of Norfolk, home to the largest naval base on Earth, to the clippety-clop of horses' hooves on the 18th-century streets of Colonial Williamsburg, Virginia offers choices to match your needs.
The state's landscapes are just as diverse, from the sea to rolling, green hills and valleys, to mystic mountains with stunning natural beauty. In Virginia, you might even hold your meeting in a building where legendary American patriots once held theirs.
Let's review your nearly unlimited options.
Alexandria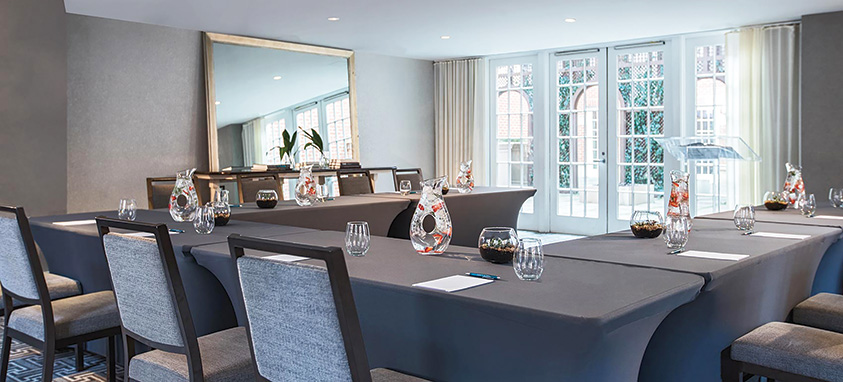 Alexandria is practically a suburb of the nation's capital, so it's a small city that can offer attendees the amenities of a much larger one, among them a nationally designated Historic District, the Potomac River waterfront and Old Town's more than 200 independent restaurants and shops.
Associations have always known about Alexandria; the city is home to more than 400 of them, along with United States Patent and Trademark Office and National Science Foundation.
This year, a historic hotel built in 1926 will be restored to its roots after serving as an office building for decades. The George Mason, in the Historic District, will have 141 guest rooms and two restaurants, one of which, along with a 3,000-square-foot rooftop space, will be rentable.
Last April, Kimpton Lorien Hotel & Spa, in Old Town, completed a $2.5 million redesign to its 107 guest rooms, public spaces and 5,600 sq. ft. of meeting space. The hotel sits on a charming, brick-lined street with boutiques and galleries.
Coming this summer is the tall ship Providence, a new attraction to Alexandria's waterfront. This stately vessel, which appeared in Pirates of the Caribbean, is a full-scale replica of the Continental Navy warship captained by John Paul Jones. It will be available for charter.
Arlington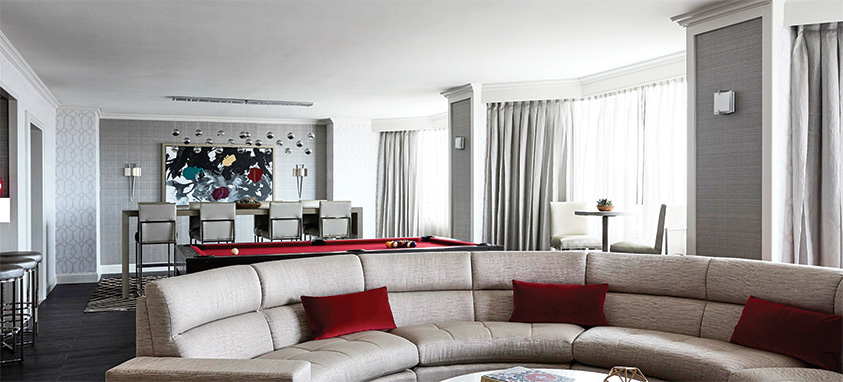 This city, too, offers attendees interesting neighborhoods and rich history, and now, stupendous views from the new Observation Deck at CEB Tower. The city boasts hallowed places such as Marine Corps War Memorial, Arlington National Cemetery and National 9/11 Pentagon Memorial. It also has several landmarks commonly associated with the District, among them Tomb of the Unknowns, Challenger Space Shuttle Memorial, the Pentagon and the grave sites of John F. and Robert Kennedy.
Arlington offers more than 40 hotels and unique meeting spaces; and the rates are generally lower than those across the Potomac in Washington, D.C. Attendees can visit the Village of Shirlington for a show at Tony Award-winning Signature Theatre or the restaurants along the promenade for al fresco dining. They can stretch their legs on the Mount Vernon Trail along the banks of the Potomac, or the woodlands of Theodore Roosevelt Memorial Island, a 90-acre island in the river.
The newest meeting hotel is Homewood Suites by Hilton Arlington Rosslyn Key Bridge, which opened a year ago with 168 suites and 2,300 sq. ft. of meeting space. Crystal Gateway Marriott renovated its 701 guest rooms and 39,983 sq. ft. last year, as did Courtyard Marriott Crystal City/Reagan National Airport, with 273 guest rooms and 3,832 sq. ft. Holiday Inn Arlington At Ballston (221 guest rooms, 5,000 sq. ft.) is planning a major renovation toward year's end, with completion by spring 2020.
Fairfax County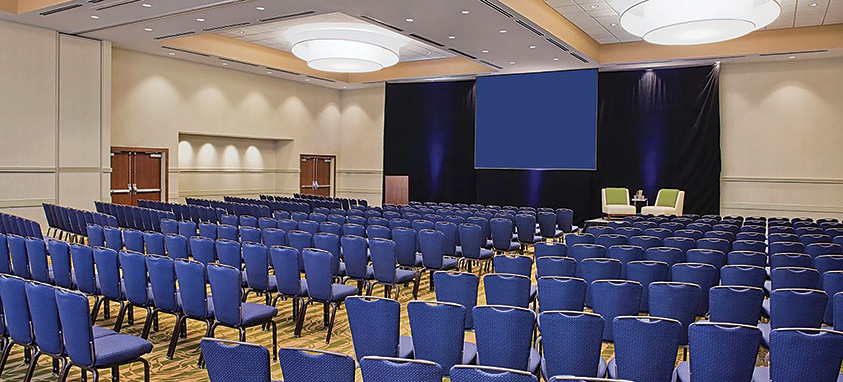 Also across the Potomac from Washington, D.C., Fairfax County offers a mix of urban and rural experiences. Its natural beauty is exemplified in the 427 state and national parks, spread across its 460 square miles. Yet, as one of the top five wealthiest jurisdictions in America, the mixture of cultures and Fortune 500 companies headquartered there make the region unique.
The essence of Fairfax County can be found in its historic places, such as George Washington's Mount Vernon, as well as the vibrant city of Tysons Corner, which is turning into a prototype city of the future. It can be found in the cascading waterfalls of the Potomac in Great Falls Park and in nearby Virginia Wine Country.
Your attendees can now walk (literally) in the footsteps of George Washington, in meeting rooms holding from 16 to 100 at Fred W. Smith National Library for the Study of George Washington at Mount Vernon.
Hyatt Regency Dulles, with 316 guest rooms and 11,000 sq. ft. of meeting space, underwent recent renovations that included adding 29,000 sq. ft. of meeting space. Starting renovations this year (and adding meeting space) is Sheraton Reston Hotel, with 298 guest rooms and 22,000 sq. ft. of meeting space.
Cheryl Malovic, corporate meeting manager for The Hershey Company, brought 150 senior managers from around the world to Hyatt Regency Dulles in September for Global Supply Chain Conference.
"There's so much to see and do in Fairfax County," Malovic says. "The CVB is always great, and hotel staff are very professional. The meeting spaces were perfect for us. In fact, they covered a meeting-room wall with Hershey Kisses! Our attendees always like going to Fairfax, and we find it a great place for productive meetings. That's why we've been there three years in a row."
Hampton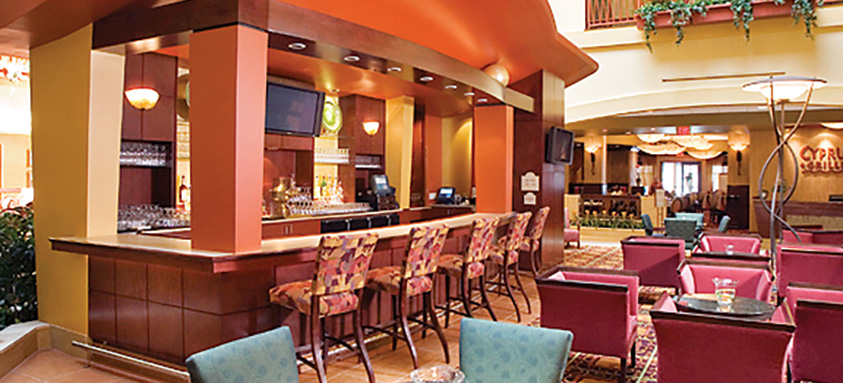 This seaside city features exciting attractions, such as Civil War landmarks, African-American heritage sites, Virginia Air & Space Center, Fort Monroe National Monument and other historic fortresses.
Hampton is close to the District and is served by two international airports. Of particular interest to planners are the state-of-the-art, 344,000-square-foot Hampton Roads Convention Center, which is connected to Embassy Suites By Hilton Hotel Convention Center & Spa (295 guest rooms, 4,946 sq. ft.) and an adjacent 84,000-square-foot arena. There are plans for a new Hyatt Place at the convention center, with 110 guest rooms and 2,400 sq. ft. Also in the planning stages is an extended-stay Element Hotel.
Hampton has a lot for attendees to do, see and experience, and the entrepreneurial spirit is alive and well in its booming craft-beverage industry. Last year, Hampton saw the openings of a cidery, distillery and several breweries. In 2017, Bull Island Brewing Company debuted on the downtown waterfront and Oozlefinch Craft Brewery opened at Fort Monroe.
Loudoun County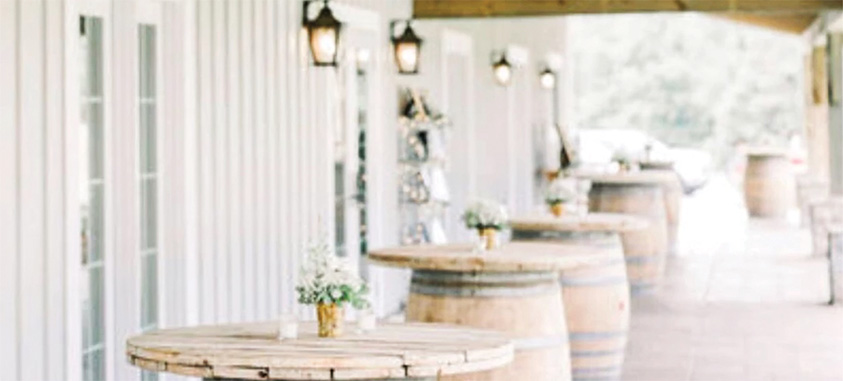 In Loudoun, meeting spaces range from luxurious resorts to wineries, breweries and historic estates, and from Dulles International Airport (IAD) in the eastern county to rolling countryside in the west.
There are 42 wineries and more than 30 breweries, on winding country roads leading to historic towns, such as Middleburg and Leesburg, with brick-lined streets and locally owned shops and restaurants. In its wine country is Fox Chase Farm, which opened the 16,000-square-foot Middleburg Barn in 2017 for meetings and events.
Loudoun County's largest meeting space is National Conference Center, with 250,000 sq. ft. of space, an 800-seat dining room and 917 guest rooms. The recently opened Home2 Suites by Hilton Chantilly Dulles Airport has 120 guest rooms and 1,421 sq. ft. of meeting space.
This region also offers interesting team-building options. At Catoctin Creek Distillery, your attendees can help bottle award-winning spirits. Or, they can create their own cocktails at a local restaurant, The Conche.
Summit Ropes, the largest indoor ropes course in America, opened in Sterling last month. And two former Olympic skaters are scheduled to open Ion International Training Center in Leesburg, with two NHL-sized rinks, instructional facilities and a 4,200-seat arena.
Norfolk
Norfolk is surrounded almost entirely by water—the Atlantic Ocean, Chesapeake Bay and Elizabeth River—so there are myriad opportunities for groups to meet or mingle at water's edge or afloat. The city is home to the world's largest naval base, with tours by both land and sea, and the battleship Wisconsin, which is open to tour.
Norfolk also has Virginia's only light-rail system, making it easy to get to places, such as Harbor Park baseball stadium, MacArthur Center for shopping or historic Ghent district for exploring. Meeting attendees also head for the kayaks and canoes at Ocean View Beach Park.
Norfolk has a thriving cultural life, with places such as Chrysler Museum of Art and Neon Arts District. It also boasts a pop-culture icon in Doumar's Cones and Barbecue, which gave the world the waffle cone.
Hilton Norfolk the Main opened last spring, with 300 guest rooms and 42,000 sq. ft. of meeting space. The 468-room Sheraton Norfolk Waterside has nearly completed a multimillion-dollar renovation of its 468 guest rooms, public areas and 46,000 sq. ft. of meeting space. Norfolk Waterside Marriott, with 405 guest rooms and 68,879 sq. ft., is undergoing a three-year renovation that includes adding a robot for room service.
This city combines a Southern touch with a cosmopolitan vibe, and it's no longer just a military town. Perhaps that's why readers of Travel & Leisure voted Norfolk the Favorite American City for 2018.
Richmond
Richmond is within a day's drive of half the U.S. population, and Richmond International Airport (RIC) is only 8 miles from downtown. Greater Richmond Convention Center is the largest in the Commonwealth at 700,000 sq. ft., and boasts more than 18,000 hotel rooms.
Several of the region's 700 restaurants are run by James Beard-nominated chefs. Attendees enjoy Virginia Museum of Fine Arts, Institute for Contemporary Art and St. John's Church, where Patrick Henry gave his "Give me liberty or give me death!" speech.
Other group draws include the 30 craft breweries on the Richmond Beer Trail, and the vivid murals by street artists on many buildings.
The newest hotel is Graduate Richmond, which opened in summer 2017 with 205 guest rooms and 1,755 sq. ft. of meeting space. It will soon be joined by several others under construction, among them a Home2Suites Hotel that will offer 138 guest rooms and 1,500 sq. ft. Omni Richmond Hotel, with 15,000 sq. ft., completed a $10 million upgrade of its 359 guest rooms in June. Crowne Plaza, now re-branded as Delta Hotels by Marriott Richmond Downtown, completed the upgrades to its 283 guest rooms and 13,286 sq. ft. in summer 2017. DoubleTree by Hilton Richmond-Midlothian, with 237 guest rooms, has also been recently rejuvenated, including upgrades to its 26,000 sq. ft. of meeting space.
Virginia Beach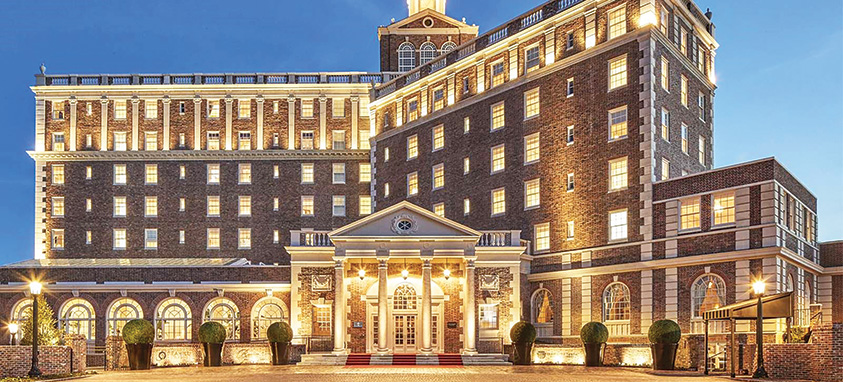 It's best known for its 3-mile boardwalk and the majestic beauty of Chesapeake Bay, but Virginia Beach has a lot more to offer. Military Aviation Museum, for one, houses the world's largest collection of aircraft from the two world wars that are still flying; and the city is the site of America's first lighthouse, commissioned by George Washington. The ViBe Creative District attracts artisans ranging from cutting-edge to traditional—and is a work of art itself, adorned with murals by local street artists.
Architecturally stunning Virginia Beach Convention Center, with 516,522 sq. ft. of exhibit space, was the first in the country to win LEED Gold certification.
Hyatt House Virginia Beach/Oceanfront opened in 2017 with 156 guest rooms and 1,943 sq. ft. of meeting space, and coming this year is a Hyatt Place with 127 guest rooms and 2,067 sq. ft. The 1927-vintage Cavalier Hotel reopened last year as Virginia's first Marriott Autograph Collection property, with 85 guest rooms and 4,721 sq. ft., after an $85 million renovation that included adding America's first working distillery inside a hotel.
This year brings Marriott Virginia Beach Oceanfront, with 305 guest rooms and 26,000 sq. ft. of meeting space. Virginia Beach Resort Hotel & Conference Center, which is undergoing a $25 million renovation, will reopen as a Delta Hotel by Marriott with 295 guest rooms and 15,000 sq. ft.
Brooke Dornan is meeting manager at Alexandria-based American Society of Naval Engineers. She recently brought 1,400 attendees, among them military officers, defense contractors, researchers, training personnel and shipyard management staff, to Virginia Beach for Fleet Maintenance & Modernization Symposium.
"We like the fact that Virginia Beach affords easy accessibility to attendees from the Norfolk shipyards," Dornan says. "But we also really like the convention center. It's the perfect size for us. We find the staff very professional; no request is too much for them. And the city is laid-back and walkable, with friendly people and good restaurants. We were also there in 2016…and we're coming back in 2020."
Greater Williamsburg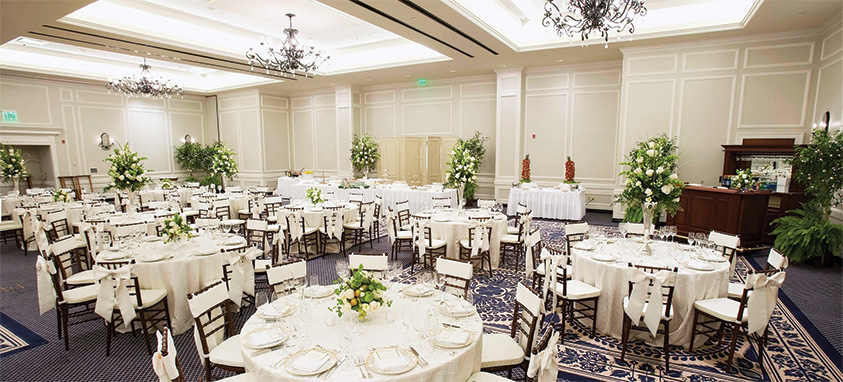 Meeting attendees in Greater Williamsburg experience living history throughout the Historic Triangle of Jamestown, Williamsburg and Yorktown. There's also championship golf, world-class spas, farm-to-table dining and, of course, Busch Gardens theme park. Other lures include Williamsburg Tasting Trail (breweries, wineries, distilleries and an actual meadery) and a lively cultural scene.
Greater Williamsburg offers first-class amenities with value pricing, and meeting planners often report higher attendance there.
Colonial Williamsburg, capital of 18th-century Virginia, features some 400 restored or reconstructed buildings from that time, along with unique shops, re-enactors in period dress, and horse-and-buggy rides. Also in Greater Williamsburg are Historic Jamestown and Yorktown battlefield, where Revolutionary America's fight for freedom culminated in triumph.
The iconic Williamsburg Inn, founded by John D. Rockefeller and part of Colonial Williamsburg Resorts, recently completed an $8 million renovation that enhanced its already-impressive ambience. There's now a new signature restaurant, a reflection pool at the entrance, and updated event spaces that include an expanded Queen's Terrace for larger functions. There are also 62 recently enlarged guest rooms—on a property your attendees will be talking about for years.
Williamsburg Lodge, Autograph Collection, also part of Colonial Williamsburg Resorts, has recently been upgraded, with new furnishings reflecting Colonial times. This hotel, another stirring example of old-time elegance, has 323 guest rooms.
Together, Colonial Williamsburg Resorts features three resorts, with 67,000 sq. ft. of meeting space.
Cultural Gem in the Blue Ridge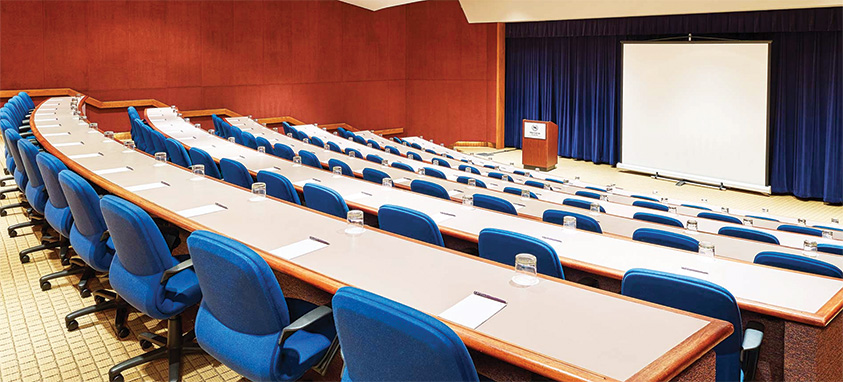 A beautiful old city in the Blue Ridge, Roanoke has a vibrant cultural life that's part country, part urban, part traditional, part avant garde.
For example, its Taubman Museum of Art features great American artworks in a stunning glass structure with 11,160 sq. ft. of meeting space.
Downtown's red-brick Center in the Square houses five superb cultural organizations: Harrison Museum of African American Culture, Children's Museum-Kids Square, Mill Mountain Theatre, Roanoke Pinball Museum (yes, you can play them!) and Science Museum of Western Virginia. There is 12,852 sq. ft. of meeting space, plus rooftop space with dramatic city and mountains views.
At Virginia Museum of Transportation, attendees can roam one of the greatest old train yards in America. Inside, there's a wing with vintage cars and another housing the O. Winston Link Photography Museum, showcasing compelling black-and-white photos by America's greatest railroad photographer. The museum complex's entire 23,805 sq. ft. can be rented.
Roanoke also has a pop-culture icon. Texas Tavern, dating to 1930, is a lunch counter serving arguably the biggest (and best) hot dogs and burgers in the Commonwealth. It's been run by the same family since its founding.
Hotel Roanoke & Conference Center is another local landmark—a Tudor-style, AAA Four Diamond property on the National Register of Historic Places—with 330 guest rooms and 63,000 sq. ft. of meeting space. Blue Ridge Hotel and Conference Center (pictured) has 320 guest rooms, 40,000 sq. ft. and first-class amenities. Nestled in the nearby mountains is Peaks of Otter Lodge, with 63 guest rooms and meeting space for 100.
What to See at Mount Vernon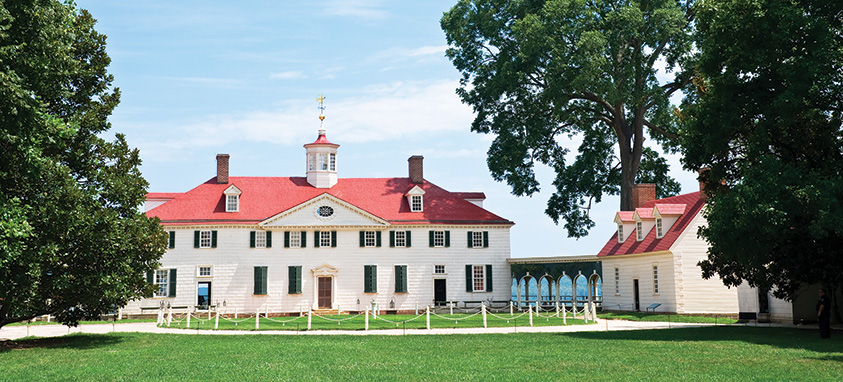 George Washington died in 1799. But his magnificent Mount Vernon mansion lives on to this day.
Thirteen miles south of Washington, D.C., the main house has been restored to its original state. Washington loved to roam his beautiful gardens; so much so that he built four of them, in addition to a trail through the forest, all of which are open today.
The estate has numerous out-buildings, where tasks such as laundry, knitting/spinning, curing meats and shoeing the horses were performed. There were many animals kept at the estate, and the same types are there today, among them Hog Island Sheep, Ossabaw Island Hogs and sturdy working horses.
The tomb where George and Martha Washington are buried, along with other family members, is there, too, and daily remembrance ceremonies are held. Nearby is another burial ground, as well as a memorial, to the slaves and some freed African Americans who worked there into the 1800s.
Donald W. Reynolds Museum & Education Center on the grounds gives a good look at life in those times. There's also an interactive center where you can be George Washington and get the chance to make some of the most momentous decisions in American history.
At Mount Vernon, you can even see reconstructions of Washington's distillery and gristmill, both of which are functional today.
Virginia Fun Facts
Virginia was named after England's "Virgin Queen," Queen Elizabeth I.
Jamestown, the first English settlement and first capital of Virginia, was actually founded for a more commercial purpose—to cultivate silk. When the silk crop failed, colonists planted tobacco. And the rest is history…
The College of William & Mary, founded in Williamsburg in 1693, is the second-oldest in America.
The first peanuts grown in America were grown there.
The biggest city in Virginia is not Richmond, the capital, or Norfolk, home of an immense naval base, but Virginia Beach (pictured), with a population of about 450,000.
The 1862 Civil War battle between Monitor and Merrimack, the first between iron-clad vessels, took place off the shore of Hampton Roads.
Over the past few centuries, Virginia has had three capital cities—Jamestown, Williamsburg and Richmond.
More than one-half of the 4,000 battles fought in the Civil War were fought in Virginia.
The Pentagon building—in Arlington, Virginia, not Washington, D.C.—is the largest office building on Earth.
The town of Appomattox has fewer than 2,000 residents. But it will be forever in the history books as the place where Gen. Robert E. Lee surrendered his forces to Gen. Ulysses S. Grant, ending the Civil War.
The Virginia town of Bristol shares the same main street with the Tennessee town of Bristol. But they're in separate states and have separate city governments.
Steve Winston is an award-winning writer who has traveled extensively and writes for national and international magazines.