Leverage the sense of history in England and Scotland to stage unforgettable meetings
Great Britain is perennially a top meetings destination, with its intriguing cities, magnificent landscapes and congenial hosts. The most prominent cities feature unparalleled historic structures and sites, which provide an interesting and compelling contrast to cutting-edge hotels, restaurants and entertainment.
As the centerpiece of the modern United Kingdom and a two-millennia-old birthing ground of Western society, London offers historical and cultural experiences rivaled by few other places on Earth. Today's city was originally established inside the walls of an abandoned Roman fort about 1,500 years ago.
Since then, Anglo-Saxons, Vikings, Danes and Normans (who built the Tower of London in 1066) have had their time at the helm. Once heavy French cultural influences were shaken off by residents, they developed much of the roots of modern English language.
Trade was the force that made London a large metropolis in medieval times, and the central focus on commerce remains to this day. In the meetings, incentives and events business, in particular, London is a top-five city worldwide, as ranked by International Congress and Convention Association. Its massive appeal stems from the quality of its business-event facilities and its six international airports—as well as its historical features that add a cosmopolitan touch to events.
Two other major cities in England also use their strong historical and cultural pedigrees to enhance the experience of meeting and convention delegates. First is Manchester, settled in the year 79 A.D., and which became the world's first fully industrialized city, in about 1790. Its central district caters strongly to business events, thanks to Manchester Central Convention Complex and many surrounding hotels. But venues such as Manchester Art Gallery, and Museum of Science and Industry round out the attendee experience in memorable ways.
Next is Birmingham, the focal point of the British Midlands. The city evolved from a medieval market town into a manufacturing and skilled-trades giant that literally started the Industrial Revolution—the steam engine was invented there in 1779. Today, Birmingham's combination of corporate diversity, universities, fine-arts institutions, soccer culture and strong transportation network complements the bustling ICC Birmingham convention facility, making the city appealing for business events in any industry.
While it's part of the United Kingdom, Scotland has a distinct history and heritage in which event attendees can become immersed. Its two largest cities, Glasgow and Edinburgh, have many historical buildings as well as museums that document the ways of inhabitants from before the Roman occupation in the first few decades of A.D. to the present day. And not far from each city are areas brimming with historical significance, all of which can be explored in less than a full day.
Scotland's government has designated 2017 as the "Year of History, Heritage and Archaeology." The country's collective emphasis on those themes this year will surely enhance the experience of meeting and incentive groups visiting in subsequent years, as well.
London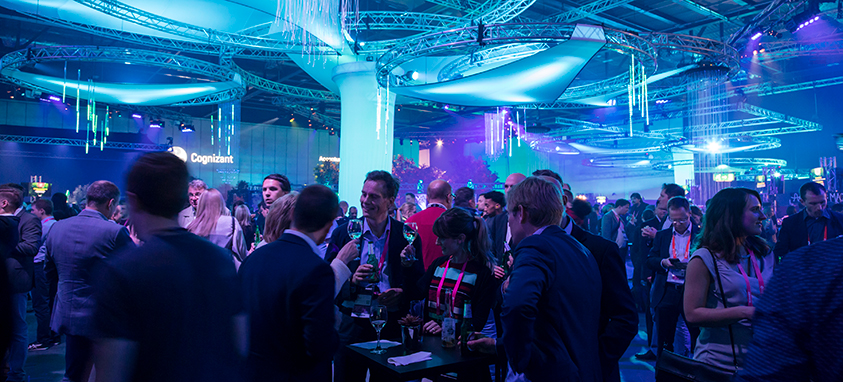 The largest convention facility in the city is the 939,649 million-square-foot Excel London (pictured above). Built in 2000, Excel's Docklands Area location has more than 20 bars and restaurants to serve the five facility-connected hotels, plus 7,500 other guest rooms within walking distance. In central London, Queen Elizabeth II Centre is the largest meeting venue, with 32 meeting and event spaces for up to 2,500 attendees, plus views of Big Ben and Westminster Abbey.
During downtime, attendees can take tours of Westminster Abbey, a 1,000-year-old church with spectacular architecture that has been the site of royal coronations, weddings and funerals for centuries. For coordinated special events in other historic venues, planners can work with Historic Royal Palaces, an independent charity that looks after the Tower of London, Kensington Palace, Hampton Court Palace, Kew Palace and Hillsborough Castle (just outside the city).
Two venues that offer a different view of history and culture are Natural History Museum and Tate Modern. Natural History Museum, on Kensington Road alongside Science Museum, and Victoria and Albert Museum, is a 36-gallery venue with millions of life- and earth-science specimens, including an entire Charles Darwin gallery. Tate Modern is London's iconic gallery of modern and contemporary art, and has seven event spaces with huge windows providing stunning views of the city.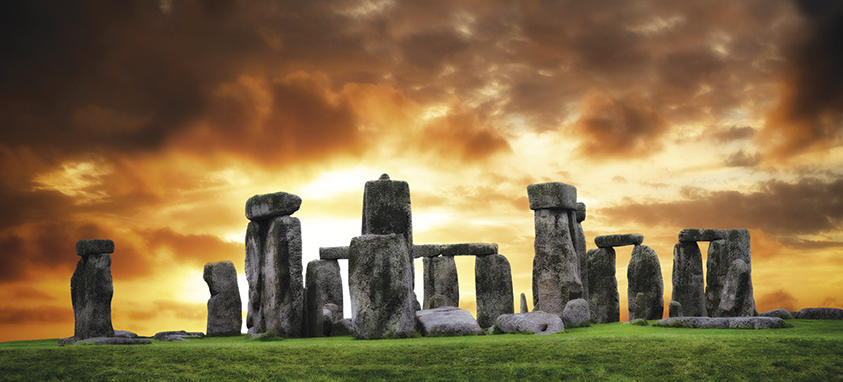 For a day trip that attendees will never forget, planners can charter buses for the 70-minute ride to Stonehenge (pictured above), in the Wiltshire countryside. The remains of a circular set of 40-ton stones that were somehow dragged across a desolate plain to Salisbury Hill are breathtaking to witness in person. On the way to Stonehenge, groups can visit Salisbury Cathedral, a 750-year-old church with the tallest spire in England—404 feet. An added bonus: One of four remaining copies of the 950-year-old Magna Carta document is on display in the adjacent Charter House.
Ninety minutes by bus from London is Bath, a UNESCO World Heritage Site with a perfectly preserved Roman temple and a spa where centurions soaked their bodies after battle. The town also has several Georgian architectural gems to explore.
Manchester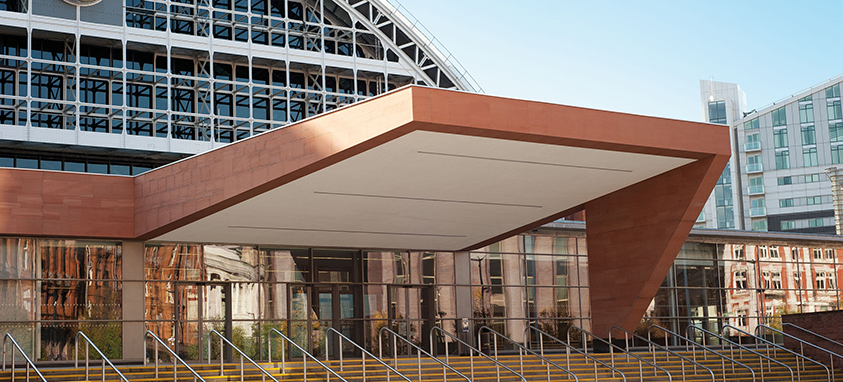 With the 250,000-square-foot Manchester Central Convention Complex (pictured above) within a 10-minute walk of eight sizable hotels, attendee transportation is simplified for event planners. For a luncheon or evening event that draws upon local history, Manchester Central can accommodate, as well. Originally built in 1880 as a major rail station connecting the city to London, this meeting venue sports a 200-foot-long, vaulted-arch roof above its main space, plus other Victorian-era design elements conducive to creating memorable meals and social events.
While the impressive 140-year-old Town Hall Manchester is being refurbished throughout 2018, business groups have several other venues that offer similar prestige and practicality. The John Rylands Library, part of University of Manchester Library, embodies a striking Gothic design from 1889 that hosts receptions where guests can catch a glimpse of the oldest known piece of the New Testament, the St. John Fragment.
Dating back to 1421, Chetham's is the most complete late-medieval complex to survive in the northwest of England; its Baronial Hall is a preserved 15th-century hall that can accommodate up to 100 guests. Manchester Art Gallery, housed in three 19th-century buildings, displays more than 25,000 paintings and objects originating from as far back as the ancient Egyptians to as recent as the French impressionists. Lastly, Museum of Science and Industry displays the city's essential contributions to modern engineering in a few magnificently restored 1830 buildings.
Birmingham
There are 6,200 guest rooms within walking distance of The ICC Birmingham—a facility with 10 conference halls comprising stylish exhibition spaces, tiered auditoriums and seminar rooms, plus 10 executive meeting rooms, each holding 10 to 50 attendees. Making that walk both easy and pleasant is The Mall, an indoor thoroughfare of shops and restaurants that connects the convention quarter to the city center.
A new conference facility came online in the city in late 2016: Birmingham Conference & Events Centre. With more than 24,000 sq. ft. of high-tech space across 20 rooms and six banquet areas, the facility can accommodate more than 1,400 attendees for everything from educational seminars to heavy-equipment product launches.
For a conference, exhibition or social event, the ornate Chateau Impney, situated in the countryside outside the city, offers 26 spaces and a banquet capacity of 850. Within the city, the 180-year-old Town Hall Birmingham can host 900 for cocktails, followed by a musical or theatrical performance. For even larger groups, adjacent Symphony Hall features several Art Deco-style foyers that together can host 2,262 for cocktails, and its world-class acoustics make for memorable musical performances.
The sporting life is also central to Birmingham's culture. The venues that best show off this aspect are designed for soccer, which is called football in Europe. Five top teams play in and around the city, and receptions at the football stadiums, combined with guided tours, are possible even for large business groups.
Glasgow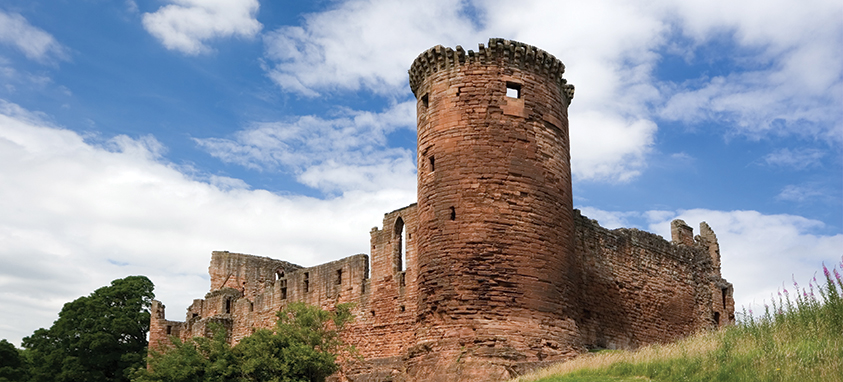 Two major developments have come from Glasgow's event industry this year. First, Scottish Exhibition and Conference Center has relaunched as Scottish Event Campus (SEC), with three subsidiary venues: SEC Centre, SEC Armadillo and The SSE Hydro. An institution since 1985, the venues are collectively a huge draw for the city; 258 large events took place across the campus in 2016. Second, the city has launched a sustainability toolkit for environmentally conscious meetings and incentives. On the city's website, planners can find suggestions on accommodations, venues, restaurants and team-building activities that are sustainable, along with information about the history and culture of the city. Crowne Plaza Glasgow, Golden Jubilee Conference Hotel and DoubleTree by Hilton Glasgow Central are prominent in the city's sustainability movement.
Some of the art-themed venues in Glasgow that underpin Scotland's Year of History, Heritage and Archaeology are themselves works of art. For instance, Kelvingrove Art Gallery and Museum houses one of the finest public art collections in the United Kingdom, including works by Rembrandt and van Gogh. The facility, next to University of Glasgow, is also a splendid example of late Victorian architecture; its Centre Hall has a huge vaulted chamber under which nearly 1,000 people can enjoy a reception before wandering the exhibition galleries.
Another stately venue is Pollok House, a large manor set on 1,000 acres of parkland just 3 miles from Glasgow city center. Its art collection features works from Goya, Blake, Murillo and the Dutch Masters, plus the world-renowned Lady in Fur Wrap by El Greco. Receptions for up to 400 can take place in an adjacent lawn structure that overlooks White Cart River.
History also comes into play with a collection of castles outside the city that can accommodate group events. At Bothwell Castle, a few miles southeast of Glasgow, visitors can tour this grand, picturesque 13th-century ruin and hear about how its inhabitants resisted a famous English siege. And less than 30 minutes from the city, refurbished Crossbasket Castle hotel features a 350-person ballroom overlooking the waterfalls on the River Calder, plus rooms furnished with 14th-, 15th- and 16th-century pieces.
Edinburgh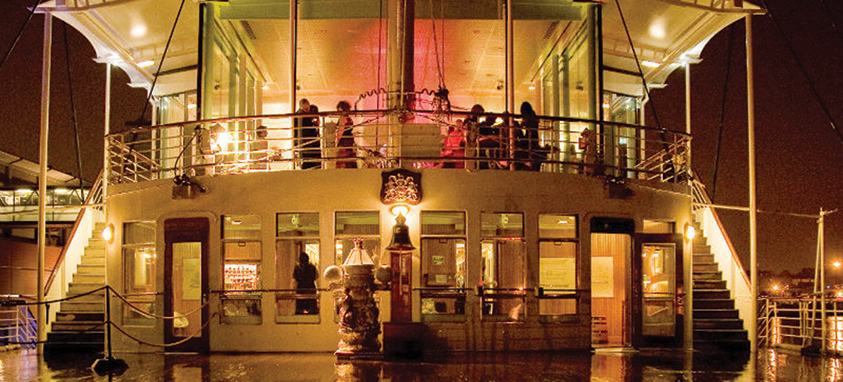 In Edinburgh, the lone United Kingdom city that is a United Nations World Heritage site in its entirety—and which boasts the second-most international association meetings per year in U.K.—the latest developments on the meeting-venue scene are substantial. They include the nearly $42.6 million refurbishment of University of Edinburgh's McEwan Hall. In addition to updating its historic main auditorium that holds 1,000 attendees, a modern pavilion entrance leads to a new set of flexible meeting and event spaces, each with capacities of 400 to 500 people.
Also, by mid-2018 the city's Royal College of Physicians will have a refurbished, world-class interactive education hub for shared learning and training in its impressive Georgian-style buildings. Royal Highland Center, which hosts 200 events per year, just upgraded its 45,000-square-foot Lowland Hall as well as its Wi-Fi system.
As for the group-lodging segment, a $30 million refurbishment of the 240-room Principal Edinburgh Hotel was completed late last year, bringing contemporary touches to the prestigious property. Known for 136 years known as The George Hotel, the newly renamed Principal Edinburgh features a grand Victorian gallery—a former banking hall—that holds up to 300 guests.
The most iconic location for special events is Edinburgh Castle. Located on Castle Rock and featuring stunning views, the castle is Scotland's premier national monument, but allows dining parties of up to 800 people in deeply historic settings such as Queen Anne Building, Gatehouse and Jacobite room. What's more, each event includes a viewing of the Honours of Scotland—the Scottish Crown Jewels.
Royal Yacht Britannia (pictured above) is another unique and exclusive event venue. Home to the Queen of England and the Royal Family for 40 years, it is permanently berthed in Edinburgh and can host dinner for up to 196 guests and cocktails for up to 500.
Scotland: Historic and Scenic Day Trips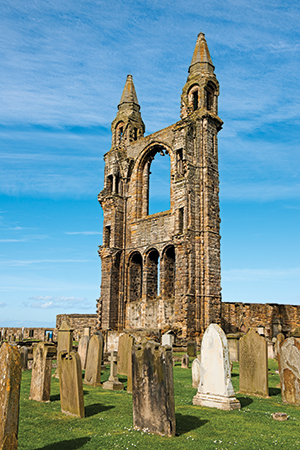 Not far from both of Scotland's major cities— Glasgow and Edinburgh—lies a truly historical point of demarcation: the northernmost frontier of the Roman Empire. The 1,900-year-old, stone-and-earth fortification along a 36-mile-long boundary is known as Antonine Wall, a United Nations World Heritage Site. A well-preserved stretch called Watling Lodge acts as home base for half-day guided walking or biking excursions through the countryside.
An hour away from Antonine Wall is the seaside town of St. Andrews, another day trip that can leave a lasting impression on several fronts. Universally known as the birthplace of the 600-year-old sport of golf. St. Andrews features not only golf's first designated playing ground (The Old Course), but also the majestic Royal & Ancient Clubhouse , built alongside it in 1854.
A far older and more physically imposing site in St. Andrews (pictured below) is magnificent Cathedral of St. Andrews, the onetime center of the Medieval Catholic Church in Scotland. Built in 1158, the 390-foot-long structure with its 108-foot-high tower was the largest church ever built in Scotland. Visitors can take stairs to the top of the ruins.
In addition to the athletic and religious history in St. Andrews, there's deep educational history too: University of St. Andrews, founded in 1413, is the oldest of the four ancient universities of Scotland. Besides its quintessential Scottish architecture, the university's youthful inhabitants keep the various shops, restaurants and pubs along St. Andrews' cobblestone streets bustling for much of the year.
---
Rob Carey is a business journalist and principal of Meetings & Hospitality Insight, a content marketing firm for the group-business market.