EASTERN PENNSYLVANIA
PENN ULTIMATE
For those who think of Pennsylvania as one cultural whole, think again. The mid-Atlantic state is more properly divided (at the very least) into east and west with different vibes (and even different names for soda/or pop depending on how far west you go—we're looking at you "Pop" Pittsburgh). Eastern Pennsylvania is pinned by Philadelphia and nearby Lancaster and Valley Forge where meeting planners can extend their history lessons and get a taste of Amish culture, too.
LOCAL EXPERT TIP: "Philadelphia is home to some incredible venues that are unique to our city. Where else can you enjoy a rooftop networking session in sight of Independence Hall or atop the iconic steps to the Philadelphia Museum of Art? There is no shortage of authentically Philadelphia meeting venues and event spaces." — Maria Grasso, senior vice president, convention division, Philadelphia Convention & Visitors Bureau.
5 FANTASTIC PLACES TO MEET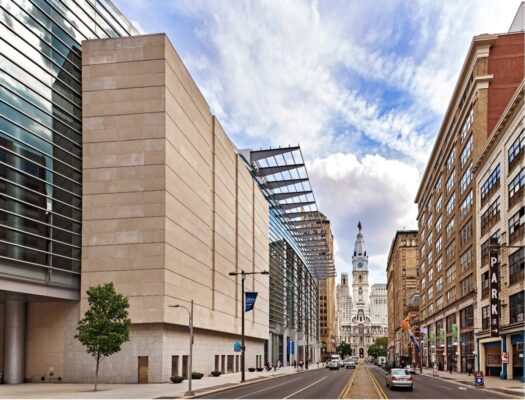 The expanded Pennsylvania Convention Center, located in the center of Philadelphia's historic downtown, offers more than 679,000 sq. f.t of exhibit hall space with seven halls and 82 meeting rooms—plus the largest ballroom in the Northeast. The 2011 expansion includes the new 55,408-squarefoot Terrace Ballroom.
The Museum of American Revolution, opened in 2017, celebrates our nation's founding in Philadelphia and offers awe-inspiring spaces for meetings such as the Robert A.M. Stern Rotunda with its vaulted ceiling and Grand Staircase and the Bank of America Terrace with views from the museum's Plaza to Independence National Historic Park.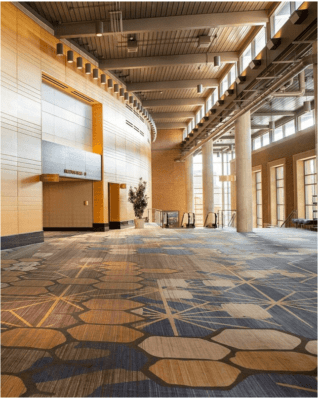 Lancaster County Convention Center has 90,000 sq. ft. of meeting space, 27 meeting rooms, Freedom Hall with space for 6,500 guests and 416 adjacent guest rooms and suites.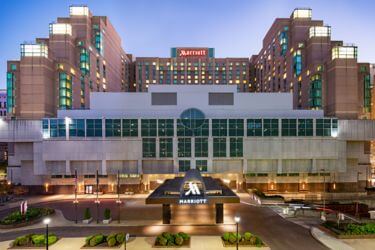 Recently renovated (see Q & A), Philadelphia Marriott Downtown is the second-largest convention hotel in the Northeast. It has 92,000 sq. f.t of meeting space connected by sky bridge to nearly 1 million more at the Pennsylvania Convention Center and is located within walking distance of the city's historic district.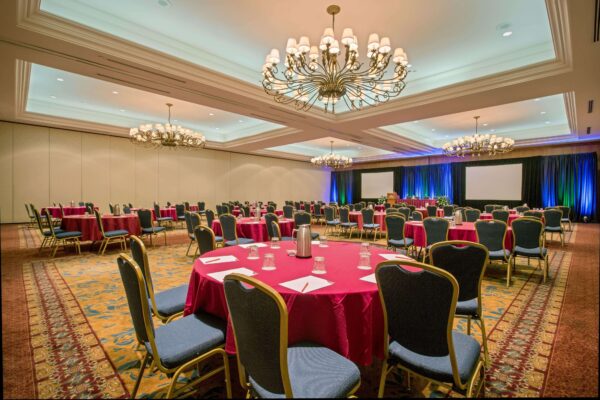 Located across from King of Prussia Mall, and less than 20 miles from Philadelphia, Crowne Plaza Hotel Philadelphia-King of Prussia, an IHG Hotel's Liberty Conference Center offers 225 guest rooms and over 24,000 sq. ft. of flexible space, including two ballrooms and an IACC-approved conference center feat
5 REASONS MEETING PROFS LOVE EASTERN PENNSYLVANIA
Easy access. Philadelphia, Lancaster and Valley Forge are all within a two-and-a-half-hour drive from New York City. Amtrak options from NYC and points beyond to Philly are plentiful. Amtrak's Acela from brand new Moynihan Train Hall in midtown NYC arrives in an hour and 10 minutes.
History, History, Historys. Home of the Liberty Bell and the birthplace of the signing of the Declaration of Independence, which was written here in 1776, you can't get more historic than Philadelphia. Valley Forge with its connections to George Washington's famed winter campaign, and Lancaster with its deep roots in Amish culture round out the history lesson.
Walkability and Dedicated Guides. New Haven, Hartford and Stamford are all large cities with a small town feel in terms of walkability and leisure and dining options.
Art: So. Much. Art. Philly is home to both the Barnes Foundation and The Philadelphia Museum of Art, both of which are known for being among the world's richest repositories of works by Henri Matisse and other impressionists and early modern painters. Both venues have a wealth of event options that all include access to viewing some of the most iconic paintings of the modern era. Oh, and the Philadelphia Museum of Art has the "Rocky Steps" and a commemorative statue of Stallone at their base for photo ops.
Only in PA Experiences. A short drive from Philly gets meeting goers to Lancaster, home to the Lancaster Convention Center and the "plain" culture of the Amish, whose colorful quilts, marketplaces and horse-drawn carriages are anything but. Valley Forge is not only home to 3,500 acres of history at the Valley Forge National Historic Park, but also home to 1.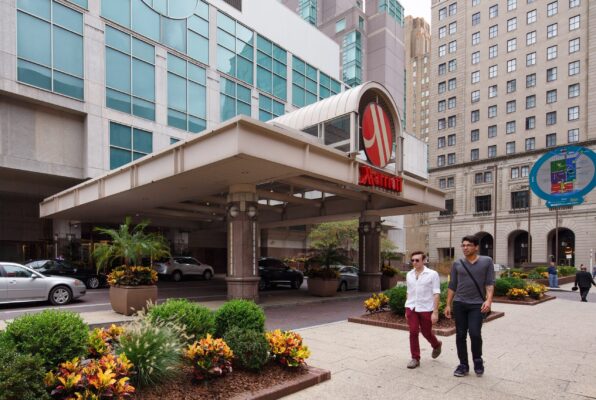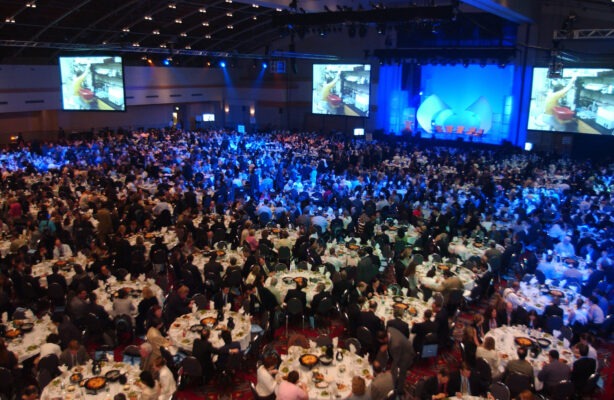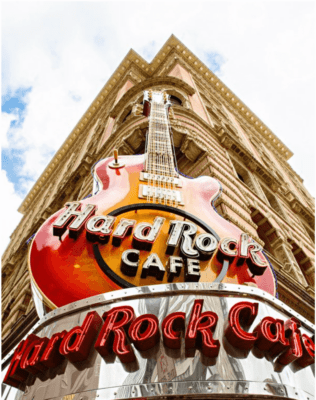 PHILLY Q & A
Russell Banks, II, senior sales executive, Philadelphia Marriott Downtown and Maria Grasso, vice president, sales and convention services, Philadelphia Convention and Visitors Bureau on why Philadelphia is luring meeting planners now.
Q.
What's new at Philadelphia Marriott Downtown and what should meeting planners know about the landmark business?
A.
What makes our hotel unique, besides its location (which is footsteps away from the greatest attractions, venues, boutiques, restaurants, shopping and night life that Philadelphia has to offer) are the design elements within our fully renovated property which tie together new and old in an incredibly unique way. Just like our city, our hotel is versatile and boasts something for everyone. Our renovation was completed with a specific goal of appealing to meeting planners who host events of all kinds and sizes.
    Philadelphia Marriott Downtown recently finished a complete and total revitalization of 1,408 guest rooms, and 100,000 sq. ft. of function space. The hotel boasts new, highend technologies, furniture, lobby, lounges, rooms, suites and function spaces…all with exciting, interesting design elements and upscale amenities. The architectural theme is titled "present-day reflections" because the contemporary main building connects to a lavish, gothic and historic "Head House" tower, which is connected to Philadelphia Convention Center (as well Jefferson Station and the Fashion District). Head House tower is historic, and used to hold the offices of the Reading Railroad. It is adjacent to Reading Terminal Market, one of the city's most popular places to visit.
    During the renovation, an innovative artthemed function room was added called "The Gallery," which features work from local artists as well as a giant media wall. Other new additions include Liberty Lanes, a bi-level bowling pub, a newly built local marketplace/ cafe called Center City Pantry, an arcade, a cyber-library, a chef's lab and several new restaurant and dining concepts.
"The Philadelphia Convention and Visitors Bureau helps make things seamless for meeting planners thanks to our dedicated business development divisions. PHL Diversity, PHL Life Sciences and PHL Sports connect meeting planners with local thought leaders and industry experts who can assist with resources from our local community." – Maria Grasso, Vice President, Sales and Convention Services, Philadelphia Convention and Visitors Bureau
Q.
What new things in Philadelphia should meetings planners be aware of?
A.
Pennsylvania Convention Center has just received its Global Biorisk Advisory Council (GBAC) STAR reaccredited for a second consecutive year. The Center is continually taking measures to ensure guests have a healthy and safe experience. Reading Terminal Market just completed an expansion that includes a new outdoor space great for private events. It will allow for an expanded event footprint for planners who want to utilize the historic market as an event venue, coupled with the classic Philadelphia cuisine of the market's vendors.