When the FIFA Women's World Cup final takes place July 5, Vancouver's BC Place Stadium will be forever remembered for hosting the last match of the record-breaking 2015 tournament. The championship match is expected to draw more than 53,000 fans to BC Place Stadium and will be watched on TV by millions of people from around the world.
Canada has shown lots of teamwork while hosting the largest women's sporting event in the world. Besides Vancouver, matches also took place in Edmonton, Winnipeg, Ottawa, Montreal and Moncton, marking Canada's first coast-to-coast sporting event. BC Place Stadium has already hosted eight matches, with the finale on tap for Sunday at 7 p.m. (EDT) on Fox. The U.S. women will face Japan.
This is not the first time that BC Place Stadium has been in the international spotlight. The opening and closing ceremonies of the Vancouver 2010 Olympic Winter Games were also held there.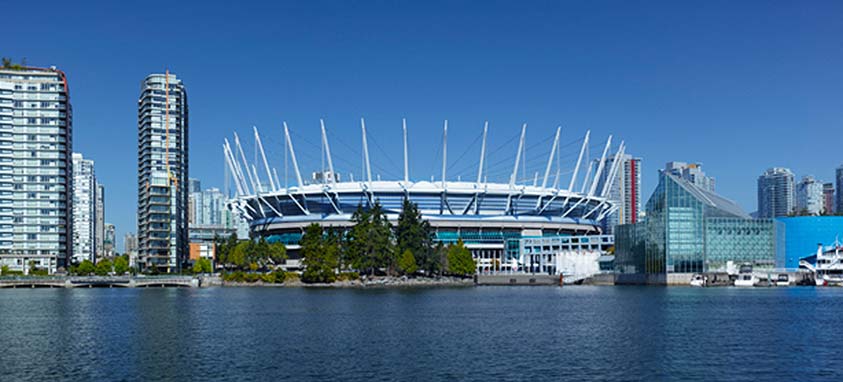 After the 24-team World Cup women's soccer tournament concludes, meeting planners may want to consider bringing large groups to the stadium, especially due to the notoriety the venue and destination have received this month.
Here are 11 fun facts to help you decide if BC Place Stadium is the right events venue for your group:
—BC Place Stadium is the largest multipurpose events venue in British Columbia.
—It features the biggest retractable roof in the world. In other words, weather will never be an issue.
—It has the second-largest video-board in North America.
—The stadium is one of the most technologically advanced events venue in the world with 800 Wi-Fi ports and 1,100 digital screens.
—It's located downtown.
—It has an energy-efficient LED lighting display that regularly helps bring awareness to events, charities and nonprofit causes important to communities in British Columbia. (Note to planners: Can you say branding opportunity?)
—Stadium underwent a complete renovation in 2011.
—It has a seating capacity of 54,500.
—A flexible secondary roof system between the lower and upper tiers of the stadium can be closed to create space for 22,000.
—This events venue implements many green practices, including a comprehensive recycling program, using biodegradable cleaning products and a catering department that locally sources food.
—The projected economic activity generated from hosting the nationwide tournament is $267 million.
Take a look through our slideshow for more images of BC Place Stadium:
…