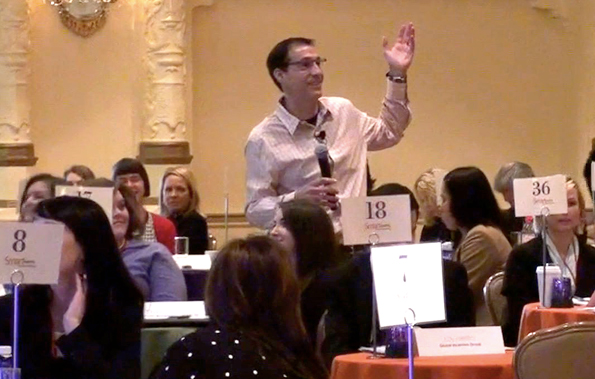 Billy Kirsch leads attendees at the Smart Event Seattle through a team-building exercise, writing a
song about the meetings industry
Our event coordinator, Cassie McNair, is sharing one of her favorite trends every week. See some trends in action by attending one of our Smart Events, and read more about trends here.
"The way a team plays as a whole determines its success. You may have the greatest bunch of individual stars in the world, but if they don't play together, the club won't be worth a dime." —Babe Ruth
The Great Bambino would be proud of creative team-building activities that are increasingly making a statement at meetings. Attendees aren't satisfied with the tired name-game, trust-circle style of team building, so meeting planners are using their creative skill set to bring attendees together. Whether it's a murder mystery game, casino night, sing-a-long or game of Twister, people are responsive to anything that isn't forced and is authentically fun.
Here are some creative ideas to elevate your next meeting:
–From the Amelia Island Omni: Get your attendees to work together on a build-your-own-boat competition
–The Ritz-Carlton Lodge, Reynolds Plantation's BBQ Sauce Chef's Challenge, in which teams concoct Southern sauces under the guidance of a barbecue expert, and winners receive a BBQ Sauce Master Diploma
–From Smart Meetings' Smart Event in Seattle: Team building through song with KidBilly Music
–Bollywood or Zumba dance lessons that bring laughter and rhythm to meetings
What creative ideas are exciting and inspiring you? Share in the comments section below!