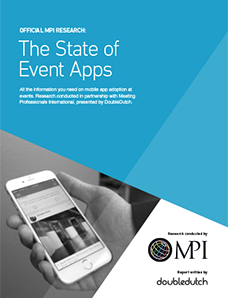 New MPI & DoubleDutch study
Meeting Professionals International (MPI) and the San Francisco-based tech company DoubleDutch have produced a 40-page report regarding the use of event apps. According to the report, which is based on a survey of nearly 400 MPI members, 63 percent of planners are already using event apps and 85 percent expect to use them in the next six to 12 months.
The study, which was conducted by MPI and reported on by DoubleDutch, covers the full spectrum of event apps, including their adoption and use by event organizers, best practices, trend data to predict future development and more. The respondents included 38 percent meeting management professional planners and 33 percent corporate meeting professionals.
Here are a few highlights from the report:
71 percent of association meeting professionals are using an event app to engage members
In-app sponsorship opportunities are huge revenue drivers for trade show organizers
Mobile event apps are used primarily to improve the event experience
Planners can update event information on the fly and notify attendees of those changes immediately
Mobile event apps give organizers the ability to identify the most influential attendees, project retention and increase revenue
Through mobile engagement comes powerful data, which can be used to demonstrate event success
The report concludes with a quiz to help meeting professionals determine the best app for an event.
To learn more, read the report or sign up for the free webinar on Thursday, Oct. 9, at 11 a.m. (PT). The webinar will be led by Jessie States of MPI and Jennifer Hawkins of DoubleDutch.