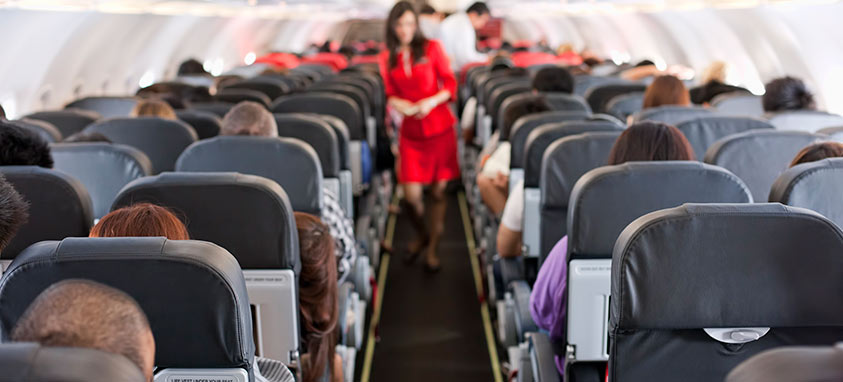 It's been an unsettling year, to say the least, for air travelers. In March, U.S. Homeland Security banned laptops in passenger cabins on flights originating from eight countries. As of this week, six of these had stepped up security measures and had their ban lifted.
In April, security guards dragged a hapless Kentucky doctor off an overbooked United Airlines flight. The airline paid him an undisclosed cash settlement, so at least there was a happy ending.
In June, the federal government unveiled enhanced security measures for commercial flights arriving from 280 airports in 105 countries. These meant longer security lines for heightened levels of screening of personal electronic devices and passengers.
So, what's next?
Would you believe five more years until a mere half of the world's commercial aviation fleet is equipped with onboard Wi-Fi? That's the unwelcome prediction of United Kingdom-based Juniper Research, Ltd., which estimates one in four planes currently allow passengers to log in at 30,000 feet.
But there is sunnier news. Here's a sampling of advances in airline amenities recently introduced or currently on the drawing board.
Onboard tablets for rent: Hawaiian Airlines already offers in-flight entertainment tablets with unlimited access to Hollywood releases, TV shows, games and more on flights.
Anti-jet lag lighting: The Airbus A350 and Boeing 787 use LED lighting throughout the cabin to replicate the natural patterns of sunlight and reduce jet lag that comes from hurtling through time zones.
Tiered arm rests: Economy-class passengers will love this one. Instead of the usual psywar over that single, shared strip of arm space, a new patented design boasts an armrest with a top and bottom tier—without eating up more precious space. Several airlines are said to be penciling out the cost versus benefit.
Personalized climate control: This concept goes far beyond the adjustable air-flow nozzle that's phased out on many newer airliners. We're talking heated seats, and seats with personal humidifiers and air vents. They're reportedly under study by several airlines.
Immersive screens instead of windows: A French company, Technicom Design, has a windowless jet concept called Ixion with floor-to-ceiling "wallpaper screens" that could offer entertainment or expansive views of the skies outside. Imagine if virtual reality visors were built into seats, as well. Incidentally, windowless aircraft would be more fuel efficient. A prototype is possible within a decade.