According to the latest DestinationMAP report, which is published every two years by hospitality research firm STR, costs are among the most influential factors swaying meeting planners' booking decisions. For the 2013 report, the researchers analyzed questionnaires from approximately 750 planners split evenly between corporate business and associations. Among the main takeaways from the 2013 report: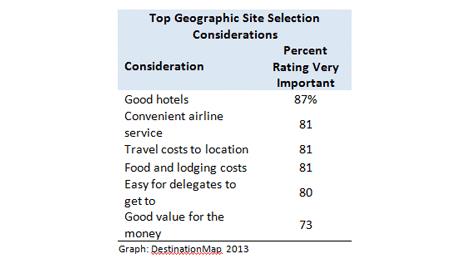 –Costs: The average hotel room rate paid by corporate planners for their largest meeting increased in 2013 to $189 per hotel room, while the rate for association planners increased to $177. Among the six most important considerations for meetings, 81 percent of planners said they look at the costs of traveling to a meeting location. An equal number said the consider food and lodging costs, and 71 percent considered whether a venue provides good value for the money.
–Meeting Planners Like Familiarity: 92 percent of planners consider previous experience very important, and 57% of planners report they held their largest meeting at a site where had previously held a meeting.
–Top 6 Destinations: The most popular destinations to hold meetings in were Las Vegas; Washington, D.C.; Orlando; Chicago; San Francisco; and New York City.
–Technology: 82 percent of planners listed free Wi-Fi as "very important." In addition, 94 percent of planners require W-iFi for their meetings.
–Booking Window: Meeting planners are booking their largest meetings within 24 months.
–Location Perception: 84 percent of meeting planners listed feedback from attendees as very important, and 66 percent listed colleagues recommendations as very important.
For additional information visit STR's Hotel News Now.
—Michael G. Hurston