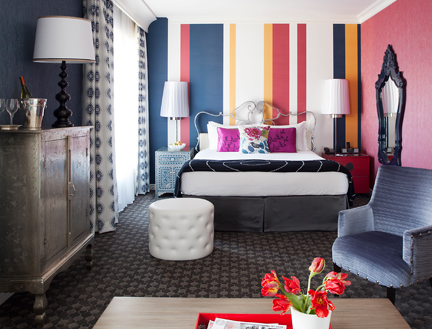 Redesigned room at the Hotel Monaco.
The Tuscsan, Monaco, Argonaut and Triton sound like exotic towns stretched across the Mediterranean coast, but actually they are the updated hotels under the Kimpton umbrella that are based in and around San Francisco. Over the past few years, Kimpton has been updating the properties in its home turf, bringing a casual elegance and definitive style to the boutique hotel market, a market that's ready to boom again with the recovering economy.
The Monaco is only the latest property to see updates. With the help of Andrea Dawson Inc., the hotel's new design took the 201 guest rooms of the hotel and changed them into a bold and whimsical look, with French Art Nouveau style, silk pillows and an aesthetic that screams international panache. While the update gives a luxurious new feel to the hotel, designers incorporated some of the original architecture, including the Monaco's Tree of Life sculpture, created by Albert Guibara.
San Francisco holds a special place in the heart of the Kimpton brand. The first boutique hotel for the company was built here, and currently, nine of the companies properties reside in and around the city. In addition to the ones recently renovated to bring the hotels into a modern aesthetic, Kimpton also runs the hotels The Serrano, The Prescott, Hotel Palomar and Sir Francis Drake, all named after prominent locales, as well as the Harbor Court.
All of this comes on the heels on the news the Kimpton closed on a $203 million equity fund in February, giving the boutique hotelier the ability to purchase as much as $500 million worth of hotels, something the company plans to do within the next three years. The company had set up three funds before this latest close—the first in 1997—and the strategy for this new fund is three fold: 1) Find non-hotels and convert them into Kimpton properties, such as the purchase of a brewery in the Pearl district of San Antonio, 2) acquire and renovate existing hotels under the Kimpton flag and 3) build new properties in urban and resort areas across the United States.
So, look out, world, because Kimpton is on the move in 2013 and beyond.
—Kevin King