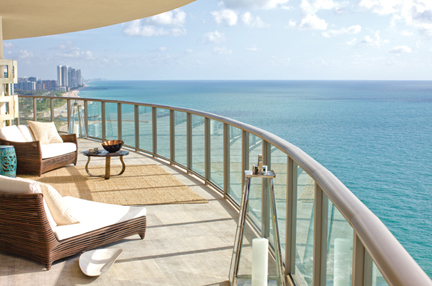 St. Regis Bal Harbour in Florida

They say that diamonds are a luxury hotel's best friend.
Readers may notice that we here at Smart Meetings make an effort to point out whenever a hotel has one of the top two ratings in AAA's Diamond system, because it is consistently effective as shorthand for "discerning travelers should consider staying here." Needless to say, getting added to this exclusive collection of hotels is a rather big deal, and January is the month when AAA releases its updated lists.
For 2013, the organization certified nine new Five Diamond hotels and removed 10 from the list. That makes for a total of just 125 Five Diamond hotels in the United States, Canada, Mexico and Caribbean, or less than 0.4 percent of the 30,000 hotels that AAA and its Canadian counterpart rate. The new inductees include the only Five Diamond hotels on the islands of Puerto Rico and Nevis. The addition of two Canadian hotels doubles the country's Five Diamond properties.
Here's a look at the nine newest hotels to achieve Five Diamond status:
[portfolio_slideshow exclude="5358″ size="full" slideheight=455]
And here's a look at what they offer in terms of meeting space:
–Capella Pedregal Resort and Spa: Twin board rooms that can be combined for 1,725 sq. ft. of meeting space.
–Four Seasons Resort Nevis: 5,000 sq. ft. of indoor space plus 3,000 sq. ft. of garden terraces.
–Montage Laguna Beach: 14,680 sq. ft. of indoor space plus a 1,200-square-foot courtyard and 20,600 sq. ft. of outdoor lawn space.
–The Ritz-Carlton, Amelia Island: About 51,000 sq. ft. of conference space and meeting rooms plus several outdoor venues for groups of up to 1,000 people.
–The Ritz-Carlton Montreal:  11,000 sq. ft. of meeting space.
–Shangri-La Hotel Vancouver: Almost 5,000 sq. ft. of indoor meeting space plus a 1,884-square-foot canopied terrace.
–St. Regis Bahia Beach Puerto Rico: More than 26,000 sq. ft. of function space, including three outdoor lawn event venues.
–St. Regis Bal Harbour: About 11,200 sq. ft. of event space, including indoor and outdoor venues.
–Trump SoHo New York: About 8,700 sq. ft. of meeting space plus a 6,000-square-foot pool deck.
Along with announcing the ratings, AAA also noted that The Broadmoor in Colorado Springs, Colo., is the only hotel to have maintained a Five Diamond rating since the system was expanded to hotels in 1976.
A Four Diamond rating is nothing to sneeze at, either.  There were 101 hotels added to that category, bringing the total of Four Diamond hotels to 1,535, a net gain of 44 properties. The complete list is available here.
—Bill Chapin