Photo credit: U.S. Travel Association 
The United States is lagging behind in international visitors, and a new group vows to change that. As the rest of the world welcomed more than 7 percent more international visitors in 2017, trips across the United States border fell by 4 percent, according to UN World Tourism Organization statistics. The meetings industry this week joined numerous other travel-related groups to launch a Visit U.S. Coalition, setting a goal of reversing a decline in U.S. competitiveness for international travel business.
The coalition, which includes American Society of Association Executives, American Gaming Association, International Association of Exhibitions and Events, and Society of Independent Show Organizers, pledged to advance policy recommendations that will help the economy.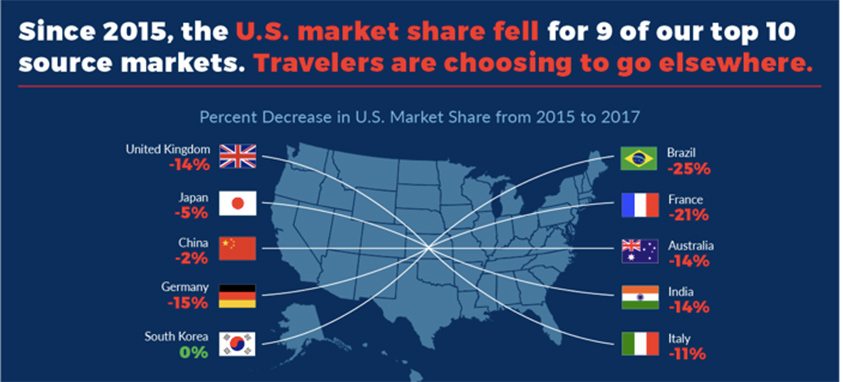 Photo credit: U.S. Travel Association 
"America is the best country in the world to visit, but we're losing the competition for international travelers and the dollars they spend when they come here," said U.S. Travel Association President and CEO Roger Dow, whose organization is a founding member of Visit U.S. In the past, Dow has attributed declines in international visitors to travel restrictions, confusion about security policies and the changing political environment. "These factors created a growing perception abroad that the U.S. is no longer as welcoming to international visitors," he said in a Dec. 19 statement.
The new group has positioned itself as helping President Donald Trump reach his economic goal of sustained 3 percent GDP growth. "The Visit U.S. Coalition is founded on the principle that we can have strong security, but at the same time welcome robust numbers of international business and leisure travelers. We can do both," Dow said when the group launched on Jan. 16.
How Big of a Problem is the Decline in Tourism?
Between 2015 and 2017, the U.S. share of increased travel fell almost 2 percent, according to U.S. Travel Association. That represents a loss of 7.4 million international visitors, $32.2 billion in spending and 100,000 jobs that would have been supported by tourism.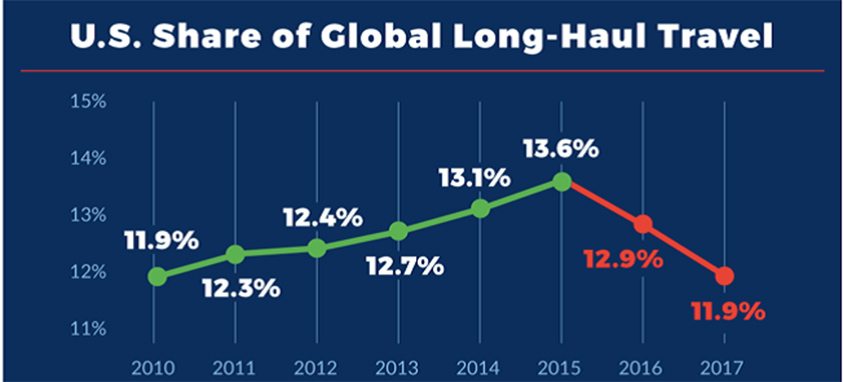 Photo credit: U.S. Travel Association 
American Gaming Association President and CEO Geoff Freeman called international visitors of vital importance to the gaming industry and the national economy.
American Hotel & Lodging Association President and CEO Katherine Lugar explained the trickle-down impact. "Fewer visitors means fewer hotel stays, fewer meals eaten in our restaurants, fewer goods purchased in our retail stores, and fewer visits to our national attractions. It also means fewer American jobs and a loss to our economy. We are committed to working together with the administration to balance a welcome message with strong security to ensure we don't fall behind to other countries."
Learn more at visituscoalition.com