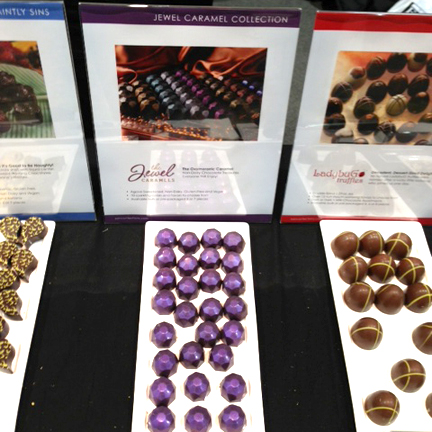 Caramel Jewels by Xan Confections
Yesterday, I discovered the trick to a successful trade show: Make it all about food.
That seems to the secret to success for the Winter Fancy Food Show, a National Association for Specialty Food Trade function that wrapped up its successful run at the San Francisco Moscone Center on Tuesday. I was tasked with attending the show (yes, my job is tough) and witnessed by far the most excited trade-show attendees I've ever seen. And why wouldn't they be? Rather than peddling brochures or USB drives, these booths handed out decadent chocolate truffles, gourmet seasoned popcorn, exotic honeys, organic nuts, lavash wraps and other totally-worth-it foodie splurges.
Besides being an awesome experience, the show presented myriad ideas for meeting F&B programs and takeaway gifts, with several vendors noting that they customize their goods for corporate groups. From the practical to the fun, here were some of my favorites:
–Mirror Mints, Little I: Flirty and fun, these tins, filled with sugar-free mints, slide open to reveal a mirror—so you can freshen your breath while freshening up. They'd make a great takeaway gift. Or just buy one for your own on-the-road beautification.
–Caramel Jewels, Xan Confections: These caramel confections are fancily flavored (chocolate, almond, butterscotch, chili), gorgeously hued (sparkling turquoise, silver, gold, purple) and thoroughly healthy (non-dairy, vegan, gluten-free). Oh, and they're really good.
–Gourmet Honey Collection, Z Specialty Food: An exotic array of flower sources from across the country—including the California orange blossom, Hawaiian lehua and Florida white tupelo—make these honeys special. The company also produces honey sticks and varieties of what it calls Cowboy Caviar, fresh vegetable spreads that are worth buying for the name alone.
–Bluegrass Soy Sauce, Bourbon Barrel Foods: The nation's only microbrewed soy sauce is made in small batches using non-GMO soy beans, soft red winter wheat and limestone filtered from Kentucky spring water, all fermented and aged in repurposed bourbon barrels. Other interesting bourbon goods from the company: bourbon barrel-aged vanilla and bourbon sorghum vinaigrette.
—Nikki Gloudeman