If you're short-staffed, time-pressed or even unfamiliar with an upcoming destination, you may need a partner to pull off a successful meeting. Much as we—and our execs—like to think we're a one-man band, there are times that outsourcing the details makes logistical and financial sense.
Fortunately, our industry encompasses local partners that can serve as your go-to resource on the ground, handling the research, the contracting and the on-site support. These destination management companies work in conjunction with planners to make a great on-site experience for the attendees—and for the planners themselves, who can then attend to the needs of the actual meeting, says Katie Day, president of Dallas-based Meritage Events.
For example, when Lahaina, Maui-based Maui Jim Sunglasses brought a group of 350 to Dallas for an international sales meeting, they were in the process of booking the Four Seasons for their event. Straightforward enough—but arranging all the meeting details from the sunny shores of Hawaii was another story, and that's where Meritage stepped in. "We handled all the transportation, the meet-and-greet, meeting logistics, registration desk, off-site activities, spouse tours, staff and signage," Day says.
But Maui Jim also relied on Meritage for another piece of the action. "The meeting's [overall] theme was Giddy Up, as they were in Dallas. We handled the decor for each night's dinner—there were four, and each was a different theme," Day says. "The first night was a Southern Welcome, the second was the Kahuna Awards Night, and the third was an off-site game night. On the last night, we had a full-on Ranch Western night, with a rodeo, bull riding and barbecue dinner."
Perhaps your needs mirror the scope of Maui Jim's, or you've got a potential citywide (see our Citywide feature, page 47). Or perhaps your requirements are on a smaller scale, such as airport transfers or shuttle service for an off-site. Either way, you can call on these experts to make your job easier. Here are some frequently asked questions (and answers) about DMCs that'll help you in the process.

What type of companies are DMCs??
There are approximately 8,000 DMCs operating in the U.S. today, varying in size, services offered and ownership. A recent snapshot of members conducted by the Association of Destination Management Executives, showed that 60% are individually owned, 11% are family owned, 22% are company owned and a small number are franchises.

What are the advantages of working with a DMC ?
"Planners have better things to do than search Google for suppliers they have never worked with before," says Carolyn Davis, CMP, owner of Strategic Meeting Partners, an independently owned DMC in San Diego. And nobody knows the reliability and service quality of local vendors better than DMCs. "A DMC has created committed relationships with the suppliers they use for your program," she says, which allows you the comfort of guaranteed service.
Nobody also has a better knowledge of the destination's unique or private spaces, says Fran Rickenbach, CAE, IOM and executive vice president of ADME. (In fact, DMCs are familiar enough with each venue, she says, that they can answer the quintessential planner question, "Does it come with toilet paper?")

Team-building cook-off winners.
And, further simplifying the support for planners, there's one contract and one payment, keeping all the details in line.
"I've used DMCs in both Phoenix and Palm Springs in conjunction with clients," says Leanne Calderwood, CMP, manager of global accounts for HelmsBriscoe in Calgary, Alberta. "They are able to get better pricing than if we approached all the vendors individually, and they have all that research already in hand as to what vendors are reputable and responsible." She also likes working with DMCs because of "all the time they save me and my clients."
What's the difference between DMCs and CVBs ??
CVBs are also great resources for planners, and there's a commonality of purpose between them. "CVBs and DMCs are both passionate advocates and experts in the cities or counties they represent," Davis says. CVBs are charged with bringing groups into the destination and may provide a planner with an impartial list of resources to plan a meeting in the destination, she says. A DMC will take it a step further in supplying a customized and detailed proposal of events in the destination, and then producing those events.
DMCs and CVBs have their own roles, Day says, but you really need a DMC to complete the puzzle. "DMCs bring [your event] together and make it work. A DMC completes
the experience."
How Do You Find A DMC ?
Like any search for a supplier, there are numerous avenues to follow. The CVB's list is a starting point, but for the next step in the process, there are also several DMC industry organizations that vet their memberships, such as ADME, Access Destination Services, The Contact DMC Group and the DMC Network (see sidebar opposite).
ADME also offers members certification programs that validate a higher level of expertise. A DMCP certification (Destination Management Certified Professional) requires that candidates have numerous years of experience in the field, be actively involved in continuing education programs and have passed a comprehensive exam—plus, they're recertified every five years. An ADMC, Accredited Destination Management Company, is awarded to firms rather than individuals. According to Rickenbach, the number of DMCPs awarded has increased more than 50% over the past three years, further evidence of a field that's committed to excellence.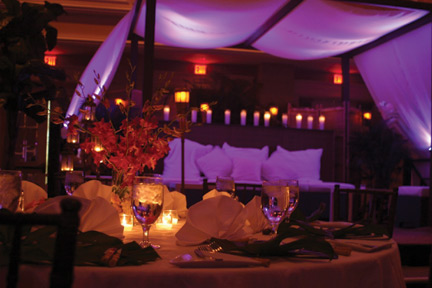 Outdoor evening event with cabana.
Choosing a DMC that's right for your company and your meeting requires the usual amount of due diligence on your part. CVBs frequently cannot make recommendations, for fear of favoring one member over another. You can poll your network or post requests for information on LinkedIn groups or MeCo. But, the bottom line is, you still have to ask the right questions (see sidebar below).
Fee Structures
While CVBs are typically nonprofits that are funded by memberships and city/hotel taxes, DMCs are for-profit businesses that charge for their services. A typical mark-up might be 15-20%—sometimes higher. However, "Your DMC partner will be able to negotiate better pricing with their strategic supplier partners on your behalf based on their volume history," Davis says. Your spend is accounted for and may be comparable to what you may have found on a retail level.
How to Work with a DMC
Once you've chosen a DMC, information sharing is key. According to Meritage's Katie Day, "If you can be open and honest about your goals and your budget, then we're all on the same page to ensure the best experience for attendees." While planners sometimes worry about DMCs coming into their space, she says, they should remember that "we are partners, not competitors."

Tap into Their Creativity
DMCs have always been creative, and as they know their destination so well, they can design events that utilize the best in special events. Day's event for Maui Jim Sunglasses was a great example. As another, Carolyn Davis worked on an event at Miramar MCAS, near San Diego, for a client. The location, familiar to many due to the movie Top Gun, lent itself to a fantastic event. The stage was set with interactive games (pinball, pool, air hockey, basketball), TV screens showing video taken by base pilots, several large screens showing the movie and an eight-piece dance band. On hand were a Tom Cruise look-alike and green screens for photos with "Tom" or one of the many pilots invited to the event. Guests wore dog tags and Top Gun ball caps, and sizzling steaks were taken right off the grill—a memorable event with a distinct sense of place!
As we go forward into 2010, planners and DMCs are well aware of the fact that nothing can replace the importance of a face-to-face meeting, Rickenbach says, "And a lot of what ADME members do is to help facilitate that face-to-face meeting in a cost-effective and efficient manner.
---
QUESTIONS TO ASK DMCs
Once you've narrowed your search through CVBs, DMC networks and/or word of mouth, here are a few questions to ask as you perform your due diligence.
How many years have you been in business?
Do you have a business license and insurance?
Independently owned? Franchise?
What DMC organization(s) do you belong to?
How large is your staff? Do you have any ADCPs?
How do you charge for your services?
What's included (and what's not)?
Amount and timing of deposit? Other payment requirements?
What are the attrition, penalty and cancellation policies?
Can you give several references, including your most recent client or a similar group?
---
Resources