Two years ago it was business as usual. Convention and visitors bureaus, and their bureau members in the hospitality industry, were the beneficiaries of a good economy that saw business travel (including meetings) for 2007 in the U.S. amount to $240 billion. And despite a few dark clouds hovering on the horizon, companies were meeting without a second thought as to negative consequences, corporate executives and sales teams were enjoying incentive trips to places like Los Cabos and Maui and luxury properties proudly displayed the words "resort" and "spa" in their names.
Last year, the big issue was branding. CVBs were looking to recast themselves in a new light, appeal to a different or wider audience and update websites and web addresses to better reflect the changing market. The Portland Oregon Visitors Authority become known as Travel Portland, Sonoma County redefined its brand as "Sonoma Country" and LA INC., The Los Angeles CVB, changed their website address from seemyla.com to discoverlosangeles.com.

Downtown L.A.
Any guess what the overriding issue is for CVBs these days? As they say, it's the economy, stupid! You don't need to be a weatherman, or a stockbroker, to know which way the financial winds have been blowing of late. And the news hasn't been good. Meetings have been cut back, shortened or canceled, attendance has been down at association events and incentive trips have all but disappeared. "The hotel industry is experiencing a big drop in RevPAR (revenue per available room) and it's significant," says Thomas Callahan, CEO of PKF Consulting in San Francisco, an industry specialist. "Most markets are down 20 percent." And when a hotel catches a cold, the local CVB gets the flu: for the majority of CVBs, their funding is tied to a hotel occupancy tax, and some of their most prominent bureau members are hotels and other companies in the hospitality trade.
Econ 101
The past 12 months have given everyone an unwelcome life lesson in economics, starting with a seminar in supply and demand, as the industry watched helplessly while demand for hotel rooms and meeting space dropped precipitously at the end of 2008 and into 2009. But with supply staying the same (you can't simply lop off a wing of a hotel or conference center during slow times) there's suddenly an overabundance of unused rooms and meeting space, and competition has grown fierce for group business. To lure customers, hotels have lowered rates and begun offering a laundry list of incentives, from free room nights and breakfast service to hosted opening receptions and funds contributed to hotel master accounts. And for large association groups who can promise a certain number of peak room nights, some CVBs, such as Fresno's, have comped venue space. Regardless of these efforts, with lower rates and fewer room nights across the board, RevPAR numbers remain low. (RevPAR is essentially the occupancy percentage multiplied by the average daily room rate.)
The issue would be easier if supply stayed constant. But exacerbating the recent trouble has been a hotel and meeting supply that has risen steadily—and grown dramatically in some cities—with the opening of new properties that were started several years earlier during the easy-credit days of the growing housing bubble. Added to that, there's been a flurry of major renovations at meetings hotels, which means there's that much more competition from new or like-new properties. Probably the most glaring example of a destination undone by its own success from the previous years is Las Vegas, which had 21 new hotels open in 2008, adding 8,661 guest rooms and 209,664 sq. ft. of meeting space to the city's more than 9.8 million sq. ft. of convention and meeting space. Projects that have opened so far in 2009, or are scheduled to, will add 583,022 sq. ft. of meeting space and 8,750 guest rooms, pushing the city's total to 149,279 rooms. And while many CVBs are relieved they're not the Las Vegas Convention & Visitors Authority these days, no destination has escaped the current woes.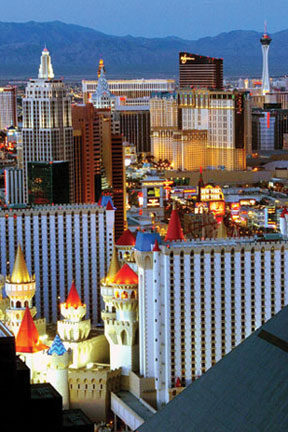 Las Vegas.
"We did our futures study in 2008, and one of the areas was called dodging asteroids. But when you're dodging asteroids all at one time, it gets stressful," says Michael Gehrisch, president and CEO of Destination Marketing Association International, the primary organization for CVBs. "Starting from the rapid drop in RevPAR—because the hotel occupancy tax is the main source of revenue for CVBs—then you've got the AIG effect, then throw swine flu on top of that, so it's like a perfect storm. The resort areas and international gateway cities have been hit hard. For the first time in the last 10 years, our membership will be down, so it's had a major effect on the industry."
Bad Press
Blame it on the banks. Not only did they drag our national economy over the cliff, but they took down the meeting and incentive industry to boot. It was all-too-well publicized when executives from AIG met at the St. Regis Monarch Beach last fall, spending $443,000 just days after receiving $85 billion in federal bailout money. Their seemingly "let them eat cake" attitude didn't sit well with the public, or later with President Obama, who admonished such behavior by saying, "You can't get corporate jets. You can't go take a trip to Las Vegas or go down to the Super Bowl on the taxpayer's dime."
Known as the "AIG effect," businesses reacted by cancelling scheduled meetings and corporate events, for fear of being perceived as profligate and suffering the scorn of the public and company stockholders or board of directors. Even meetings that were neither lavish nor extravagant ended up abandoned to avoid scrutiny. Mandalay Bay Resort & Casino in Las Vegas had cancellations of nearly $131 million for the first quarter of 2009, while the Four Seasons Hotel Los Angeles reported a 15 percent reduction in their meetings business. The U.S. Travel Association estimates that the lodging industry lost $1 billion in corporate meetings and incentive business in January and February 2009.
As a barometer of the meetings industry, CVBs have been especially hurt. Their funding often comes from some type of hotel bed tax, meaning any drop in occupancy or room rate directly impacts their operating budgets. But the financial pain has been felt unevenly throughout the West, depending on the locale. In Denver, visitor spending was up 9 percent to $3.1 billion in 2008 compared to 2007, while business travel (including meetings) dropped a relatively minor 2 percent compared to a national decline of 11 percent, thanks in part to the Democratic National Convention held there last September.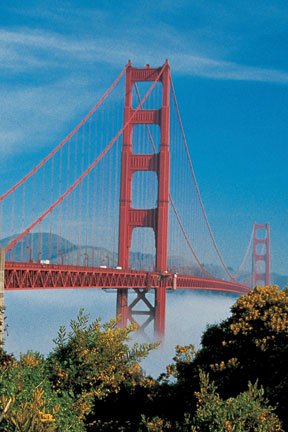 San Francisco's Golden Gate Bridge.
Meanwhile, resort-friendly destinations that rely more heavily on incentive travel and high-end corporate meetings were the most negatively affected. "We've suffered big setbacks in terms of a lot of our incentive travel," says Bill Malone, president and CEO of Park City Chamber of Commerce and Visitors Bureau in Utah. "We built a bit of business with finance companies, and that seems to have gone away now. But we're a resort community and we're not going to give up our brand or change our position to something we're not."
Deserved or not, the poster child for negative perceptions when it comes to meetings is Las Vegas, done in by lavish hotels and its own leisure market campaigns such as "What happens in Vegas, stays in Vegas." And while there were 8,390 conventions and meetings held in the first five months of '09, according to the Las Vegas CVA, it's still 2,441 fewer than the same period in '08. Ironically, Vegas is as well equipped as any destination—with a state-of-the-art meetings infrastructure—to handle meetings of any type and size. "Unfortunately, there's a lot of misinformation that leads to [negative perception and cancellations]," says Michael Goldsmith, CMP, director of convention sales at the Las Vegas CVA. "Every city uses its fun activities to help promote its destination. We do the same, but we just have more fun activities than anywhere else."
Distant Peaks and Current Valleys
What a difference a year makes! Twelve months ago, the housing bubble had already burst, but little did anyone know the wild ride that awaited as the national economy seemed to teeter on collapse. With so much uncertainty, companies cancelled meetings in droves, some out of financial necessity, others to counter negative perception—Wells Fargo famously took out a full-page ad in the Washington Post and New York Times to announce it was canceling a large corporate event in Las Vegas, and had none planned for the rest of 2009. Many companies simply held off on scheduling meetings, waiting to see what happened in the economy and on their own balance sheets, while CVBs saw their operating funds dwindle, which forced some to make cuts in salaries or staff.
"We, like every other bureau, have been heavily impacted by the economy, and our funding has been affected as a result, by millions of dollars," says Michael Krouse, senior vice president of sales, services for LA INC. "In our case, the funding [decrease] was so rapid we had to make decisions on staffing. Our first priority is stability, to stabilize our own team, and remember our core mission, which is sales and marketing. So instead of layoffs, the entire organization gave up some salary and incentive items."
Likewise, smaller destinations have also had to make their own difficult staffing decisions due to decreased funding. "This year we had to produce a budget for acceptance that's a 25 percent reduction in revenue," says Malone of Park City. "We've had to freeze positions and eliminate positions that were empty, and had to freeze salaries and reduce benefits. There's not an aspect of our budget that has not been reduced."
The situation is even more dire for the Oakland Convention and Visitors Bureau. Its future rests with residents who voted at the end of July on whether to raise the city's transit occupancy tax from 3 percent to 14 percent. With lower room rates and occupancy at Oakland hotels, the TOT is down 18 percent so far this year, while the CVB lost all its funding from the city at the end of 2008, surviving on reserves since then. They're hoping for a situation similar to the Tourism Improvement District passed at the end of 2008 in San Francisco, which will provide the CVB with a consistent funding source from a 1 to 1.5 percent assessment on room revenue from all city hotels.
It's the proverbial rock and a hard place. On one hand, CVBs are having to operate with reduced budgets, and sometimes staffs. On the other, they're under more pressure than ever to produce by bringing meetings and conventions to their cities. Doing more with less is the phrase most often heard among stressed CVBs. "We are a non-member bureau, but a small enough community that we meet regularly with our stakeholders," says Nan Marchand Beauvois, executive director at the Pasadena Convention & Visitors Bureau. "They're looking to us to step up our efforts, and it cannot be business as usual. We're doing more with less."
And while many in the industry are cautiously optimistic for the future, and hoping for a turnaround sometime in 2010, most believe the current "more with less" mode of operation is here to stay, at least for the foreseeable future. It's part of the other new buzz phrase—flat is the new up—that's reverberating around the industry. "Everyone is talking about flat is good, flat is what everybody's forecasting, and we're looking at the same thing," says Mike Murray, director of sales for the Hawaii Visitors & Convention Bureau. "We're looking for recovery next year at this time, sometime in the summer."
Michael Gehrisch of DMAI expects 2010 to be flat as well, as corporate meetings start to pick up by the middle of the year, with possibly a big upsurge. "Big companies like Allstate and other insurance companies have money allocated [for meetings], they're just waiting for the third or fourth quarter to see how it goes, to see if the demand comes back," he says, after talking to such companies on a recent trip to Chicago. "I think for next year, from the DMO perspective, the amount of funding from hotel occupancy tax, you're going to see that drop in the 5-10 percent range. During a recession, travel is usually the first to go and the last to come back."
Strain from Members
CVBs are nonprofit organizations supported primarily by a local bed tax. But many are also membership bureaus that charge annual dues in exchange for certain benefits, such as listings in brochures and visitors guides, business leads and referrals, and networking opportunities. As such, member businesses look to their CVB to enhance their own marketing programs by bringing in outside visitors (and their much-needed dollars) through meetings and conventions. When business is down, the spotlight on CVBs from members can turn to an uncomfortable glare.
"Can you print 'hell yes'?" says Scott Beck, president and CEO of the Salt Lake Convention & Visitors Bureau, when asked if he's feeling pressure from bureau members. When times are good, it's the hotel sales staff who are responsible, "but when they can't fill their hotel rooms, it's our fault," he says, only half in jest. "Certainly the pressure is on us to augment the downslide they're in. So yes, we're under pressure from our members and it's not just hotels, because the restaurants have been noticing their numbers are down as well." Beck says the Salt Lake CVB has 850 active members, with a strong DMC community that developed after the city hosted the 2002 Winter Olympics. Dues for Salt Lake CVB's bureau members are $390 annually.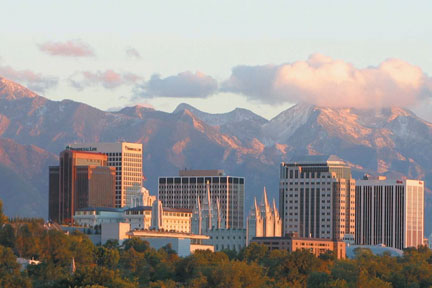 Salt Lake City, Utah.
Pressure or not, there's the prevailing sentiment between a bureau and its members that they're all in this together, sharing the financial pain and a common goal to promote the city and bring in more meetings business. The Greater Vancouver CVB is working with cash-strapped members on creative ways to pay their dues, even deferring them until next year, while other bureaus are getting their members directly involved in the CVB's marketing program. "We're not feeling any negative push [from members]," says Tom Norwalk, president and CEO of Seattle's Convention and Visitors Bureau. "We're traveling together as a city, and have invested in some new trade show booths that allow us to take more partners on the road. We've always stood together, even though budgets are down considerably."
Planner Pressure
From Fortune 500 corporations to small regional associations, the recent recession has spared few industries. Budgets have been slashed, staffs reduced and meetings put on hold, while the overriding directive for meeting planners has been to cut costs to the bone. And suppliers have been more than accommodating. With business down, CVBs have been teaming up with their member hotels to offer eye-popping deals, and contracts signed two years ago are being renegotiated to the benefit of the planner.
"The marketplace is full of deals right now, so it's a great time to be a meeting planner," says Graeme Hughes, director of convention sales at the Metropolitan Tucson Convention & Visitors Bureau. "It's not just from the CVB standpoint, but the hotels. The pricing, the concessions, the willingness to make deals to put programs on the books, it's a great marketplace for planners. I see them get bombarded with deals so that they come looking for it. They've always asked for it, but are real cognizant of it now."
It's a pendulum shift from several years ago, when hotels and meetings venues held most of the cards, and planners often paid more than they cared to. But some CVBs see planners going too far, and asking for too much in the way of discounts. "It depends on whether it's an association or third-party people, but some requests border on punitive discounts," says Greg Ortale, president and CEO at the Greater Houston Convention and Visitors Bureau. "When you go below the baseline of costs so that you're losing money, that's difficult. I think what a lot of our customers need to realize is to not kill the goose. There are a lot of hotels that are in dangerous positions for defaulting, and you've got to make sure that there's some margin of profit, or at least break even. Some of the rates out of some destinations are absolutely absurd, below the cost to have the room made up."
Not all types of corporate events are being haggled over. Mike Murray at the Hawaii CVB has found that for certain incentive programs, businesses can't easily substitute a second tier destination and expect the same results, when the goal is to reward and motivate a company sales force. Skimp too much and the attendees may feel cheated. "People select destinations like Hawaii because it motivates," Murray says.
But for association events and corporate business meetings, the gloves are off and destinations that focused on separate markets in the past are now competing more directly than ever for the same business. Because of unprecedented deals from its area hotels and meetings venues, San Francisco is competing with second-tier destinations like Sacramento and San Jose for budget-conscious SMERF business. And mega-properties in Las Vegas, acting like their own DMOs, are vying directly with CVBs for the same business. "I've never shied from competition, but it's interesting to see our competitive set change," says Beck from the Salt Lake CVB. "You have these large hotels like Mandalay Bay and The Venetian [in Las Vegas], they have the same size as us. We're bidding against those single hotel properties that we've never done before."
Programs and Partnerships
With the negative perception of meetings reverberating around the media starting at the end of 2008, governing organizations such as MPI and DMAI were pushed to act quickly and decisively. From a national standpoint, they teamed up with the politically active U.S. Travel Association, that has been able to get the message out that travel, and meetings, are good for business. "One thing we focused on was the relevancy of DMOs within their communities, and the importance of travel," says Gehrisch of DMAI. "We were part of the Meetings Mean Business campaign, the U.S. Travel Rally Day and also reaching out to the National League of Cities—publishing special inserts in their publications and talking about the impact of travel and tourism around the country."
The urgency of the times has also brought out the creative spirit from CVBs, many unveiling new promotional campaigns in the last 12 months. While certain first-tier or higher-end destinations have had to cut back in obvious ways—no more helicopter tours for LA INC.—the idea that necessity is the mother of invention has never been more true. From major urban destinations to smaller second- and third-tier markets, there are a number of new and innovate marketing programs on the scene.
Taking the belief that there's strength in numbers, the seven CVBs in Utah (Salt Lake, Park City, Utah Valley, St. George, Heber Valley, Davis Area and Ogden) have formed an alliance called Meet in Utah, which has spent nearly $200,000 to promote meetings in the state. And if one of the CVBs can't accommodate a group due to space or availability issues, they'll refer the business to another Meet in Utah CVB. "It's been fruitful for us to be part of the Meet in Utah program," says Malone of the Park City CVB. "We've worked more closely with adjacent communities in sending them a piece of business that might not fit with us."
A number of CVBs around the West are offering a variety of incentive programs, such as Sonoma County, Calif., which will contribute up to $4,000 for meetings groups, to go toward their hotel master account. In May, the CVB released $20,000 in two-dollar bills into the community as part of its SpendTom campaign, designed to measure the impact of travel and meetings on the local economy. "It was amazing to show the impact of tourism on our county," says Ken Fischang, president and CEO at the Sonoma County Tourism Bureau. "[The bills] went all over the country."
In the Dallas area, the four main CVBs (Dallas, Forth Worth, Irving and Arlington) formed an alliance with American Airlines, several ground transportation providers and more than 100 area hotels to provide a number of group discounts (including attrition-free bookings through 2009, and possibly 2010) in a program called DFW Meet Now Promise. And in San Jose, the CVB is working on entertainment programming in their local 7,000-seat theater that would most closely match a visiting group's taste—a way for a planner to offer entertainment options without having to hire a headlining act.
Locally Sourced
Many CVBs in the West recognize that residents in their own communities are a prime source for meetings and conferences. Local and regional businesses that are more likely to stay close to home for company meetings are obvious targets, but so too are all the association members that reside in their cities. The Albuquerque CVB has fostered closer ties to the University of New Mexico, and its faculty members, with the idea of urging those who are part of associations to sway meetings and academic conferences to the city.
Tucson has taken it a step further with their Embrace Tourism initiative. Any local resident who can provide a strong, qualified meetings lead will receive a $100 gift certificate to area restaurants. Names of lead providers will then be placed in a drawing for a $1,000 shopping spree, $500 toward a resort stay and a $5,000 advertising spot with a local radio station.
With incentive programs such as these, CVBs are slowly starting to see results. The rest of 2009 may be a loss for many, but bookings for 2010 and beyond have started to slowly rise, giving many in the industry a cautious optimism for the future. Until then, the dark clouds remain. "2010 is still going to be a tough environment and I think we'll see business stabilize," says Joe Terzi, president and CEO of the San Diego Convention & Visitors Bureau. "The challenge for most destinations is the lag in impact of what you are selling now…it might hurt you later—we think that is going to impact business in 2010. But the group marketplace will move forward toward the end of this year and by the third quarter of next year, we will be back to normal."
Shawn Stinson, director of communications at the Salt Lake Convention & Visitors Bureau, takes a wider view. "People still want to meet face to face and get work done that way, so the sky is not falling around here," he says. "I don't want to call it business as usual, but we're not giving up the ghost just yet. We're not overjoyed with the economy, but it's not doom and gloom either."

---
Associate Editor Macie Schreibman contributed to this story.
---
A Time For Action
What Are CVBs Doing To Counter The Negative Perception Of Meetings And Conventions?


Jimmie Lucht Executive Director Albany Visitors Association
We recently hired a group travel coordinator, and it's her job to help groups and meeting planners find the ideal location and any other amenities to have a successful meeting in the community. We're part of the Willamette Valley Visitors Association, working with Eugene, Corvallis, Salem, Yamhill Valley and Clackamas County, and promote meetings collaboratively that way.


Dale Lockett President and CEO Albuquerque Convention & Visitors Bureau
We weren't really challenged with countering that. We feel deeply for those destinations that were impacted by the negative statements, but Albuquerque is a conservative meetings destination, not a resort destination per se. We didn't have meetings booked here that were vulnerable to the negative perception as a less than business-like destination.


Bobbie Patterson Executive Director Boise Convention & Visitors Bureau
We're just sort of working harder. We haven't seen a dramatic change. But I think people have an enormous need to cluster together to figure out how to move ahead. We had a lot of new inventory at a time ('06-07) when there was not a lot of demand, when the economy started softening. So we've encouraged our hotels to put together packages to put up on our website. Short of that, we haven't done anything dramatically different, just trying to address the needs of customers doing more with less.


Fernando Cervantes Groups & Conventions Director Cancun Convention & Visitors Bureau
We have been doing a lot of road shows; that is, we go to different cities, bring suppliers and do Cancun presentations. Also, we are doing FAM trips, so the planners can see first-hand that everything is all right. We have a current program with the local community that is called Recommend Us. The idea is that taxi drivers, waiters and so on tell the tourist to please recommend us. It's mouth-to-mouth promotion, and we get the community involved.


Alana Audette CEO & President Central Oregon Visitors Association
The Central Oregon Visitors Association is looking at the current economic challenges, and the impact they are having on the meetings industry, as an opportunity to build the image and awareness of Central Oregon as a world-class, unique meetings destination for groups of any size, providing a meetings product that is an exceptional value for the dollar. Now more than ever, Central Oregon, as a second-tier destination, can competitively market to those meeting planners in our feeder markets who may be working with tighter budgets.


Terry Sullivan President & CEO Experience Colorado Springs Convention & Visitors Bureau
What we are doing is staying consistent with our message in that we are proud of our destination, in what it has always had to offer a meeting planner or attendee. Colorado Springs offers a visitor a scenic backdrop while staying at one of many fine facilities that we are known for here. We are maintaining our pace of trade show activity, our advertising and our website communication, knowing that business will improve in time. We certainly don't panic, and are doing what we can do.


Phillip Jones President/CEO Dallas Convention & Visitors Bureau
I would say Dallas is in a much more fortunate position than some of our counterparts, because no one is going to get in trouble for having a meeting in Dallas. All that said, we're still suffering, we're down about 10 percent. We're announcing a program called the DFW Meet Now Promise, offering attrition-free bookings through 2009, and possibly 2010. American Airlines is our partner and offering additional deals.


Richard Scharf President/CEO Denver Metro Convention & Visitors Bureau
The first thing we've done is we've all spoken in one voice through DMAI, in collaboration with USTA and Roger Dow. We've streamlined our communications and are speaking in one voice on how important meetings are to jobs. In the past, and in different times, we've always had a splintered approach, and now it's more a laser approach in getting the message out. We're all singing off the same song sheet on how important it is to meet.


Tom Lester Tourism & Convention Manager Elko Convention & Visitors Authority
Some of the things we are looking at doing is going after corporate business that would steer away from top-tier cities—no one is going to complain if you are coming to Elko. But we have all the amenities that large cities have, it's just not as flashy. We work with several tourism organizations—we just feed off of one another—one is Virginia City. We are also doing a co-project with the Reno-Sparks Convention and Visitors Authority, where we are going down and sponsoring a golf tournament. We also work closely with the Nevada Tourism Authority.

Jeff L. Eben President/CEO Fresno Convention & Visitors Bureau
The first thing we've had to do here is really start a full branding campaign. And as part of our branding we've talked about Fresno as a destination and how tourism is an economic indicator for us—to do "staycations" and taking a local approach to increase tourism. A good chunk of our marketing dollars are for the local campaign—just marketing locally and telling people about the importance of local businesses and meetings.


Michael Murray, CMP, CMM, CASE Vice President of Sales and Marketing Hawaii Visitors and Convention Bureau
We're still open for business. Hawaii is not insulated from the global challenges, and most recently, with the downward trends from the meetings market with TARP. We did lose meetings business with the TARP situation. But the good news is the businesses we deal with, they're reconsidering their future bookings or exploring Hawaii for their incentive or meetings program. The cancellations have slowed considerably, and now we're getting bookings, mostly for 2010 and 2011. What we have done, even before the whole TARP scenario, we started developing programs that would bring value to meeting planners.


Greg Ortale President & CEO Greater Houston Convention and Visitors Bureau
It's a deep subject. Certainly we're very active with USTA. The crisis has been the single greatest unifying factor we've had. This is the one that struck the core. It's unfortunate that our whole economic model has been seriously threatened. Communities have long taken the view that the visitor is someone they can "take advantage" of. Now they realize there are people whose jobs are at risk. So supporting USTA and their initiative is one thing we're trying to do. The other thing is doing what most others are doing—working to maximize the attendance for groups who have booked, and providing discounts for the individual delegate as well as discounts for groups.


Kari Westlund President & CEO Travel Lane County
Our destination is a pretty solid value destination in good times and in bad, so we've been pretty fortunate that our group bookings have remained solid for us. We just hosted the U.S. National Championship for Track & Field, so that has been interesting for us because of the large scale and prestige associated with those events. Otherwise, we've actually been perking along pretty well. We face some additional in-state competition, but it's always good when Oregon raises its product.


Michael Krouse, CHME, CMP Senior Vice President Sales and Services LA INC.: The Los Angeles Convention and Visitors Bureau
I think it's unfortunate that our own administration doesn't realize the impact of saying something. All they say is "don't travel," and it shuts everything down. We have worked closely in partnership with U.S. Travel, and have good membership support. From an expense standpoint, we got more creative, and tried to find ways to make the experience in L.A. just as unique and fun.


Jeff Beckelman President/CEO Palm Springs Desert Resorts Convention and Visitors Authority
Obviously our destination has been down in occupancy like everywhere in the country. We had a big function during National Tourism Week in May. And we had a Meetings Mean Business rally, highlighting the importance of the meetings industry, and had 1,000 people in attendance. We have eight cities in Coachella Valley, and they all rely upon a portion of the occupancy tax for funds, so they all know the importance of meetings.


Bill Malone President/CEO Park City Chamber of Commerce and Visitors Bureau
Our organization is pretty transparent in terms of budget and marketing campaigns in the community. There are a lot of people that touch what we do—it's still a small town, and we have 1,000 members. It's not one of those things we need to teach people about. Everybody's talking about it and everybody gets it. We're encouraged by local organizations who are stepping up and encouraging groups to meet here. And we're working with local people in the community who belong to national or regional associations about having meetings here.

Nan Marchand Beauvois Executive Director Pasadena Convention & Visitors Bureau
We're always trying to work with business groups in our city to be ambassadors, such as Cal Tech, because there are a lot of employees there that belong to a lot of different associations and are on committees. Having that base of local support is very important. One of the things we're much more consistent with is sending out quarterly e-blasts on the economic impact of meetings, putting it in layman's terms.


Kevin Kamenzind Senior Vice President of Sales and Marketing Greater Phoenix Convention & Visitors Bureau
We along with other CVBs across the country are continuing to add our message to those of ASAE, PCMA, TIA and other industry organizations, that the meetings industry is vital to the economic health of our individual communities. We have launched a "Guilt Free Meetings" promotion on our website where planners can take advantage of discounted rates. We also reached out to local media who have been running stories on the positive impact meetings have on our community and, conversely, the impact not having meetings or cancelled meetings has on our local economy. We are constantly communicating with our elected officials to keep them apprised of the changing market conditions and what we as a CVB and an industry are doing to weather the storm.


Jeff Miller President and CEO Travel Portland
I think this year is going to be all about partnerships. When we think about the meetings business, we have a good association business, and that's been less hit by the meetings perception. We have a very longstanding three-city alliance with Pittsburgh and Milwaukee, and have done events at ASAE. They're great partners. And we just did a two-page spread with our local paper that talked about our members and our hospitality industry and the importance of visitors to the local economy.


Steve Hammond President & CEO Sacramento Convention & Visitors Bureau
Our relationships with colleagues in other cities have been tapped into so that we can share best practices, identify good fits [with client meetings] for our respective destinations and serve those clients more effectively. We have partnered with regional experts who have instant knowledge and credibility in their respective fields to help secure meetings in Sacramento and, once confirmed, support those meetings with intrinsic knowledge of the topics being discussed during those conferences.

Scott Beck President & CEO Salt Lake Convention & Visitors Bureau
We've had the opposite problem. We're a destination that has no nightlife, and have the sense that we're the non-boondoggle destination. But you can socialize, and there is a nightlife, just like there is in any city of one million people. Most of our hotels, the Marriotts and Hiltons, haven't felt the big effect. Around us in Deer Valley and Park City, they've seen the effect. But because of the market and who we are, we've been insulated from it. We haven't had to address it head on as if we were a beach location or Las Vegas.


Chris Diaz Sales Manager Riverside Convention & Visitors Bureau
We're meeting with other CVBs and hoteliers outside of our city in order to make more connections and assist our clients when they may be looking to the northern part of our state or the Midwest or eastern part of our country for alternating years. We have also been attending industry events and participating in sales calls with our hoteliers more frequently­—experiencing the value of meeting and working together firsthand.


Joe Terzi President & CEO San Diego Convention & Visitors Bureau
We are working with the U.S. Travel Association, which is working really hard to deal with Washington and other areas that have been negative about the value of meetings. We are working with them and have supported a call to action to local and state officials to remind them of the value that the meeting industry has. We are also promoting advocacy in terms of selling to the meetings market, and being very aggressive in communicating the value of the destination.

Joe D'Alessandro President and CEO San Francisco Convention & Visitors Bureau
A couple of things: We're on the board of the U.S. Travel Association, and have been involved with their Meetings Mean Business campaign. And we have an informal group with the directors of the San Francisco, San Jose and Anaheim CVBs, on ways we can work together and collaborate to stimulate travel. We've also worked with chapters of industry associations, and it has made a difference because people have been made aware of the importance of meetings.


Ken Fischang, CHME, CMP President/CEO Sonoma County Tourism Bureau
We are doing a whole bunch of stuff. Compared to other DMOs we're using cutting-edge technology and were the first to have our own Facebook page. We have an incentive program where groups can earn up to $4,000 for their meeting, which goes straight to the master account at the hotel. And we did a program for National Tourism Week in May, the Spendtom campaign. We released $20,000 in two-dollar bills and distributed them through the county. It was amazing to show the impact of tourism on our county. [The bills] went all over the country.


Tom Norwalk President & CEO Seattle's Convention and Visitors Bureau
We've been active for the last year in an advocacy campaign called Why Tourism Matters. We knew that we had to tell the story about tourism, not only meetings and conventions, and needed to tell it in a different way. We have tourism ambassadors in different parts of our city, talking about how it affects us in terms of employment and economic impact. We've now spread Why Tourism Matters around the state. It's a very important part of what we've been doing the last year.

Amy Blaschka President & CEO Tri-Valley Convention & Visitors Bureau
We do the Meetings Mean Business campaign, pushing it locally and with our membership, and are also writing letters to representatives. We submitted a video to the U.S. Travel Association, where we talked with people on the street. Within our community, the people who are already in the hospitality industry get what we do, but other don't, so we're getting out there in front of the Rotary Club and others, and bringing it down to dollars and cents and jobs, and then people start to understand the importance of meetings.


Graeme Hughes, CTA Director of Convention Sales Metropolitan Tucson Convention & Visitors Bureau
Before the media started with "don't have meetings at nice resorts," we'd started to see a dip in occupancy and RevPAR. We as an organization, and with our partnerships, one thing we won't cut is our marketing, so we kept our travel schedule in place and added a couple of outbound marketing programs, and found the reception was extremely positive—our clients were pleased we were out there, so it's really worked to our benefit to maintain that while other people were pulling back. The second thing we did was partner with our hotels and airports, and last fall developed a meeting planner incentive, the Master Account Incentive, a partnership between hotels where we'll make a contribution credit to the hotel master account. It's designed to drive incremental bookings for 2009 and into 2010. You could get as much as a $10,000 credit.


Dan Fenton President and CEO San Jose Convention & Visitors Bureau
The most important thing we're doing is providing additional value. Beyond traditional pricing, we're finding ways to provide services that meeting planners wouldn't pay for, and figuring out the real objectives of the meeting—what are they trying to accomplish. We're determining ways that we can add value that helps the planner from an efficiency standpoint. From the view of hotels, we're doing some programs around short-term bookings, really trying to be flexible on rates and meeting space and food and beverage.


Joel Racker President & CEO Utah Valley Convention and Visitors Bureau
We're fortunate because Utah's a great destination. I don't think other than some of our resort destinations there's an "oh I can't hold a meeting there" mentality. I know Sundance has felt it, because it does have that upper-end perception. They've seen business drop off a little. We've been successful with small meetings and events. It's been a good year for getting our message out there to the community. When people aren't advertising as much, we believe that now's the time to try to gain market share and gain ground in getting our message out there. And we have a supportive county commission that has kept our funding steady.


Dave Gazley Vice President, Meeting and Convention Sales Greater Vancouver Visitors and Convention Bureau
We work very closely with Whistler, and with our national tourism organization, and with Tourism British Columbia, and there's Victoria as well. We're somewhat different; because of a couple things happening here we're probably not feeling it as much as others. We've opened up a new convention center and we're hosting the Winter Olympics next year, so we're not feeling it as much as our colleagues in other cities are.