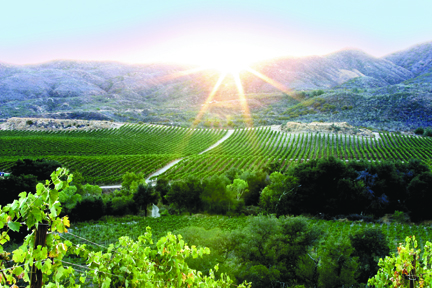 The change begins with the packing of your bags. Business suits give way to casual wear, while the stress and strain you might otherwise stow in your carryon for that big city conference center gets left at home. And any travel troubles encountered along the way are a little easier to take knowing what your final destination will be.
Wine country, in whatever state or province it may be, has a way of working on the tension in the shoulders from a harried work schedule like a masseuse at a Calistoga spa. Call it the wine effect, the same mellow relaxation that comes after a few sips of merlot or chardonnay. And even for nondrinkers, the contact high of just being there is enough to gain all the benefits without imbibing. It's part of the allure of a wine country meeting, where attendees can easily have more productive and stress-free events while enjoying the fruits of their labors and, of course, the fruits of their winemaking hosts.
Maybe it's the easy pace of the rural setting, or the breathtaking scenery and mild weather that's practically guaranteed and seems to go hand-in-hand with good wine production. Possibly it's the resident gourmet chefs and top-end restaurants that typically dot the landscape, the high-culture influences, or the passion found in the people for what they do and where they live. Whatever the reason, it's contagious for any visitor who spends any amount of time among the vines.
"I think for a lot of people they want to be part of the lifestyle, that they envision the lifestyle as food and drink, and getting back to the land," says Barbara Drady, president and "chief wine evangelist" for Affairs of the Vine, a wine event planning company based in Sebastopol, Calif. "I think that there are a lot of reasons to come to wine country, which are, from an entertainment and education standpoint, an opportunity to get people to reach out to nature and the culture."
Because of their rural locales among hills, mountains and rivers, wine countries also offer a wide range of outdoor activities to take advantage of, like hiking, mountain biking, bike tours and river rafting. And, then there's the main attraction, the popular pastime of wine tasting, winery tours and dining. But just as wine countries share much in common, there's also plenty of variations on the theme that make each region uniquely its own. And with most western states boasting of at least one winery region, chances are you won't have far to go.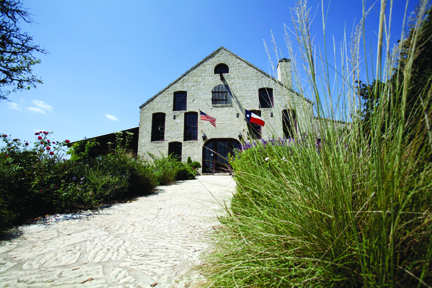 OLD VINES
Like the zinfandel vines planted decades ago in the Sonoma and Napa Valleys, now as gnarled and thick as trees, some regions in the West have a long history and mature presence in the industry. They were the forerunners, leading North American wines into greater heights and legitimizing the "New World" name for others to follow. They are the heritage wine countries, long-established regions that can also offer all the amenities for successful meetings.
California
Accounting for almost 90 percent of all U.S. wine production, if the state of California were its own country, it would rank as the world's fourth-largest producer of wine. You could call it the France of New World wines. "This is wine country with a capital W and C," says Drady, who is an expert on California wines and wine regions. But as serious a business as winemaking is here, the various regions around the state—and there are many—retain their own character and style for visitors and meetings.
Napa
Just an hour's drive north of San Francisco, the world-class wine region of Napa Valley is second only to Disneyland as the most popular tourist destination in California, with 4.7 million visitors each year. And the names of its wineries, from Atlas Peak and Mondavi to Opus One and Stag's Leap, are famous to wine drinkers the world over.
With so many visitors, the wineries and towns in Napa County—Napa, Yountville, St. Helena, Calistoga and American Canyon—are well-prepared to handle visitors and meetings. Besides the more traditional Villagio Inn & Spa in Yountville, with 4,500 sq. ft. of meeting space and a 16,000-square-foot pavilion, there's the 217-acre di Rosa Preserve, home to the contemporary art collection of famed collector Rene di Rosa, and offering several venues for events and meetings among the paintings and sculptures. Dating from 1879, the recently restored 500-seat Napa Valley Opera House is available for events, along with its Café Theatre. And for activities outside of wine tours, Napa River Adventures offers guided river tours for a view of Napa Valley not normally seen.
Sonoma
Sister wine region to Napa, and with some of the oldest vineyards and wineries in California, Sonoma County offers a variety of landscapes and settings for meetings. "People don't realize that we have 50 miles of coastline, and that we're on San Francisco Bay," says Tim Zahner, director of public relations and marketing for Sonoma County Tourism Bureau. "From a macro standpoint, people are exploring beyond their meeting and really getting into the destination."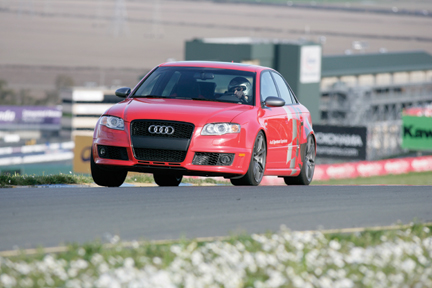 From whale watching and hiking through redwood forests, to racing around a track in a high-powered luxury car at Audi Driving Experience, visitors to Sonoma don't have far to go to explore. One easy option is EcoRing, which offers a listing of eco-adventures throughout the county, including kayaking, balloon rides and horseback riding. You can also take a horseback riding tour through the 2,100-acre Roche Winery vineyard estate. For a literary adventure, Jack London State Historic Park is open for tours and hikes through the famed author's wine country home and ranch.
"If you're looking for an executive retreat, there's nothing like the Sonoma coast, where you can get them out of their environment and take them out to great restaurants and wineries," says Drady, who's clients include an executive group from Vistage. "They want to come for a retreat but want a business aspect, so we'll take them out to a winery and teach them the business aspect of a winery."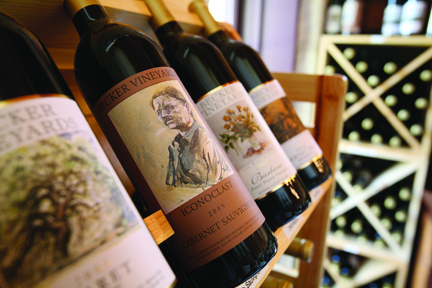 Tri-Valley
Lesser-known than its wine neighbors to the North, the Tri-Valley region consists of the towns of Pleasanton, Dublin, Livermore, Danville and San Ramon, and is served by the Tri-Valley Convention & Visitors Bureau. But the wineries are just as conveniently located a short drive (or BART rail transit ride) east of Bay Area cities such as San Francisco and Oakland.
"Livermore [Valley] has really come into their own in a lot of ways in terms of good wine," Drady says, of the wineries located mostly south of that city. "And there are some beautiful properties there." One of those is Wente Vineyards Restaurant & Events Center, the oldest continuously family-run winery in the country, with multiple meeting-room options for groups up to 1,000. Palm Event Center in Pleasanton, has more than 12,000 sq. ft. of meeting space, including their 8,795-square-foot ballroom. Two other options are Deer Ridge Vineyards with a 3,000-square-foot ballroom, and Garré Vineyard and Winery, which offers more than 6,000 sq. ft. of indoor/outdoor meeting space.
San Luis Obispo County
Relatively new to the California wine scene, especially in terms of the number of wineries (growing from 35 to almost 170 over the last 10 years), the central coast wine region is represented primarily by Paso Robles and is located halfway between San Francisco and Los Angeles. "Paso is a very laid-back area, and there are a lot of smaller wineries that can be very welcoming, and would open their doors to smaller groups," Drady says.

Still Waters Vineyards is larger than average for the area, and has a barrel room for up to 100, and a garden patio for up to 150. One of the better-known wineries in the region, Meridian Vineyards can host events for up to 500 in its barrel room and gardens. For other options, Hearst Castle along the coast in nearby San Simeon is open for tours.
Santa Barbara County
"Santa Barbara wine country is very [relaxed] compared to Napa, and very different than the city of Santa Barbara," Drady says. "It's a little off-the-beaten path but the area is gorgeous, and welcoming." The county consists of the wine-growing regions of Santa Maria, Los Alamos, Santa Rita Hills and the largest and best-known, Santa Ynez Valley, which is also closest to the city of Santa Barbara and is a pilgrimage site for fans of the movie Sideways.
Speaking of films, Gainey Vineyard is well set-up for events—two major movies were filmed on its premises (Seabiscuit and Of Mice and Men)—with several venues for groups up to 500. Fess Parker Winery & Vineyards, owned by the Davy Crockett and Daniel Boone actor, has a number of indoor and outdoor venues available, including a boardroom for executive meetings. For something completely different, the town of Solvang is a little slice of Denmark in the vines, with windmills and quaint shops selling homemade fudge and Danish pastries.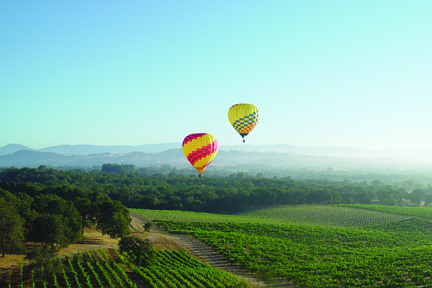 Temecula
Located within view of the San Jacinto Mountains in Southern California, Temecula is the area's only wine country. But with its relatively convenient location between Los Angeles and San Diego, the region's 20-plus wineries are ideally situated for a wine country retreat. "It's a beautiful area that has been very much built for day trips and short stays, and they are catering to people who do that," Drady says.
One of the larger wineries for meetings is the South Coast Winery Resort & Spa, with 30,000 sq. ft. of indoor/outdoor event space in a variety of venues. Wilson Creek Winery is another large venue, and offers state-of-the-art meeting facilities for groups up to 300, while Callaway Vineyard & Winery has four separate venues and can also accommodate up to 300.
New Mexico
In the shadow of mesas and buttes you'll find—surprise!—the oldest wine-growing region in the U.S. The first wine grapes were planted by a Franciscan friar in 1629 with vines smuggled out of Spain, and the territory produced more than 1 million gallons of wine by 1880. Due to Prohibition and the flooding of the Rio Grande River, wine production all but ended in the early 20th century, but it has since made a tremendous comeback with more than 35 wineries in three distinct regions—Northern, Central and Southern New Mexico Wineries.
Clustered along the Rio Grande River between Santa Fe and Taos, the Northern region wineries barely resemble the grand estates in more established California, but offer a variety of scheduled events for visitors. In the Southern region, Luna Rossa Winery near Deming can accommodate groups up to 150. The state is served by the New Mexico Wine Growers Association, which offers information on winery events and festivals on its website.
Young Shoots
The fast-growing wine regions of Washington and Oregon in the Pacific Northwest have been quickly gaining ground and reputation as major producers of top wines on a par with the best of California. And while their wine production dates back to the mid-1800s, it wasn't until the 1950s and '60s that the seeds of a serious commercial wine industry were planted.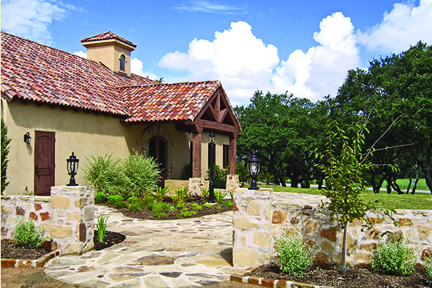 Oregon
With more than 300 wineries in four major regions (Willamette Valley, Eastern Oregon, Southern Oregon and Columbia Gorge), Oregon has developed a substantial visitor industry around its winery tours and tastings. The lion's share of wineries, and the most notable region, falls to the Willamette Valley. The area is in part served by the Salem Convention and Visitors Association, but is also an easy drive from Portland.
"It's much more rural than Napa Valley. We don't have the small communities like Calistoga," says JoAnn Ghelfi, planner with the League of Oregon Cities, about Willamette Valley. And while she says wineries in Oregon typically don't have large meeting facilities, the Willamette Valley Vineyards has several indoor and outdoor venues, including their 3,300-square-foot Estate Room. BeckenRidge Vineyard is another option, with 2,100 sq. ft. of indoor event space. For an alternative venue, the Chemeketa Community College has a winemaking program with facilities at its viticulture center available for events.
Washington
Second only to California in U.S. wine production, Washington State has more than 500 wineries producing internationally recognized wines, with the Columbia Valley representing 90 percent of the state's total. But just a 30-minute jaunt from Seattle is the Woodinville Wine Country, home to the oldest and most acclaimed winery in the state in Chateau Ste. Michelle, which offers a full slate of events and concerts (B.B. King, Ringo Starr, etc.), as well as meetings for up to 25.
In South Central Washington, the Yakima Valley, within the Columbia Valley region, is as much about its rugged outdoor activities as its grapes, with mountain biking and river-rafting down the Snake, Yakima and Columbia Rivers. The largest meetings venue in the area is the Yakima Convention Center, with 41,000 sq. ft. of meeting space and a 6,000-square-foot ballroom.
New Plantings
"Burgeoning" is the word for the wine regions both smaller and newer than those found in California or Washington. But with stunning scenery and welcoming wineries, these winemakers go out of their way to offer groups the same wine country experience found in the more established regions.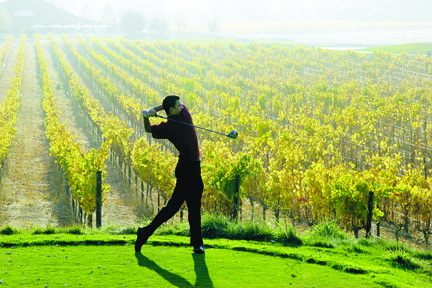 British Columbia
You'll find two main wine regions in Canada's western province, with the Wine Islands of Vancouver Island and Gulf Island, and the inland Okanagan Valley just across the border from Washington. Both are comprised of mostly small-lot, artisan wine producers, though the number of wineries continues to grow each year.
There are nine separate wine regions on the islands, with dramatic scenery and a wet climate contributing to the crisp wines and lush landscape, while most of the wineries are clustered just to the north of the city of Victoria. There's a range of hotels and meetings venues in the region, including the luxury Poets Cove Resort & Spa on South Pender Island, with 46 rooms and a 1,586-square-foot ballroom. The Brentwood Bay Lodge & Spa has 33 suites and meeting space for up to 36.
Drier but just as dramatic, the 90 wineries of Okanagan Valley are primarily clustered around the shores of Okanagan Lake, Skaha Lake and the Penticon River Channel. The setting makes for great outdoor activities, such as hiking, biking and canoeing from one winery to the next. For meetings, the Penticon Trade and Convention Centre has 60,000 sq. ft. of event space, and the newly opened South Okanagan Events Centre has a variety of meeting room configurations.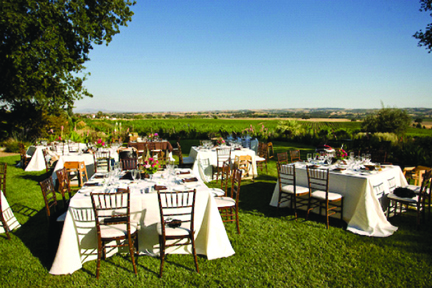 Texas
Not many wine regions offer visitors the opportunity for trail riding at a dude ranch in the morning, before sidling up to the tasting room for a glass of chardonnay in the afternoon. But Texas Hill Country Wineries, located just west of Austin and north of San Antonio (wine tours originate from both places), are made up of equal parts cowpoke and winemaker. "The Texas Hill Country is a part of the state cherished by most Texans," says Ernie Loeffler, director of the Fredericksburg Convention and Visitor Bureau, located at the heart of the region, who adds that they cater to small groups of up to 150.
The 22 wineries in the fast-growing region are mostly simple ranch-style properties, but the Lavender Haus facility at Becker Vineyards can accommodate up to 130, while the Tuscan Event Center at Grape Creek Vineyards has 2,100 sq. ft. of meeting space. For larger events, the Hangar Hotel in Fredericksburg has a 1940s-themed Airport Conference Center with 20,000 sq. ft. of meeting space, and the Pacific Showroom featuring 8,000 sq. ft. of event space.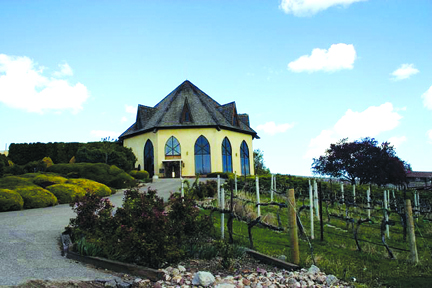 Idaho
While Idaho wine country may not be the best-known region in the U.S., it is one of the largest at 8,263 square miles. The state's 20-plus wineries are spread from Coeur d'Alene in the northern panhandle, to Twin Falls in the south, though the majority are clustered just to the west of Boise in the Snake River Valley. While most of these smaller wineries are not set up for meetings, Ste. Chapelle Winery, a re-creation of La Sainte-Chapelle in Paris, France, offers a variety of indoor and outdoor facilities for small groups. A short drive to the east, Indian Creek Winery also has meeting facilities for groups up to 175. Of course, this being Idaho, trout fishing and river rafting excursions can easily be arranged through outfitters such as Sawtooth Adventure Company.
Colorado
The Rocky Mountain air must be good for the more than 60 wineries in central and western Colorado, which can claim the fame of having some of the highest-elevation wineries in the world. Colorado Wines have three major growing regions, starting with the Front Range Wine Trail's 19 wineries in an area around Denver and Boulder. But the more serious wine production in located in the western regions of Grand Valley and West Elks, with Grand Junction the largest city in the area.
For Denver-area meetings groups, there are a handful of wineries conveniently located in and around the city. And while most lack meeting space, tours can be arranged through Colorado Wine Country Tours, which also serves the region around Grand Junction.
---
Additional Resources: