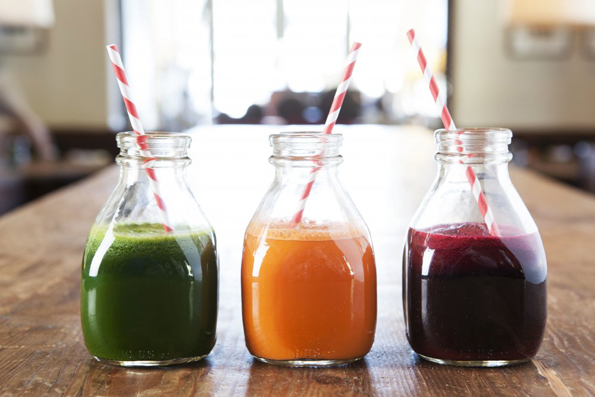 Kimpton's juice menu features three flavorful varieties
Boosting its reputation for wellness offerings, Kimpton Hotels and Restaurants has launched a new juicing menu at 10 hotels across the country.
The 16-ounce offerings are made from freshly picked fruits and vegetables and are aimed at boosting energy and improving health. Three varieties are available:
–Beets Me consists of red beets, carrots, ginger and cilantro.
–Being Green is a nutrient-rich mixture of cucumber, celery, spinach, kale and lemon.
–Local Only is a cocktail made from nearby farm produce. The host chef at each property creates the concoction, which blends ingredients such as green apples, whole passion fruit, kale and celery.
These juice mixtures will be offered at all of Kimpton's U.S. properties by the end of the year and were introduced at the following Kimpton restaurants in January:
–Cusp at Hotel La Jolla in California
–Blvd 16 at Hotel Palomar Los Angeles – Westwood
–Area 31 at Epic Hotel, Miami
–The Social Club at Surfcomber Hotel Miami-South Beach
–Red Owl Tavern at Hotel Monaco Philadelphia
–Lustre Rooftop Garden at Hotel Palomar Phoenix
–Red Star at Hotel Monaco Portland in Oregon
–Jsix at Hotel Solamar, San Diego
–Cafe Pescatore, San Francisco
–Finch & Fork at Canary Hotel Santa Barbara in California
Kimpton's hotels and restaurants have introduced several healthy menu options for guests during the past few years, including gluten-free selections. Last year, the company collaborated with Gaiam to design a custom yoga mat that is available in all guest rooms, and teamed up with another company, Public Bikes, to offer free bike rentals at all Kimpton properties.
Other hotel companies also have been designing and implementing wellness features; juicing programs, in particular, are now hot. Several Four Seasons properties now have fresh-juice menus, including Four Seasons Resort The Biltmore Santa Barbara, which has a "Farm to Straw" juice program at Fins, the organic juice bar at Coral Casino Beach and Cabana Club. The juice offerings rotate about every six weeks and feature ingredients from certified organic farms and others working to attain certification.
Four Seasons Resort Orlando at Walt Disney World Resort, scheduled to open in August, will have a made-to-order juice and smoothie bar at its Ravello restaurant. Pineapple, pear, broccoli, cucumber, peppers and ginger will be among the ingredients used.
The Fairmont Washington, D.C., Georgetown has "Strawberry Shot" on its menus, consisting of strawberries, apple cider vinegar and parsley. Also, last year Hotel Palomar San Francisco launched "Pressed, Pampered and Purified," the first juice-cleanse travel experience. It consists of packages that include luxury accomodations, fresh juices delivered daily to guest rooms and a pressed juicery cleanse guide, among other things.
—Dan Johnson