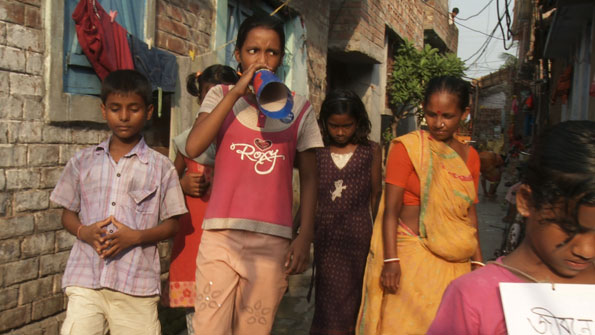 A scene from the documentary
Revolutionary Optimists
, about a program that teaches environmental
concepts to children in Kolkata, India
Last year, Hilton Worldwide, in partnership with the Sundance Institute Documentary Film Program, launched an awards program for films that best showcase the issues, interconnections, challenges and opportunities posed by sustainable practices in a global context.
Dubbed the Hilton Worldwide LightStay Sustainability Fund & Award program, it offers prizes ranging from $5,000 to $22,500 that are presented at the annual Sundance Film Festival. The program is affiliated with Hilton's LightStay system, which analyzes the company's performance across 200 operational practices, including paper product usage, housekeeping, food waste, chemical storage, air quality and transportation.
The 2013 winners were selected from a field of 1,500 feature-length documentaries and more than 5,000 short films, and were honored at the Sundance Film Festival in Park City, Utah, on Jan. 20. The winners are:
–Feature ($22,500 prize): Revolutionary Optimists (Nicole Newnham and Maren Grainger-Monsen, directors) traces how Amlan Ganguly rescues people children from the slums of Kolkata, India, and empowers them to become change agents by transforming their neighborhoods through environmental-preservation actions and other means.
–In-process ($22,500): Hungry (Sandy McLeod, director) shows how veteran agriculture pioneer Cary Fowler is racing against time to help ensure the security of the global food supply. Gene banks are crumbling around the world, crop failures are causing starvation and rioting, and farmers are suffering from the accelerating effects of climate change. The film shows Fowler attempting to conserve the remaining crop diversity in a gene bank under the Arctic Circle.
–Honorable Mention ($15,000): Studio H (Patrick Creadon, director) focuses on the efforts of Emily Pilloton and Matt Miller to help their high school students in rural North Carolina realize that they can make a positive difference in their community. The students discover that what they create in the design, architecture and construction class can help their struggling Bertie County to become more progressive and environmentally sustainable.
–Short ($5,000): Jungle Fish (Louisiana Kreutz, director) follows three seasoned fishermen on a two-week excursion deep into the heart of Guayana's rainforest to show that the endangered arapaima, the largest freshwater fish in the world, can be caught with a fly rod.  Their success would prove that the country's struggling sports-fishing industry is viable and therefore able to provide a brighter future for the native people, rainforest and arapaima.
—Dan Johnson