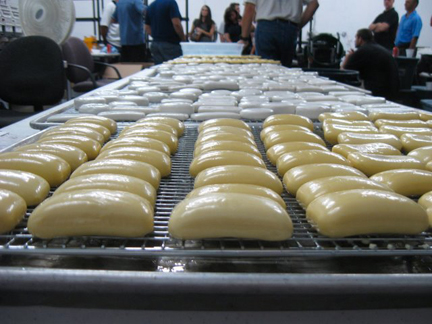 Clean the World's soap recycling program is an example of the green practices
driving planners' booking decisions, courtesy of cleantheworld.org.
In their inaugural "State of the Meeting Industry" survey, Destination Hotels & Resorts, the fourth largest management company in the U.S., surveyed a diverse group of planners from throughout the country to gauge their interests and industry trends for 2013. More than 60% of respondents expect to have more meetings this year and 20% anticipate increased budget flexibility. Generally, responses revealed a cautious optimism about the industry, and six specific trends were noted.
1. Venue location: While budget parameters were rated as planners' greatest challenge, location was ranked as their most important consideration in selecting a venue, followed closely by rate, flexible space and amenities. Some 34 percent reported that more than half of their meetings would be national gatherings and nearly 30 percent said that their meetings would take place in local markets.
2. Environmental concerns: Meeting planners are way ahead of the general leisure travel market in considering green practices as part of their booking decisions. Some 45 percent said that eco-friendly practices are "somewhat important" and 18 percent stated that they are "extremely important." Many hotels and resorts, including Hamilton Park Hotel & Conference Center in Florham, N.J., are participating in Clean the World, which recycles soaps and delivers it to developing countries.
3. Culinary offerings: More than 78 percent identified food options as an important part of their selection process, with 30 percent saying that it is "extremely important." Less than 10 percent cited having a signature chef as important. Significant portions of respondents said that smart, well-planned meal packages focusing on health and nutrition (43 percent) and specialized dietary offerings (35 percent) are important. At MileNorth, A Chicago Hotel, menus have been revamped to outline gluten-free, vegan and vegetarian options, and are periodically updated to reflect fresh, seasonal ingredients.
4. Team building: Some 54 percent said that they are most interested in adventure/active options for team building, while also expressing interest in culinary, wellness, cultural and community-service activities. In Vail, Colo., Vail Cascade Resort & Spa and CBST Adventures collaborate to provide groups with team-building activities that take advantage of the mountainous setting.
5. Social media: Half of the respondents said that social media is an integral part of their planning process.
6. Technology: More than 36% said that compared with the previous year, technology was more integrated into their meetings. Streaming media, web conferencing and onsite video production were most commonly used, with more than 25% using at least one of them.
—Dan Johnson
For more on industry trends, be sure to see our January 2013 cover story, highlighting experts' picks for what's hot in F&B, decor, technology and more. Even more industry  forecasts and survey results are detailed in our December 2012 All the Buzz online exclusive feature.