Why hold a meeting at a "hip hotel?" Just ask Shawn Cosner, sales trainer for Autotrader.com, who is responsible for organizing dozens of training events for sales reps across the country. Although he gets to choose whatever hotel he wants, he nearly always opts for Kimpton Hotels, a chain of stylish boutique (i.e., hip) hotels based in San Francisco.
"When the hotels are hip, stylish and modern, it makes our training better," Cosner says. "A hip hotel isn't some hotel located at the airport. It's unique, fun and the food is great. And there's a free wine hour. It makes our jobs easier because the venue is so nice."
Kimpton is not the only hip hotel chain, of course. In recent years, new chains such as Standard, Joie de Vivre and Ace have focused on form as much as function, creating cool vibes to attract well-heeled guests who can afford sophisticated touches. Today's hippest hotels are both technologically savvy and focused on service basics, such as providing high-quality coffee in the morning.
Often built in redeveloped historic properties, hip hotels also have a distinctive atmosphere that can help make a meeting more memorable. These properties have a tendency to define and refine their neighborhoods.
Following is a look at 10 hotels that pass our hipster smell test, with an eye toward how your group can take its "cool" out into the surrounding hoods for memorable meeting moments.
21c Museum Hotel
Cincinnati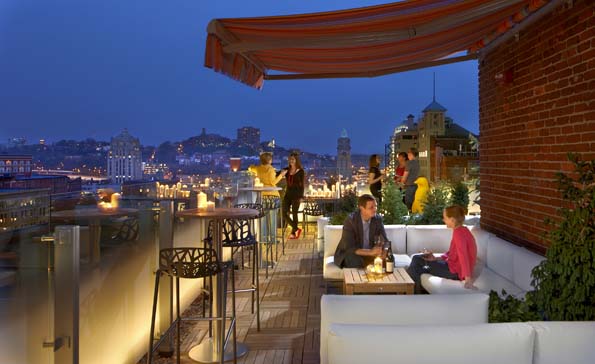 Nothing says hip quite like contemporary art, and nowhere is art part of the experience more than at 21c Museum Hotels, which have rotating, built-in art exhibitions open to the public around the clock.
The 21c brand was started by two native Kentuckians who believed that art had the potential to help revitalize Louisville's downtown core. Following their success, they have expanded into locations including Bentonville, Arkansas, and Cincinnati, Ohio, with new properties planned for Lexington, Kentucky, and Durham, North Carolina.
The 156-room property in Cincinnati was developed inside the 100-year-old Metropole Hotel building (a historic landmark); a sweeping staircase leads to a second-floor ballroom. There is 8,000 sq. ft. of exhibition, meeting and event space. In addition to showcasing works by nationally acclaimed artists, the hotel has gained fame for its restaurant, Metropole, where dishes are prepared in a wood-burning hearth.
Hip Hood: Cincinnati's 21c Museum Hotel is in the Backstage District, across from the Aronoff Center for the Arts and next to the Contemporary Arts Center. It isn't far from the Over-the-Rhine neighborhood, which has an array of bars and restaurants in historic buildings. Potential venues include the Christian Moerlein Brewing Co., a brewpub/restaurant with a private dining area that can hold up to 250; and the Cincinnati Union Terminal, a cool old Art Deco building that houses three museums.
Hotel Zetta
San Francisco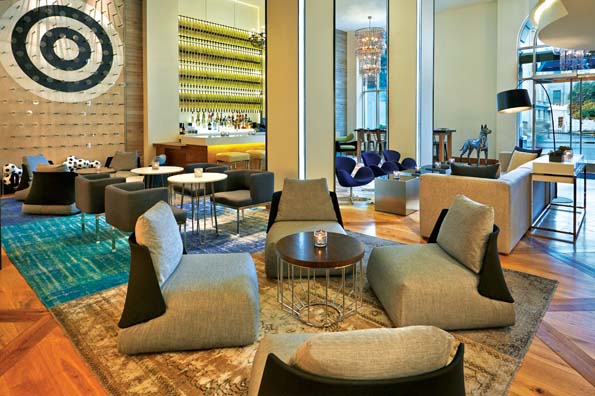 In a city crawling with hipsters, one of the coolest new kids is Hotel Zetta, in the city's resurgent South of Market (SoMa) neighborhood. Owned by Fifth Street by Viceroy Hotel Group, this 116-room property re-opened on its 100th anniversary in 2013. Zetta's rooms have oversized butcher block desks, Illy espresso machines and Internet-ready smart TVs that let you surf Facebook, Twitter and Netflix, and wirelessly stream videos from mobile devices.
Onsite venues include the S+R ("Salvaged and Rescued") Lounge, which has eye-catching artwork. The Zetta has 2,760 sq. ft. of meeting and event space, including the 1,672-square-foot Playroom, with shuffleboard, pool, video games, flat-screen TVs and computer stations. There's even a British telephone booth where you can Skype video-chat with folks in other locations, just to rub in the fact that they're not there.
Hip Hood: San Francisco's SoMa District has become a tech hub in recent years; it is close to the massive Moscone Center, as well as cool venues such as Bourbon & Branch, a high-class speakeasy in the truest sense; the only way to get in is by knowing the password. For a stylish offsite event, try SoMa's museums, including the Museum of Modern Art (currently undergoing a renovation) and the Old Mint, which has old brick-walled rooms and vaults that lend a historic vibe.
Wythe Hotel
Brooklyn, New York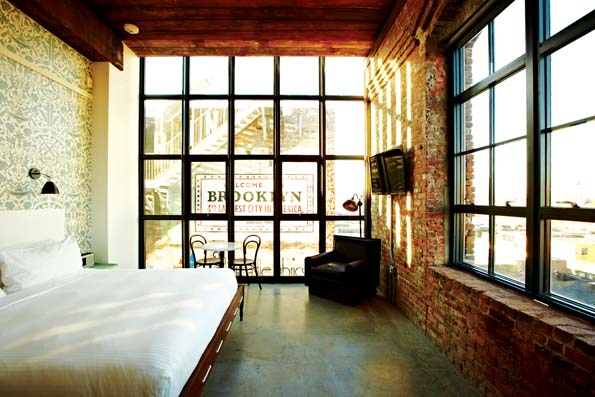 You know you're in a hip hotel when amenities include a "locally sourced minibar." No Cuervo or Snickers for you; these minibars are stocked only with Brooklyn's finest, including chocolate from nearby Mast brothers, kombucha from Kombucha Brooklyn and beer from Brooklyn Brewery.
Wythe's rooms have views over Manhattan and/or Brooklyn's Williamsburg neighborhood; they also have beds made from reclaimed ceiling pine and classic-looking radios that can stream Internet radio. Another telltale hipster feature: They publicize the name of the artist who made the wallpaper (Dan Funderburgh). The Ides Bar is popular with the local cool crowd; it has policies such as, "We do not have a dress code; we do not offer bottle service; and photography is not permitted."
Venues for meetings or events include a 2,100-square-foot event hall with original masonry walls and 16-foot pine ceilings, and the 500-square-foot Ides Rooftop, which has views over Manhattan. There are also a screening room and bar inside a cellar-level space.
Hip Hood: Williamsburg has surged toward the top of the list of the nation's hipster hubs in recent years. Home to Hasidic and Latino communities, "Billyburg" (as it is sometimes called) has a variety of independent bars and restaurants (including places such as Rye, which has pre-Prohibition era decor), as well as cool music spots including the Knitting Factory. If you're looking for a memorable private-dining experience, try Wythe's restaurant, Reynard, regarded as one of Brooklyn's hippest spots.
The Ace Hotel
Portland, Oregon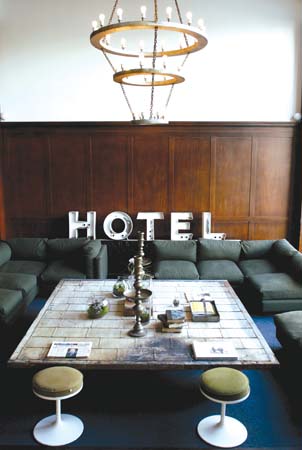 Part of a chain with seven properties in cities around the world, Portland's Ace Hotel is housed in the 100-plus-year-old Clyde Hotel in "Mid-Town," near the Pearl District. Some of the more egregiously hip touches include in-room guitars and record players ("with a selection of hand-picked vinyl," according to Ryan Bukstein, director of public relations and marketing for Atelier Ace).
Thanks to the IFC show "Portlandia," Portland has earned a reputation as a center for hipsters, and the Ace Hotel does nothing to discourage that perception. How hip is the Ace? The staff pickles their own vegetables and serve fresh rhubarb jam and mustards from the local farmers market. The hotel is equally proud to serve Stumptown coffee, which is based in Portland. The property features original pieces from local artists, and locally made and vintage furniture. Custom bikes with helmets and locks allow guests to explore Portland the way locals do.
Event space onsite includes The Cleaners, a 1,200-square-foot space that used to be a clothes cleaners. Room 101 has an oversized leather-bound table that seats up to 15.
The Ace started in Seattle and has followed a classic model: "We go into areas that might not be the most desirable places to open a hotel, and through time those evolved into what might be called 'hip neighborhoods,'" Bukstein says. "We start to bring the right kind of creative audience that helps aid in more businesses developing in the area."
Hip Hood: The hotel is close to Powell's City of Books, one of the world's largest independent bookstores and a short walk from the Pearl District, a former warehouse district that has more than enough funky shops, restaurants and bars to keep a group happy after hours. Right across the street is Living Room Theaters, a renovated movie theater with a bar and ottomans.
W New Orleans–French Quarter
New Orleans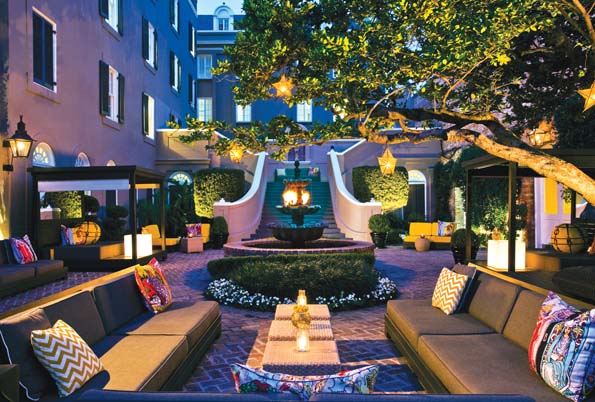 Take your pick of room types at the W New Orleans– French Quarter: Options range from the Wonderful Room ("where visionary design elements fuse with state-of-the-art technology and indulgent amenities," the company's site explains) to the "Spectacular Room" (a penthouse where the "modern decor is inspired by the soul and mystery of New Orleans, with a dash of Manhattan," the website says). Also, the "Fabulous Room," overlooks the French Quarter, and the "Studio Suite" has French doors leading out to a private courtyard.
There are 97 guest rooms, including four carriage houses and one deluxe suite. Rooms come with a "Munchie Box" to go with the minibar, and a jack-pack lets you stream video from your digital device to the TV. This W has more than 735 sq. ft. of adjacent meeting space and a classic courtyard, which can be used to host events for groups of up to 100.
Hip Hood: The French Quarter is one of the hippest hoods in America, with live jazz, countless unique shops, cozy bistros, galleries and built-in entertainment for attendees. If it's too touristy for you, consider taking your group over to the Warehouse District, which has many local restaurants, a farmers market and event venues including the Contemporary Arts Center and 25 art galleries.
Acme Hotel Company
Chicago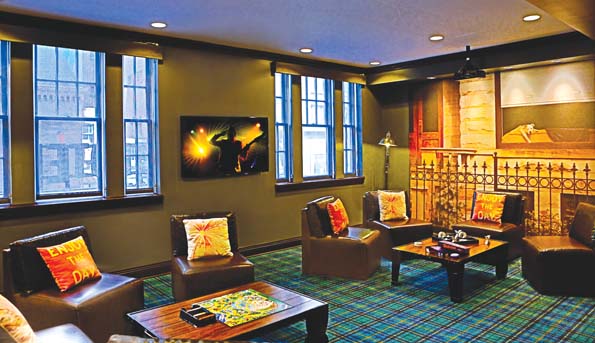 One of the greatest things about the new breed of hip hotels is that they are willing to break the mold. For example, no one likes to fumble with coffee grounds in the morning, so at ACME Hotel, you can get a steaming thermos of java left at your door with a "knock and drop" at any hour. The staff will also leave fresh pastries from West Town Bakery, a local favorite located in Acme's lobby. "No need to fumble around for tip money or wrap yourself precariously in a towel," the company website explains.
"We wanted to design a hotel that is affordable and approachable, but very Chicago-esque," says Brent Hinton, director of sales and marketing. "You'll notice different art installations. We have LED lips on our bathroom mirrors as the night-lights. There are different surprises people will talk about and they'll walk away with an experience."
Venues include the Berkshire Room, which has whiskey-crate walls and a bar made from overlapping leather belts, and the 950-square-foot "Einstein Room," which has a foosball table and beanbags for brainstorming. Among the other ultra-cool room perks are Internet-ready smart TVs and 100 MB bandwidth Internet. ACME also touts that it is the first hotel ever to offer Google Glass free to guests. (See sidebar on opposite page.)
Hip Hood: ACME is in the River North neighborhood, not far from the Magnificent Mile and Rush Street, a popular spot for nightlife. "We're not surrounded by office buildings, but there are probably 30 restaurants within a five-minute walk," Hinton says. "A lot of young people live here." For eats, check out Eataly, a gourmet Italian market with multiple restaurants.
Hotel 32
Las Vegas
The Las Vegas Strip has made a dramatic turn from shtick to slick over the past 10 years, and these days you can't throw a poker chip without hitting an ultra-hip lounge or high-end, Top Chef-helmed restaurant.
While many of the larger hotels along The Strip have opened their own little stylish boutiques—for example, Nobu Hotel operates within Caesars Palace and the Four Seasons Las Vegas is part of Mandalay Bay—a lesser-known option for those seeking a hip getaway on The Strip is Hotel 32, an exclusive mini-hotel located on the 32nd floor of the Monte Carlo Hotel.
Hotel 32 is all about the special touches: Every guest is entitled to a free limo ride from the airport, and once you get to the hotel, a personal suite assistant will take you to a private check-in area and then to your room via a semi-private elevator. Guests staying in one of the 50 rooms have access to a club lounge, and a dedicated bell staff helps to reduce wait times. In-room perks include Kohler Chromatherapy steam showers and high-end Jura Swiss coffeemakers.
Hip Hood: It's Vegas, what more can we say? Options in the Monte Carlo include the Minus5 Ice Bar, where everything (even the bar and glasses) are made of ice. The hotel is next door to CityCenter, a mini-metropolis geared toward the hip and sophisticated, and it's also not far (by The Strip standards) from the Cosmopolitan, another hub for hip fun-seekers.
The Standard Spa, Miami Beach
Miami Beach, Florida
The Standard Spa, Miami Beach is all about the water: In addition to overlooking the sparkling blue ocean, the hydrotherapy spa has an aroma steam room, scrub room, cold rain shower, falling water column, roman waterfall hot tub, arctic plunge pool, mud lounge and soaking tubs. The spa also has tai chi and guided meditation, along with onsite holistic health counseling and a resident life coach.
"We are a wellness spa boutique hotel," says Kylene Morita, catering sales manager for Standard International. "We focus on well living, so there are different classes. There is juicing, and we cater to a variety of diets, including vegan and raw."
With about 100 guest rooms, the property has lush gardens and a shady swing lounge and fire pit; it also has modern perks such as wireless Internet. There are private boat slips, and amenities such as bicycles, paddleboard, pingpong and more. "Our two meeting rooms are spa-style; there is a significant amount of natural light," Morita says. "Groups can have a meeting, go outside and eat on the bay—usually seeing dolphins and boats—and then go back to their meetings. We're not your usual box hotel, nor would we ever want to be."
Hip Hood: The Standard is located on Belle Isle, an island between South Beach and downtown Miami. It is only a five- to 10-minute walk to South Beach, one of the world's gathering spots for the jet-setting elite. Cool local venues include the Broken Shaker, a James Beard-nominated bar with handcrafted cocktails with elixirs, syrups and infusions made from herbs and spices from their garden.
Loews Vanderbilt Hotel Nashville
Nashville, Tennessee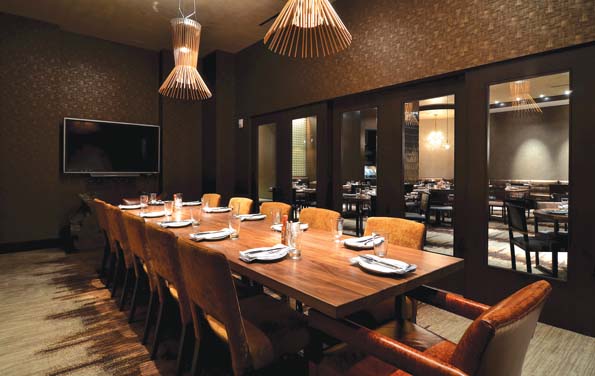 Many properties are going back to the roots of their local regions, but you'd be hard-pressed to find a more committed example than chef Brandon Frohne, who has been featured on Chopped and other food shows, and whose restaurant/bar, Mason, is part of the recently redone Loews Vanderbilt Hotel Nashville. To ensure that he is authentic, Frohne gets his inspiration from a housekeeping book from 1800s Appalachia.
"He's experimenting with old techniques," says Christina VerHeul, director of public relations for the hotel. "The bulk of our business is local; Mason is considered one of the best restaurants in the city."
The Loews Vanderbilt completed renovations in May 2013 that added stylish touches such as a mural of Hank Williams made of old records and faux animal-skin decor. "We incorporated a lot of design elements that are cool and funky," VerHeul says. "It's focused on the new Nashville, the modern, cool, with a musical urban chic. That's really the direction in which Nashville is going."
As a final hip touch, workers at Mason are decked out in local Nashville fashions. "Our team members are outfitted in locally made custom-designer jeans, vests, ties and aprons," VerHeul says. "It's an expensive outfit."
Hip Hood: The Loews Vanderbilt is in midtown Nashville, next to Vanderbilt University. "It has a college feel, but it's always been considered one of the posh neighborhoods," VerHeul says. "It's definitely a young vibe and really feels like a neighborhood."
Local venues include the Patterson House, a bar/speakeasy opened by Ben and Max Goldberg. For an outdoor activity, Nashville's Centennial Park has plenty of space for fun; it also has food trucks. Loews offers a complimentary shuttle service within a three-mile radius of the hotel.
Craddock Terry Hotel
Lynchburg, Virginia
While it might be hard to imagine pitching to clients that they'll be staying in a shoe factory, the Craddock Terry Hotel in Lynchburg, Virginia, is a perfect example of the old-is-new-again ethic. This riverfront hotel is housed in the original brick warehouse of the Craddock-Terry Shoe Corporation, and the shoe theme runs throughout: For example, breakfast is delivered daily in an old-fashioned wooden shoeshine box.
The hotel offers 44 guest rooms and suites, two restaurants (including Shoemakers American Grille) and 4,000 sq. ft. of flexible space. The 15,000-square-foot James River Conference Center is less than a mile away for larger events.
Hip Hood: Lynchburg is in Blue Ridge Mountain foothills and is home to an array of interesting historic sites, many of which can be used for group events. The city's bar and restaurant scenes are flourishing.
Chuck Kapelke is a professional writer, video producer and a longtime contributor to Smart Meetings.
---
Google Glass on Demand
ACME Hotel in Chicago is forging new frontiers by making Google Glass available to guests, as well as business groups.
"We offer Google Glass to all of our guests, complimentary, on a first-come, first-served basis," says Brent Hinton, director of sales and marketing for Acme Hotel Chicago. "You can take them out and tour the city with them. And we just purchased a second pair that we will use for groups and meetings."
The glasses have a built-in application called Field Trip that is used for exploring a new city. Acme guests can put them on and wander around and learn about the neighborhood, with relevant information popping up before their eyes, based on where they're located.
"We're about letting guests do their own thing," Hinton says. "When you're walking through the city, the app knows your geo-location and will give you different pop-ups based on where you are and what you're coming up to. You can customize it for architectural history, bars and restaurants, or other things.
"There are a lot of options or possibilities for a presenter or group leader to use them," Hinton says. "For example, you could take questions through social media and you wouldn't have to be buried in a cell phone or laptop. A presenter could also have notes displayed or could record the presentation, though I'm not sure if that has any benefit. It's all very early stage."
---
Galleria Park Hotel, San Francisco
In The News
Downtown Los Angeles is growing more hip thanks to the presence of hotels such as Ace and Standard; larger meetings groups can soak in this hipness while staying at Sheraton Los Angeles Downtown Hotel, which has 485 rooms, 35,000 sq. ft. of meeting space and a fitness center with views of the famed skyline.
Downtown San Francisco's Galleria Park Hotel, a Joie de Vivre property, finished an 18-month multimillion-dollar renovation in 2013 and includes a new French brasserie. Three meeting rooms have space for up to 150.
Kimpton Hotels & Restaurants is planning a new four-star hotel as part of a major redevelopment of Denver's historic Union Station. Slated for a late 2015 opening, the new 200-room property will be opening near the "LoDo" (Lower Downtown) neighborhood and will have 8,300 sq. ft. of meeting space.
Hotel Valley Ho, an urban resort and spa in downtown Scottsdale, Arizona, is a restored 1950s property where the guest rooms have private patios or balconies. Onsite venues include ZuZu Lounge and the OH Pool Bar + Cabanas. The Valley Ho has 10,000 sq. ft. of indoor meeting space plus 15,000 sq. ft. outdoors.
Ace Atelier's Palm Springs location recently opened an event center to cater to growing demand by business groups looking for creative flair in their hotel. "All of our hotels have meeting space, and we cater to a more creative meeting planner audience, a company looking for a creative retreat or something a little different," says Ryan Bukstein, direction of public relations for Ace.
The Hotel Zamora, which opens this month in St. Pete Beach, Florida, features a rooftop terrace with views of the Gulf of Mexico and downtown St. Petersburg. There's 7,000 sq. ft. of indoor and outdoors space.