In the storied days of yore, F&B service at meetings was a mass-production offering that yielded the classic dreaded choice: beef or chicken (and later fish or vegetarian). The results were often as flat as the inquiring voice.
To the planners' rescue come bold new ideas that give pop to any event—often at prices that fit the budget. Hotel chefs from Napa Valley to Baltimore to Colorado Springs have been tending their own gardens and giving the locavore movement some punch. Culinary offerings are also becoming a major part of the site-selection process.
Many chefs and catering managers are eager to meet planners' expectations for quality, sustainability and price, while also integrating themes or meeting objectives into F&B programs. In many locations, a team-building aspect or interactive element can be incorporated. These may include chef's garden or farmers market tours (Napa Valley Marriott Hotel & Spa), making truffles as a group (The Fairmont Royal York, Toronto) or infused vodka tastings (Hard Rock Hotel Chicago).
We scouted the latest news regarding chef moves and menu innovations and talked with those on the front lines at hotels across North America to give you a sampling of what's on offer for your next event. Some chefs have a celebrated culinary pedigree, others have pioneered new programs and offerings, and many are integrating sustainable, local ingredients in fresh and exciting ways. All are helping to change the hotel F&B landscape, making "beef or chicken" a distant memory.
---
Star Power
While a chef with a reality-TV pedigree may not be an RFP requirement, a Michelin star here or a James Beard honor there doesn't hurt—and neither does some name cachet. Groups can dine on celebrity chef fare from the likes of Gordon Ramsey of Hell's Kitchen fame at The London NYC and The London West Hollywood in California. In Florida at The Ritz-Carlton Orlando, Grande Lakes, groups gather to taste the culinary creations of Norman Van Aken, internationally known as the founding father of New World cuisine. We've identified a few meetings-world stars who have a distinguished restaurant background.
Penrose Room at The Broadmoor, Colorado Springs, Colo.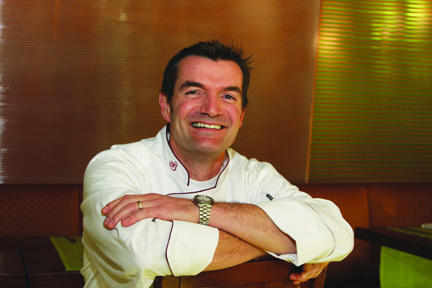 Chef: Executive Chef Bertrand Bouquin has helped the Penrose Room garner both the AAA Five Diamond and the Forbes Five Star awards. "Our goal is for our restaurant and banquet operations to be known as the absolute finest culinary destination in the country," says C.W. Craig Reed, director of food and beverage at the resort.
Culinary cachet: Bouquin "is a world-class culinary talent who has cooked alongside some of the world's leading chefs," Reed says. "His commitment to leadership, service and the culinary arts is unparalleled."
Bouquin was previously executive chef at the Mobil Five Star Maisonette in Cincinnati, Ohio, and has trained under renowned chefs including Alain Ducasse and Daniel Boulud, both of whom operate eponymous restaurants that have earned three Michelin stars. Previously, he held positions at Club XIX at The Lodge at Pebble Beach in California and Cafe Boulud in New York City.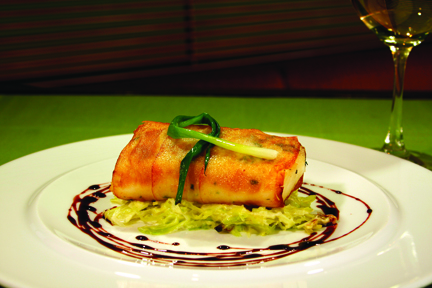 Restaurant meetings specs: The Penrose Room offers a glass-enclosed semiprivate dining room for up to 24, a private room for up to 40, and a chef's table.
The basics: The resort encompasses 3,000 acres with 744 guest rooms and 185,000 sq. ft. of meeting and event space.
---
Luce at InterContinental San Francisco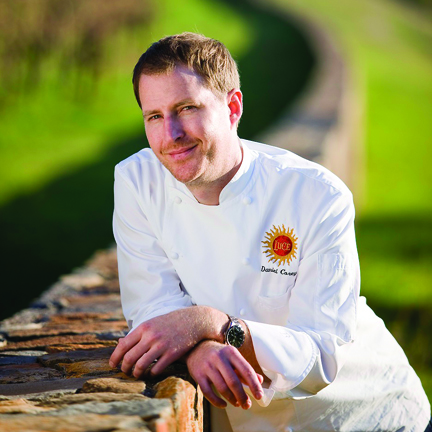 Chef: Daniel Corey, chef de cuisine, helped Luce earn its fourth consecutive Michelin-star rating last fall. His menu items include young chicken cassoulet and herb-roasted lamb loin, and he prepares a special tasting menu Tuesdays–Saturdays.
Culinary cachet: Corey learned the ropes working at restaurants alongside some of the culinary world's most celebrated chefs, including Daniel Humm, chef at the celebrated Eleven Madison Park in New York City, and Anna Bautista, chef de cuisine at the Michelin-starred Madera in Menlo Park, Calif.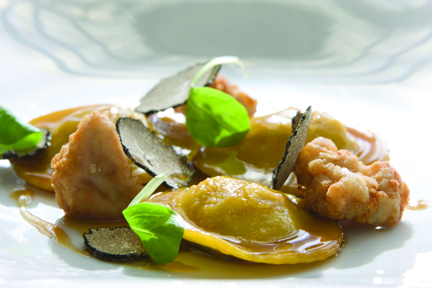 Restaurant meeting specs: Luce can accommodate 16 people for private dining—ideal for a VIP group. "We offer guests three selections in each of the three courses for dinner. This is done to ensure that we can provide a group this size the level of service and cuisine that they would expect from a Michelin-starred restaurant," says Corey. "We are flexible, however, for special occasions about adding another course or something else, but it is handled on a case-by-case basis."
For larger meetings, the hotel is working on offering Luce menus for groups of up to 50 guests in function rooms. "Our plan is to launch these menus in the spring of 2013. In addition to the private dining room at Luce, groups can also enjoy the bar/lounge for receptions with passed appetizers and/or canape stations," says Corey.

The basics: Located next to Moscone Center and South of Market neighborhood attractions, the 2006-built hotel has 550 guest rooms and 43,000 sq. ft. of meeting space.
---
District American Kitchen and Wine Bar at Sheraton Phoenix Downtown Hotel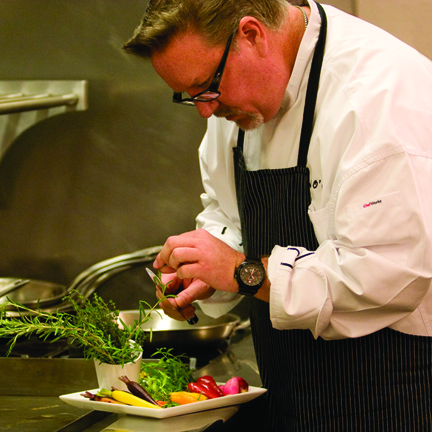 Chef: Michael O'Dowd, executive chef, has overseen administration of all kitchen operations, staff recruitment and training since November 2012. "With his credible culinary background, a passion for unsurpassed cooking methods, and his leadership experience at several properties, Chef O'Dowd will no doubt be an asset in leading and inspiring our team," said General Manager Mike Ehmann on the chef's arrival.
Ingredients used in dishes are often culled from a large rooftop garden, and include local corn, squash, seeds, tepary beans and hatch chiles. O'Dowd notes that it is becoming more difficult to source rare and unique ingredients, so chefs now must "dig deeper into the soil to find the golden roots."
Culinary cachet: Previously, O'Dowd served as executive chef for the Sheraton Wild Horse Pass Resort & Spa in Chandler, Ariz., where his cuisine melded Native American traditions and European culinary techniques. The hotel's signature restaurant, Kai, became the only Native American Forbes Five Star and AAA Five Diamond restaurant in Arizona. Previously, he held positions at top New York City spots including Aureole and Le Cirque. He also coauthored a noted cookbook titled The New Native American Cuisine.
Restaurant meeting specs: Two semiprivate dining areas each accommodate parties of 36–40 attendees, and a private dining room can hold up to 12. The Wine Room can accommodate parties of 30–125 for receptions.
The basics: The property is adjacent to the Phoenix Convention Center and is the largest hotel in Arizona, with 1,000 guest rooms and 80,000 sq. ft. of meeting space.
---
The Innovators
One frequent question that never seems to fade: "What can we do with F&B to keep attendees engaged and coming back every year?" Hotels and their restaurants are answering that call. Interactive cooking stations, local ingredient sourcing and themed dining events remain at the forefront of the innovations.
Art Restaurant at Four Seasons Hotel Seattle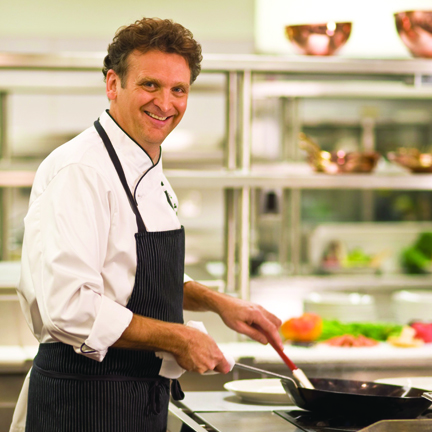 Chef: Kerry Sear, executive chef, previously held similar positions at Four Seasons hotels in Toronto and Vancouver and, more recently, Cascadia Restaurant in Seattle.
Taking a decidedly artistic approach to his cuisine, Sear has been known to sketch with a brush on canvas before attempting dishes in the kitchen, and has turned his artistic eye on the design of Art. "Cooking is like learning to paint—not everyone can do it. You have to draw on the art inside you. Legions of cookbook readers will be disappointed to hear that," he says.
Innovation: The Next Level Dining program caters to groups of 20–90 and provides a restaurant-themed experience in the hotel's ballrooms without transportation costs.
The program is available in three of the hotel's meeting spaces: the 4,940-square-foot Ballroom, 1,400-square-foot Sycamore Room and 1,092-square-foot Cypress Room. Decoration, table settings, music, menus, uniforms, table-side choices of food and wine and a themed bar setup are used to create a social atmosphere much like an independent restaurant. The most requested style concepts are seafood, steak house and urban Northwest, and Italian and Asian-inspired themes are in the works for 2013.
Restaurant meeting specs: The entire dining room at Art accommodates up to 68, and a private dining room can hold up to 24.
The basics: Located next to Pike Place Market with a view of the Puget Sound, the property has 147 guest rooms and 10,570 sq. ft. of function space.
---
Chefs Club by Food & Wine at St. Regis Aspen Resort, Colorado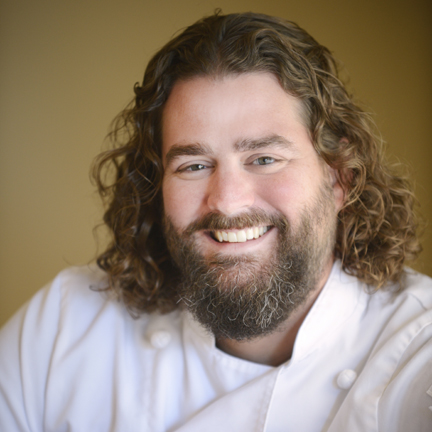 Chef: Thomas Riordan, executive chef, oversees the restaurant and group event F&B operations. He was previously executive sous chef and executive banquet chef at The Phoenician Resort in Arizona and was trained at the Culinary Institute of America.
Innovation: Chef's Club is a restaurant concept formed in partnership with Food & Wine magazine that combines the talents of four rotating up-and-coming chefs who biannually create a collaborative menu of seasonally inspired cuisine.
The second, and current, group of chefs was unveiled in December 2012: Jenn Louis of Lincoln Restaurant and Sunshine Tavern in Portland, Ore.; Jonathan Sawyer of The Greenhouse Tavern and Noodlecat in Cleveland; Kevin Willmann (pictured) of Farmhaus in St. Louis; and Matt Lightner of Atera in New York City. Throughout the next few months, each chef will make appearances at the resort to showcase his or her menu concept to guests, residents and the local community, with Riordan making contributions as well.
Riordan says coordination between the chosen chefs is key, as is a commitment to maintaining the chefs' diverse visions. "Our goal is to create a menu that is representative of each chef but still has a good balance and flow," he says. Each chef is supplied with some menu parameters and asked to submit ideas. From there, a sample menu is developed, and all the chefs are called to discuss the menu and talk through the dishes.
The diverse offerings include yellowfin tuna with black trumpet mushrooms, pear vanilla puree and lavash, and farotto with squash, king trumpet mushrooms, guinea hen egg and sage. In addition, Food & Wine editors customize wine and cocktail lists to complement updated menus.
The next group of chefs will be announced in the spring to curate the summer/fall menu, which will launch in June 2013.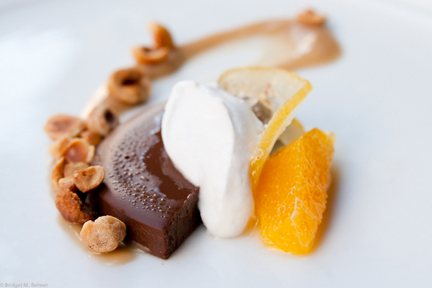 Restaurant meeting specs: The restaurant has a chef's table as well as several private dining areas featuring a rotating display of local art. During warmer months, attendees can also enjoy dining outdoors on a 24-seat patio.
The basics: Located two blocks from downtown near the foot of Aspen Mountain, the property offers dramatic views from 179 guest rooms and more than 20,000 sq. ft. of meeting and function space, including a 7,461-square-foot courtyard.
---
Taggia Restaurant at FireSky Resort & Spa, Scottsdale, Ariz.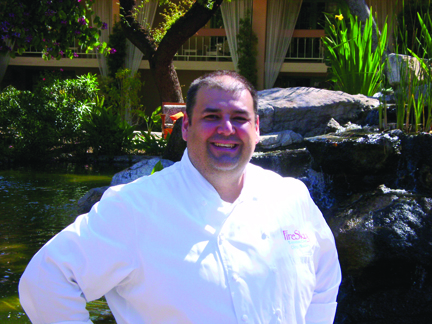 Chef: Executive Chef Chris Bailey has been with the Kimpton resort for the last 13 years. He leads all catering programs for meetings while overseeing Taggia, working alongside the restaurant's executive chef, Massimo De Francesca.
Innovation: The restaurant offers interactive food stations. Whether the group is 10 or 200 attendees, the F&B team can accommodate live presentations, including grilling, making fresh pasta or meat smoking. Stations can also be offered where groups get involved in creating crostinis, trail mix bars or custom guacamoles.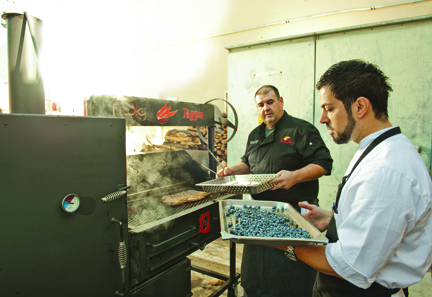 Restaurant meeting specs: Groups of up to 100 can be accommodated. Dining options include a chef's table and a patio featuring fireside and poolside dining.
The basics: The 204-room property, near Scottsdale's shopping and entertainment districts, has more than 14,000 sq. ft. of meeting space.
---
Keeping it Local
Regional influences have played a major role in the cuisine of North American hotels for several years. Restaurants including the 1808 Grille at Nashville's Hutton Hotel and The Restaurant at Meadowood in St. Helena, Calif., utilize farm-to-table ingredients in award-winning dishes. Here, we highlight others that are utilizing distinct local ingredients or pushing the boundaries with bold new programs.
Andaz Rooftop at Andaz San Diego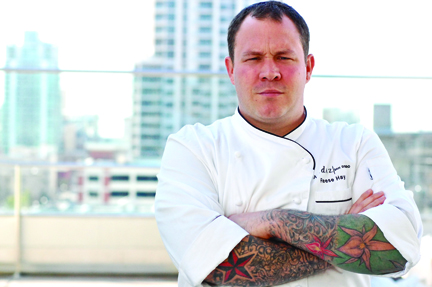 Chef: Executive Chef Reese Hay previously held positions at Park Hyatt Beaver Creek Resort & Spa in Colorado and Hyatt Regency Newport Rhode Island before coming to Andaz to oversee the cuisine at the hotel's rooftop restaurant. Locals love his breakfast selections, including hearty "morning after" dishes such as chicken and chili hash and ricotta pancakes.
Regional slant: In early 2012, when the hotel began updating its pool furniture, Chef Hay decided to take the bed frames from old cabana daybeds and convert them into planter boxes. He placed the planters on the eight-story hotel's roof and created a vegetable and herb garden. During the summer, he grew tomatoes, jalapenos, mint and more. At the start of fall, he switched out 90% of the planters to reflect more seasonal produce and is currently growing four varieties of lettuce, as well as thyme, rosemary, sage, oregano and onions. Hay uses the produce he's grown on Andaz San Diego's rooftop specifically for banquets and large parties. "My plants have the best view of the city. People pay millions of dollars for condos to have the view that my plants have," he says.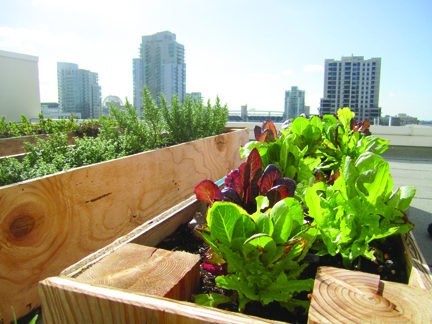 Restaurant meeting specs: The stunning rooftop restaurant can be used for receptions of up to 650, with catering overseen by Hay.
The basics: Located downtown in the Gaslamp Quarter, the hotel has 159 guest rooms and 10,000 sq. ft. of meeting space.
---
Oceans and Carolina Cafe at The Westin Hilton Head Island Resort & Spa, South Carolina
Chef: Edward Connors, executive chef, oversees the culinary team and food service for all restaurants, bars, catering and events. Chef Connors was most recently executive chef for the Members Club of the PGA National Resort and Spa in Palm Beach, Fla. "Being able to share my passion and love for creating comfort food in an elegant setting with locally sourced produce, meats and the freshest seafood caught right here on beautiful Hilton Head Island is truly inspiring to me," he says.
Regional slant: "I've always been able to source the freshest ingredients from around the world, from Prince Edward Island mussels to lobster from Rockland, Maine—but now I have local resources available that will raise the bar even higher," Connors says. "We have partnered with local fishermen for fish and shrimp catches and sourced purveyors representing several local farms for fresh chickens and eggs and locally handmade sausages."
Restaurant meeting specs: As of press time, Oceans can accommodate groups of up to 50 and Carolina Cafe up to 126. The property is currently undergoing a $30 million renovation, including new restaurant dining concepts and a renovation of all five restaurants and bars throughout the resort. The project is expected to be completed in March 2013.
The basics: The beachfront hotel has 412 guest rooms and 30,500 sq. ft. of meeting space.
---
Urban Farmer and Departure at The Nines, Portland, Ore.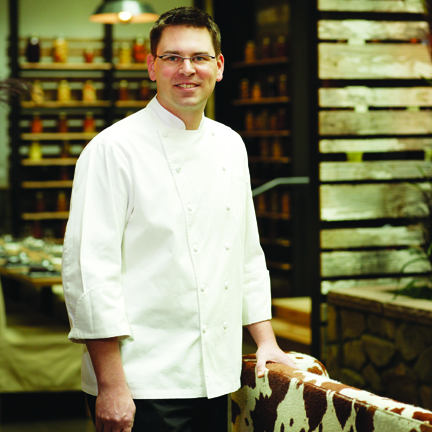 Chef: Matt Christianson, executive chef, combines his work with farmers and local products with an affinity for urban environments. He previously worked as executive chef at the Lark Creek Inn in Mill Valley, Calif., and as chef de cuisine at One Market in San Francisco. Later, he was executive chef at Q's Restaurant in the historic Hotel Boulderado in Colorado.
Regional slant: For Urban Farmer, the chef works directly with farmers and ranchers in the region, participating in the growth and harvesting of the food served. Recently, he chose to direct the pollination pattern of bees to a pumpkin patch at the Basque Ranch in order to create exclusive honey. As a result, the honey had an aroma and slight flavor of pumpkin blossoms. Christianson has built a relationship with local ranchers who are raising animals exclusively served in the restaurant, including a pure blood, 100% Wagyu cow from a local ranch in Hillsboro, Oregon. In similar fashion, Chef de Cuisine Gregory Gourdet has travelled to the coast and personally harvested sea salt and seaweed to be served in the restaurant. In addition, Departure, on the top floor, offers Asian-inspired Northwest fare in a sleek 9,000 sq. ft. of space.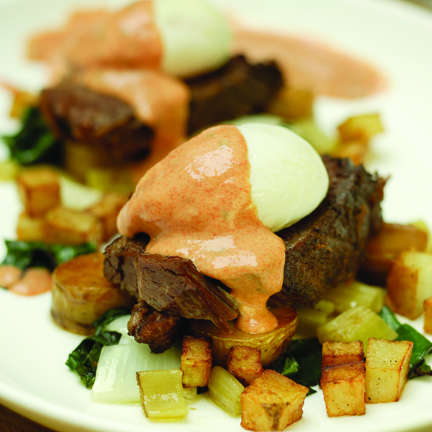 Restaurant meeting specs: Private dining spaces at Urban Farmer include The Pantry, which holds 26 seated, and the Georgian Room, which can accommodate 12–50 seated. The Deck, with an atrium view, holds 15–30 seated.
The basics: The stylish downtown hotel has 331 guest rooms and 14,000 sq. ft. of meeting space.
---
Web Exclusive: More Chefs
Chef: James Benson is executive chef and oversees catering and special events. While this mega property wouldn't typically be thought of as a "local" player, it's actually as Vegas as it gets. "We like to emphasize that we customize the menus for our large groups. We want to make an overall impression that lasts," says Benson. "What makes catering at Wynn unique is that we use the same ingredients and the same principles that we use in the restaurants. We apply similar techniques and timelines used in our restaurants to give our guests an a la carte experience."
Menu approach: In Las Vegas, "regional" can mean which of world's cuisines would be right for a group. "Our lunch menus offer a wide array of cuisines from Italian to Chinese to Thai. We have a chef for each cuisine that specializes in those regions so that we can hit on the authenticity of that desired cuisine," says Benson.
Trends: Menus focus not only on what is trendy, but also on the dietary needs of the guests, including more gluten-free and vegan offerings.
The basics: The Wynn, together with adjacent Encore resort have 260,000 sq. ft. of meeting space combined and house 4,750 guest rooms, gaming and scores of restaurants and lounges.
---
Chef: Paula DaSilva, executive chef for 1500 Degrees restaurant, notably appeared on season five of the reality cooking show Hell's Kitchen with Gordon Ramsay. Since opening the fashionable farm-to-table eatery, she has won raves for her soulful, rustic cuisine. She works with Thorsten Leighty, executive chef for hotel services and groups.
Leighty spent the first ten years of his career in various roles at Michelin-starred restaurants abroad in Switzerland and Germany. In the U.S., he was a sous chef under German Master Chef Joachim Splichal at Patina in Los Angeles. Next, Leighty served as the executive sous chef at Renaissance Hollywood Hotel, also in Los Angeles, and was responsible for all aspects of the culinary operations, including catering for Hollywood's elite at the Academy Awards, along with parties for celebrities such as Tom Hanks and Bill Clinton.
Leighty then moved to open the JW Marriott Starr Pass Resort & Spa in Tucson, Ariz., as the executive sous chef, creating and implementing menus for six F&B outlets. Before heading to Miami Beach, he was the executive chef of the JW Marriot Ihilani Resort & Spa in Kapolei, Hawaii.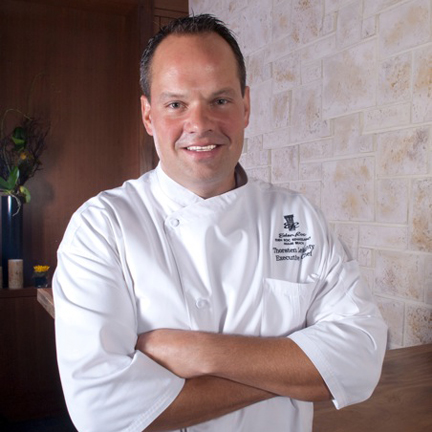 Menu approach: DaSilva is dedicated to using fresh, seasonal ingredients for inventive dishes. She is known to meet local farmers for strawberries as well as suppliers of grass-fed beef, Atlantic snapper and local burrata cheese. A flourishing rooftop garden includes fresh assorted herbs such as rosemary, thyme, cilantro, basil and sage. These herbs are incorporated into dishes and signature muddled drinks including the sage mint julep.
Trends: Culinary offerings are becoming a more important part of the site selection process. Groups are requesting fun "local" experiences, especially for evening events. These are not staged events, but rather recreations of authentic experiences individual travelers might be able to explore in the destinations.
The basics: Overlooking Miami Beach, the hotel has completed a $230 million renovation this year, including the new Ocean Tower, adding 282 guest rooms for a total of 535 rooms and 46,000 sq. ft. of meeting space. 1500 Degrees has two private dining areas for groups of up to 18.
---
Saint Paul Grill at Saint Paul Hotel in Minnesota
Chef: Lance Kapps, executive chef along with Terrie Bulanek, director of catering, who has been with the hotel for more than a decade, lead the F&B team.
Menu approach: The F&B department is incorporating more family style dinners in 2013 along with a la carte restaurant-style menus to groups of up to 100 attendees. "It becomes a more personalized banquet experience," says Bulanek. "This option appeals to meeting planners today who are bombarded with opinions and taste requests on food."
Trends: Healthier eating is clearly a trend along with a desire for variety. "We have adapted many of our breaks and lunches to be single serve portions with a lot of dimension and flavor variety," says Bulanek. "We are also aware of people tiring of comfort foods that worked well for tighter budgets over the last few years and were appropriate. But now we see demand for more global options with flavor layering complexity." Bulanek also notes that allergy free requests have increased astronomically.
The basics: The landmark historic hotel is located in central Saint Paul, Minn., and steps from the Mississippi River with 254 guest rooms and 14,071 sq. ft. of meeting and event space.
---
Chef: Executive Chef Jason Tilmann joined Triomphe in April 2011. While obtaining his Culinary Arts Degree from Indian River Community College in Fort Pierce, Fla., Tilmann worked as an apprentice for the American Culinary Federation. Upon moving to New York City in 2001, he worked at Union Square Cafe, 21 Club, Daniel and Le Cirque. He was then invited by David Burke to assist in the planning and opening of the famous David Burke & Donatella Restaurant. A few recent achievements include opening NY Yankees Steak House as the executive chef and traveling to Singapore to lead a team of chefs to build and open Hide Yamamoto, a notable restaurant in the Marina Bay Sands Hotel.
Menu approach: French-American. "Tilmann's philosophy on food is very straight forward and simple—he believes in the perfect bite. Everything on our plate has a purpose. Whether each component is there for flavor, texture or visual appeal, by putting all components on your palate at the same time, you get the perfect bite," says Robyn Lynn, F&B director.
Innovation: Lantern's Keep cocktail lounge lead by Head Bartender Theo Lieberman provides a rare cocktail experience all on its own. It's a venue devoted to the art and enjoyment of specialty drinks. The room has a French arts or poets' salon ambience, with blue velvet and marble furnishings and period paintings of ballerinas.
The cocktail selection reflects the lore of the temperance movement in the U.S. and the subsequent plight of American bartenders to friendlier destinations in Europe. The retro cocktails and inventive mixology relies on expat favorites and include vermouths, bitters, gin, rye and obscure liqueur mixers.
The basics: Prime location in Midtown Manhattan between Grand Central Station and Times Square. The hotel has 114 guest rooms. For private dining, Lantern's Keep can accommodate 24 seated, the Presidential Suite 16 and the New York Library 10. The hotel is a member of Small Luxury Hotels of the World.
Online Exclusive: Q&A with Robyn Lynn, F&B director at The Iroquois New York
---
What about the Beverages?
No F&B program is complete without the "B" component, and several hotels with innovative culinary approaches are also integrating dynamic beverage programs featuring everything from inventively flavored vodka to cotton candy. Here are four hotel bars that stand out:
Andaz Rooftop
The latest fad is adding freshly spun cotton candy into vodkas for the perfect martini mixer, a carnival-inspired party hit. Another sweet trend: Mixing a dab of sorbet into a glass of champagne to add both flavor and color.
Penrose Room
The bar staff works with the kitchen to integrate food items into drinks. For example, "fat washes"—mixing a melted fat with a spirit, chilling the mixture until the fat solidifies, then skimming it and straining it to get the fat out and infuse the flavor into a spirit such as vodka—are making an impact on cocktail menus.
District American Kitchen and Wine Bar
Playing into the burgeoning flavored vodka trend (see our Dec. 2012 column "Merry Mixology"), Jeremiah Sweet Tea Vodka is featured in the Chai Latte cocktail, and Hangar One Blueberry Vodka in the Blueberry Cobbler.
Taggia Restaurant
Italian and vintage sections of the wine list have been expanded for pairing education sessions. For cocktails, local ingredients are the focus, with prickly pear cactus juices accented by basil and rosemary grown on property.