Staying on the cutting edge is an implicit part of a meeting planner's job description. Wowing attendees and getting them to return year after year requires knowing what's hot, next and new. At the same time, satisfying stakeholders and CEOs demands that you understand the most efficient, cost-effective ways to do business in the current year's landscape.
This is why trend-watching, while certainly fun, is more than just sport—it's practical. The success of your event hinges on serving trend-conscious F&B, employing the most up-to-date technology, designing with of-the-moment flair and booking in locations that make sound fiscal sense in the present economic environment.
In drafting our list of the top trends to watch for in 2013, we talked to leading experts in the fields that matter most: F&B, decor, technology and the industry at large. This breakdown provides some valuable insights and direction, so you can remain, as ever, on the cutting edge of this evolving industry.
Decor & Design
The mantra that best sums up the 2013 decor landscape is "keep it simple." Planners are increasingly embracing modest but effective design elements, a practical response to the economic downturn. Also top of mind: sustainability, interactivity and technology.
1. Repurposed materials
Creative reuse has become a popular way to embrace simplicity and sustainability while also curbing costs. "One request we're getting a lot of is, 'How can we decorate with items that can be repurposed or donated post-event?'" says Alison Kieckhafer, owner, CEO and chief event officer for Event Lounge, a full-service meeting and event group based in Plano, Texas.
The trend makes effective branding easy: Kieckhafer recently helped design a stage backdrop made of recycled paper plates, forks, spoons and napkins at a meeting for a restaurant/HR group, and flower containers made partially of recycled lens-cleansing devices at an event for an eye-care company.
Restaurants and site selection are also being impacted by the trend. Andrew Freeman, owner of San Francisco-based hospitality consulting agency Andrew Freeman & Co., says flea market finds and leftover construction materials are cropping up more in restaurant decor.
And PJ Hummel, president and "queen of ambience" for PJ Hummel & Company Inc., an event design, decor and production company just outside Seattle, says, "Instead of having an event in a hotel, people are using spaces like warehouses, cruise ship terminals, photography studios—even retrofitted schools. Old buildings are being repurposed."
2. Natural fibers & elements
Also playing into the "keep it simple" movement is a return to natural fibers and elements in design. Kieckhafer notes the increasing integration of materials such as burlap, manzanita branches, wheatgrass and river rocks, cost-friendly elements that can create a beautiful effect when employed thoughtfully, as in a ruffled burlap table runner or stained manzanita branch centerpiece.
3. Social spaces
In this social-networking age, more planners are emphasizing interactivity in meeting spaces. "A trend that's going to continue is creating environments that are conducive to learning and networking—more of an atmosphere than a theme," says Kieckhafer. "We used to go in and convert a ballroom into a Pirates of the Caribbean party; now we're doing lounges."
Hummel cites furniture as a key element of this trend. Her company, for instance, utilizes Kickback Pods, crescent-shaped foam benches that fit around a center cushion, designed so people can "move in a group and huddle together."
4. Technology as design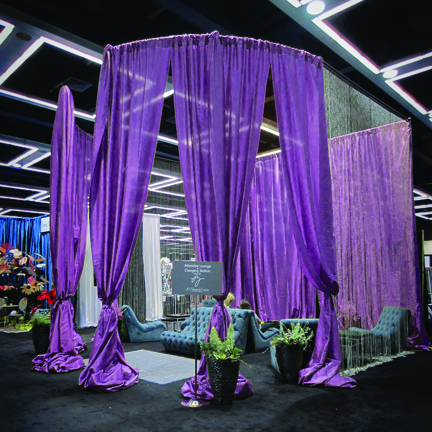 Lounge and charging station 2012 Northwest Event Show
No surprise here: Technology continues to dominate the meetings landscape. Kieckhafer cites the usage of LED and moving lights, live streaming videos, video games and social media into event design, enabling heightened engagement.
Planners are also introducing ways for attendees to stay tech-connected at events, a trend Freeman has dubbed "the boot-up call." At events, Hummel often sets up stations with furniture and gadget chargers, a surefire hit with plugged-in attendees.
5. Ombre
If you follow celebrity style, you probably know about the ombre hairstyle, a dramatic change in hair tone from light to dark. After falling out of favor in the fashion world, the look recently became popular again, with stars such as Drew Barrymore and Rachel Bilson sporting it on the red carpet. Ombre is also becoming an increasingly popular decor style. Kieckhafer cites effective examples from recent events: a stream of rose petals going from white to pink to deep red, and a layered strawberry cake that transitioned from white at the top to a progressively darker shade of pink at the bottom.
6. Progressive decor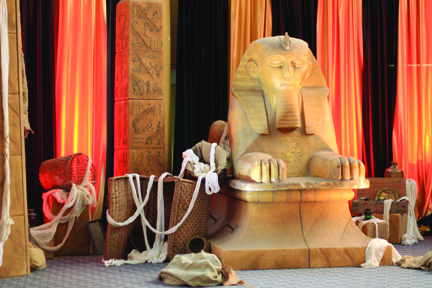 Progressive decor at MPI's 2012 Cascadia Educational Conference
Planners work persistently to keep attendees engaged, and integrating changing decor styles in a single venue is a newly popular way to achieve this. Hummel describes her recent integration of this approach, to great success, at MPI's Cascadia Educational Conference in March 2012 in Tacoma, Wash. At the meeting, attendees moved between various spaces partitioned off inside a hotel ballroom, each showcasing a different theme, including the Northwest (with waterfall and map decor), ancient Roman (with living statues) and the Wild West (with a trio of cowgirl singers). F&B enhanced the thematic experience—salmon was served in a small bamboo canoe in the Northwest room, for instance, and beans were offered in a tin can in the Wild West room.
Technology
While advances in technology remain constant, the 2013 technological landscape doesn't actually look that different from 2012. Instead, what most experts are suggesting is that 2013 will be a watershed year for existing technologies such as mobile, tablets and e-commerce. This also means it's the year in which planners would be well-advised to embrace such trends if they haven't already.
1. The mobile revolution
Yes, everyone knows mobile devices are a major trend, but according to Reggie Henry, chief technology officer for ASAE, that can't be underscored enough.
"All the statistics say that by time we get to 2014, the majority of Internet traffic will be mobile traffic. That's a big deal," he says. Also proving that mobile is a big deal: There are reportedly now more smartphones in use than PCs or laptops.
Heed the advice of Freeman, who says forthrightly, "If you don't have a mobilized website, shame on you. It should be your number-one goal for 2013."
2. The tablet revolution
An ancillary trend is the rise of tablet devices, the preferred way to consume mobile sites. "If you look across most meetings, it's not uncommon to see people walking around with an iPad," Henry notes. "People want to be able to consume the meeting on their tablet by watching the speaker video, taking notes and the like." It's imperative that planners, in 2013 and beyond, design their content in a way that can be accessed via such devices.
While Apple hype remains at a fever pitch, make sure to study up on different tablets, too, including Microsoft's buzzed-about Surface RT and others compatible with the recently launched Windows 8 operating system. An upside of competitive devices like these? "Alternatives to the iPad will drive innovation across the board," Henry says.
3. Mobile e-commerce
Here's how Freeman sums up the ever-growing
e-commerce movement, poised to reach its zenith in 2013: "There's no such thing as cash anymore."
An increasing number of attendees are using mobile card readers such as Square and Intuit GoPayment (covered in our June 2012 column, "Pay on the Go") to pay for registration and merchandise at trade shows and events. At the ASAE 2012 Technology Conference & Expo, Henry says that the organization tested e-commerce solutions with great success.
This trend appears to have real legs. According to BI Intelligence, a research and analysis service from Business Insider, as of March 2012 Square was processing about $11 million a day in payments, up from $5.5 million in October 2011—doubling its revenues in just a few short months. As with many tech phenoms, e-commerce requires critical mass to become mainstream, and growth like this suggests 2013 could be the tipping point.
4. Tech-based group billing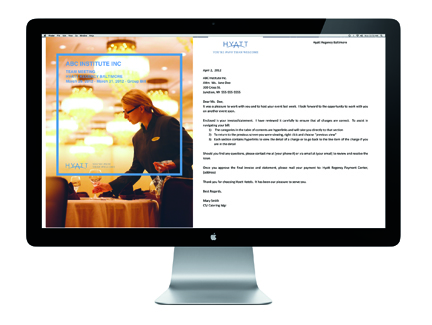 Hyatt's new groupo bill technology
Late last year, Hyatt finished rolling out a technology that may be a meetings game-changer: group bill technology that replaces the traditional paper folio with an interactive PDF. Using the new system, planners can monitor costs daily, reducing later reconciliation headaches, and export billing information to Excel. Created in consultation with meeting planners, the program is the first of its kind and a harbinger of how master bills could look in the coming years.
"This is such a fundamental basic need for planners and for us," says Rodahl Leong-Lyons, vice president of sales operations for Hyatt Hotels Corp. He adds that the system prioritizes "more time in the day," something planners are increasingly asking for—especially as they are being asked to do more with less. "That's the best currency we can give," he says.
F&B
In the world of F&B, choices and wellness are the dominant forces driving current trends. Destination Hotels & Resorts' "State of the Meetings Industry," released in November 2012, found that 43% of planners favor small, well-planned CMP packages emphasizing health and nutrition and that 35% embrace specialized dietary offerings.
Local and sustainable ingredients remain important, but the terms are getting thrown around so much that authenticity is key: Planners are weary of hearing the words without viable action to back them up. "Don't be a locawhore," Freeman says, putting a spin on the hyped locavore movement. "If you're going to walk the talk, really walk the talk. Because this has become cultural, don't boast about it—just do it." Planners want restaurateurs and hoteliers to go above and beyond by educating cooks and servers so they know where all the food comes from, and by partnering with local purveyors for menu ingredients.
As in every year, there are also some fun F&B trends taking shape, from gourmet boxed meals to—yes—canned cocktails.
1. Smaller portions, more variety
Increasingly, attendees are demanding more options representing a wider range of culinary and dietary needs. "Small portions and grazing are popular right now," says Steve Enselein, vice president of catering and convention services for Hyatt Hotels North America Operations. "One of the things that I think has great potential is single-concept stations with multiple products—a roasted station, a spicy station—all spread out around the event to allow people to try different options."
2. Chef interaction
It's the age of celebrity chefs, and attendees are increasingly clamoring to engage with the creative forces behind their meal. To cater to this demand, chefs are coming directly to the table to deliver food and talk with guests, engaging them in a discussion about ingredients, preparation and sourcing—a more thoughtful integration of the local movement.
3. Inside the box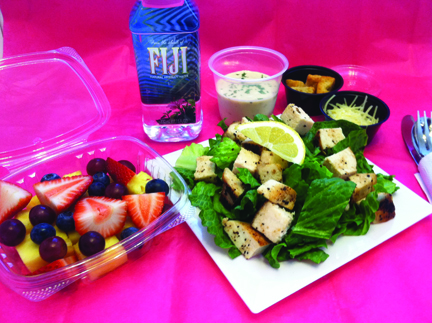 Boxed Lunch from All About Catering
In this go-go-go age, convenience is key, and boxed meals are as convenient as they come. Quickly gaining in popularity, today's boxed meals often boast premium and sustainable ingredients, a far cry from the stereotypical sandwich-cookie combos of the past. In Las Vegas, All About Catering boxed lunches come with gourmet wraps and sides such as apple chips and wild mushroom orzo salad. And gourmet boxed lunches provided by Fresh by Lisa Hemenway in Santa Rosa, Calif., focus on homemade items using locally sourced ingredients; dishes include a quiche with seasonally changing vegetables and smoked salmon lavosh.
Tying into the DIY craze, San Francisco-based Baker & Banker's "cupcakes in a box," with premade cupcakes, frosting, topping flair and candles, add an element of interactivity. Another upside to the trend: "Customers love the inclusive pricing," Freeman says.
4. Bread is back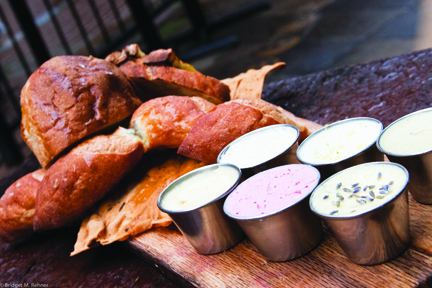 Bread board at Greenhouse Tavern
The days of counting carbs are over. As Freeman says, "We're going back to bread"—and he's not talking Wonder Bread.
At E by Jose Andres, in Las Vegas, house-made bread is fried to order. And The Bachelor Farmer in Minneapolis and Park Tavern in San Francisco have entire toast sections on their menus; the former serves its bread with fixings such as cow's milk cheese, buckwheat honey and beef tartare, while the latter's options include seeded whole wheat toast with avocado, chili flakes, lemon and sea salt.
Another up-and-coming trend: bread served on stylish boards ("boards are the new baskets," Freeman says), as seen at Greenhouse Tavern in Cleveland and other group-friendly establishments.
5. The new ABCs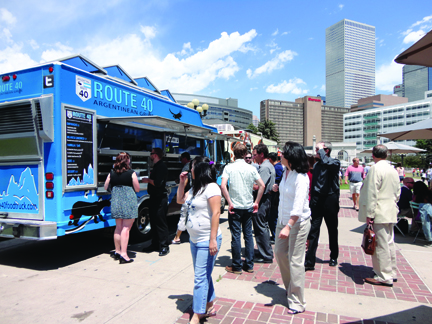 Route 40 Argentinian Grille Food Truck
A burgeoning Latin-American influence is being felt in what Freeman dubs "the new ABCs"—Argentina, Brazil and Chile. Chilean wine and strawberries and Argentine barbecue are becoming ever-popular in hotels and at events, and Freeman calls a growing Brazilian food movement "revolutionary."
There are myriad ways to take advantage of this trend for your next event. In Denver, Route 40 Argentinian Grille Food Truck and Catering, helmed by a Buenos Aires native, can cater functions with traditional dishes such as potato croquettes and chimichurri. Sinha in Chicago and Brazilian Gula Catering in South Windsor, Conn., cater Brazilian cuisine for private events. Or consider hosting your event during an event like the Chilean Wine Festival, held in Toronto each fall.
6. Cool bottles & cans
Think cans and bottles signify cheapness? Think again. A handful of cutting-edge bars in major urban centers—including Harry Denton's Starlight Room atop San Francisco's Sir Francis Drake Hotel and the newly opened The Daily in New York City—are serving bottled versions of cocktails. Freeman predicts that in 2013 this coastal trend will move to other parts of the country and that its successor will be even more counterintuitive: canned cocktails.
7. Veg out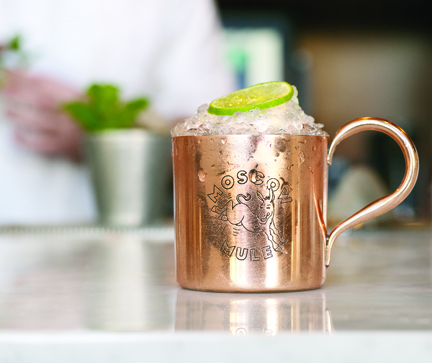 Moscow Mule with radish at Bar Congress
Want your attendees to enjoy their vegetable intake? Try the hot new trend of veggie cocktails. Myriad off-site venues now offer such drinks: The Wayland in New York City serves a margarita with kale and ginger juice, for instance, while Bar Congress in Austin, Texas, preps a spin on the Moscow Mule with chunks of radish. Veggie cocktails are also easy to integrate into a catering program.
8. Custom drinks
Groups are increasingly partnering with brewers to create custom blends, or with distillers on custom barrels of liquor. Hotels are going in this direction as well; Fairmont hotels, for instance, are crafting house-branded beer, sometimes integrating honey from onsite beehives.
Industry Trends
The industry remains bound to the state of the economy, with most booking, site selection and other trends reflecting a lingering sense of cautious optimism. Many 2013 trends build upon those of 2012, with some shifts on the horizon.
1. Regional meetings
With budgets still tight, look for regional meetings to remain a popular alternative to national confabs. "A handful of groups are going back to the annual meeting, but by and large, they're still regional," says Hyatt's Leong-Lyons. This could change a bit if the economy continues to bounce back, but industry insiders predict it won't change by much this year.
2. Location, location, location
According to the "State of the Meeting Industry" survey, planners' new No. 1 booking criteria is location. There are a couple of key reasons for this shift, says Andre Fournier, vice president of field sales and marketing for Destination Hotels & Resorts. For one thing, "planners are getting ahead of the curve and booking further out, so urban properties are filling up—meaning planners have to be more specific about where they're going to go in advance," he says. As airlines continue to cut flights, it's additionally become imperative for planners to choose locations with good airlift.
3. Family time
The flagging economy has also prompted more families to join meetings. "Families tagging along to meetings is starting to come back," says Fournier. Some of this is purely cost-driven—if a company is already covering the airfare and hotel stay for Dad or Mom during a meeting, it makes sense to turn that trip into the annual family outing. But also, Fournier says, "Family time is becoming more and more precious."
In 2013 and beyond, the industry will curve its way through powerful change and continued progress. Stay ahead of that curve and your attendees will thank you.
Related story: All the Buzz: Planners Weigh in on Industry Trends
---
Beyond 2013
Talking about 2013 is already passe. Looking further ahead, the next 10–20 years promise mind-blowing change (remember that the first U.S. smartphone was introduced just over a decade ago). Culling insights from MPI's ongoing "Future of Meetings" report, conducted in conjunction with PSAV Presentation Services, Jumeirah Hotels & Resorts, and Omni Hotels, we pinpointed three way-cool, Jetsons-style advances to watch for beyond 2013.
3-D holograms & printing
3-D holograms of remote attendees are already being employed at some state-of-the-art meetings, and are poised to become more mainstream as the technology becomes less expensive. The next frontier is 3-D printing, the process of making solid objects from a digital model. Eventually, attendees may even be able to leave with 3-D printed products as takeaway gifts.
Artificially intelligent (AI) devices
Imagine road signs that sense the weather or cars that won't start when drivers are over the legal alcohol limit. According to the MPI survey, these and other AI advances could soon develop, thanks to embedded technology that will result in the physical disappearance of most computers.
Emotion tracking
Want to know what your attendees really think of your meeting? Advanced neural technology could track the mood of your attendees, giving you valuable real-time feedback to make changes to your program.
---
Insights from an Event Guru
Michael Cerbelli is partner and president of special events for Go West Cerbelli, a partnership with Go West Creative that provides creative, live event and experiential marketing services. In his 30-plus years in the industry, he has accumulated an impressive resume, including producing the wedding of Sir Paul McCartney and Heather Mills, The World Economic Forum in Davos-Klosters, Switzerland, and the king of Morocco's birthday and New Year's Eve parties. Here are some products he highlights as trendsetters:
CakeShooters by Sprinkles Custom Cakes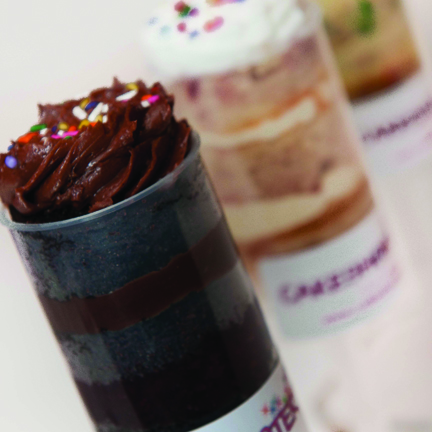 These portable push-up cake pops are tasty, convenient and fun. Flavors include pina colada and OMG—a mix of raspberry swirl and chocolate buttercream icing. Most flavors are also available in vegan and gluten-free varieties. cakeshooters.com
Build Your Own Photo Service by Custom Incredibles
With this nifty service, attendees gain immediate access to event photos. Professionally taken pictures are sent to touch-screen stations where guests can build their own collage or choose their favorite single print. Selected images can be emailed to guests or printed in 12 seconds. customincredibles.com
CaterLight by Wire-Free LED
This simple, sleekly stylish LED light is used to enhance the appearance of buffet food items. It requires no power cords or bases and doesn't affect food temperature. wire-freeled.com
Sailcloth Tents by Tidewater
Translucent sailcloth is becoming the material du jour for tented events. In addition to elegantly bringing in natural light, the fabric is 100% waterproof and strong enough to endure the elements. tidewatertents.com