While the rock 'n' roll memorabilia adorning the walls of the Hard Rock Hotel San Diego provided a music-themed backdrop for The Smart Mart on Nov. 8, it wasn't the Pete Townshend guitar or Deep Purple drum kit that made Smart Meetings' one-day gathering a truly rockin' event. The attendees kept the beat by moving from one appointment to the next and plugging in to each networking opportunity with enthusiasm.
Funny Business
Outside the hotel's 207 bar, where planners and suppliers gathered for an opening reception, a guitarist picked electric blues riffs as attendees approached the registration table. Deb Dimery, a manager of global accounts with site-selection agency HelmsBriscoe, was excited to get a closer look at operations inside one of Hard Rock Hotels' AAA Four Diamond properties. "I was happy [the Smart Mart] was at this location," she says. "I felt this was going to be more up close and personal than [a trade show]."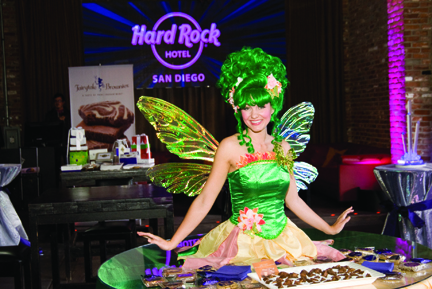 After getting acquainted over champagne-poached shrimp and mascarpone-stuffed strawberries, attendees made their way upstairs to the hotel's conference area. The Legends ballroom was divided into two spaces, the smaller of which was set up for featured speaker Karyn Buxman's presentation on how to use humor as a serious business strategy. At times donning a clown nose and shooting marshmallows into the crowd with a blowgun, Buxman explained how laughter can provide a competitive edge. "People always ask, 'Can you help me be funny?'" Buxman says. "Here is some really good news: You don't have to be funny. The world's greatest leaders and most powerful businesspeople are not humor initiators, they are humor appreciators."
Productive Format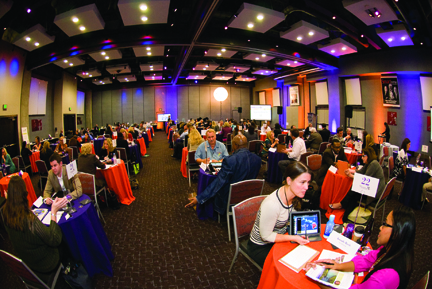 To help Smart Mart participants with their humor appreciation, Buxman recommended seeking out funny jokes and quotes on a daily basis and stepping outside of comfort zones. "Nobody ever died of feeling silly," she says. She also had everyone practice putting big smiles on their faces, which they brought with them to one-on-one appointments next door. Suppliers made their presentations to planners, who were able to remain seated throughout the sessions—even during a refreshment break. Trays of coffee-rubbed pork loin, sun-dried-tomato hummus, and grilled bread with goat cheese and duck confit were delivered to each table. Then it was back to the primary purpose of the event: making connections and booking business.
Partying Poolside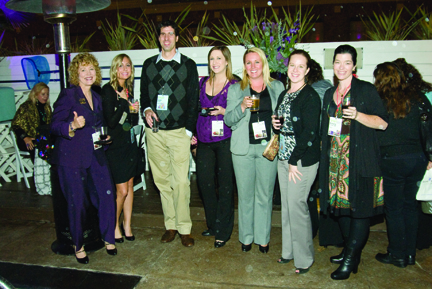 The beginning of San Diego's rainy season threatened to move the evening networking dinner indoors, but the heavy rain held off just long enough for the reception to take place as planned, at the fourth-floor rooftop pool. As an acoustic duo provided a pop soundtrack and a Bono impersonator posed for pictures, attendees noshed on food from six different stations showcasing local culinary influences. There was flatbread pizza at a station inspired by San Diego's Little Italy neighborhood, slow-roasted-pork tacos at a station informed by the authentic Mexican cuisine of the city's Old Town section, and wild arugula salad martinis at a station using the fresh produce grown in the inland North County region.
Preparations are well under way for this year's Smart Meetings events. Check out the calendar and start making plans to get smart in 2013.
---
Thank You, Smart Mart Sponsors
• 360 Destination Group
• Access Pass & Design
• Bob Bondurant School of High Performance Driving
• Brandini Toffee
• Certain Software
• Epic Entertainment and
• Production Group
• Fairytale Brownies
• Ghirardelli
• Graceful Tables
• Hard Rock Hotel San Diego
• Hawaii Visitors & Convention Bureau
• Hotel Corque
• Justin's
• Popchips
• Regala Studio
• South Coast Winery
• Speak Inc.