Resort areas are a natural draw for anyone looking for a break from routine. That's the same reason they are an excellent choice for meetings. When organizations want a group of employees to brainstorm on a project, learn about new products or develop management skills, or when executives are in need of a retreat for strategy sessions, extraordinary surroundings and activities that might not be available in their own backyard, resorts can become a catalyst for ideas.
The Definition entertainment, especially to vacationers. Taking the wide approach, it could mean Aspen, Colo., and Banff, Alberta, for their natural wonders and activities such as hiking or skiing, depending on its easygoing, affordable golf resorts and access to such as Hilton Head, S.C., Scottsdale, Ariz., and Palm Springs, Calif., offer coveted resorts, expe.. also boast enriching programs to help groups get out of their comfort zones and into the objectives of an event, incentive or training program.
In this report, Smart Meetings focuses on resorts, urban and rural, beach and desert, where planners can pull together a program in which work, team building and play all happen under one roof (or at least on adjacent grounds). Many established resorts have full-time staff to facilitate such programs and help keep attendees engaged in activities outside the meetings, or cater to groups who have earned awards through incentive programs.
Conference Resorts with a Golf & Spa Focus

Copperhead Course at Innisbrook, Palm Harbor, Fla.
Many properties known for their large conference venues also feature top golf, recreation and spa facilities as key draws.
The 232-room Resort and Conference Center at Hyannis, just over 70 miles from Boston and Providence, R.I., and not far from the Kennedy family compound, is a conference-oriented property with access to the Hyannis, Mass., beaches and Cape Cod. Sitting on 52 acres, the resort features 18 holes at Twin Brooks Golf Course and an Atlantis Sports Club and Spa and has 15 meeting rooms covering 30,000 sq. ft., including an 11,718-square-foot ballroom. It's the largest event and meeting venue in the region and can accommodate 900 attendees for seated banquets and 90 exhibitors.
In Scottsdale, Ariz., many meeting-oriented resorts vie for meeting planners' group business. The Scottsdale Resort & Conference Center is a classic example of a Four-Diamond property with a focus on top-line meetings in its 50,000 sq. ft. Of function space. It offers 326 luxurious guest rooms, three onsite dining options, access to the adjacent Mc- Cormick Ranch Golf Club's two 18-hole courses, a full-service spa and four lighted tennis courts. More than 30 team-building programs are available here.
The Sandestin Golf and Beach Resort is a popular conference-oriented property in Destin, Fla., located on the Panhandle between Panama City and Pensacola. Groups can gather in more than 65,000 sq. ft. Of conference facilities, network on the beach, and enjoy use of a day spa, as well as snorkeling, golfing at one of four championship courses onsite, biking, boating and a host of other activities. The resort has more than 1,200 condo and hotel rooms and multiple dining and lounge options. Also in Florida, near Tampa Bay in Palm Harbor, the Innisbrook, A Salamander Golf & Spa Resort has a campus-like feel, with 620 guest rooms and suites and 100,000 sq. ft. Of meeting space. The resort boasts four championship golf courses, including Copperhead Course, and an instructional golf institute. A range of other activities, from water sports to tennis, are available, along with Indaba, an 18,000-square-foot spa. The ratio of guest rooms to meeting space appeals to midsize groups.
Situated between Boulder, Colo., and Denver, the 390-room Omni Interlocken Resort is not only a Rocky Mountain gateway but a formidable meeting destination itself. It has 14 meeting rooms and a 9,120-square-foot ballroom among 34,000 sq. ft. Of space. An onsite golf club has 27 championship holes for organized tournaments. The resort also features the luxury Mokara Spa Denver and three casual to elegant dining options onsite. A comparable larger property, the 720- room Omni Orlando Resort at ChampionsGate has 82,000 sq. ft. Of meeting and event facilities and offers multiple team-building activities, Mokara Spa ChampionsGate and golf lessons at the David Leadbetter Golf Academy. A conference facility expansion adding more than 46,000 sq. ft. Of space is set for a January 2013 opening.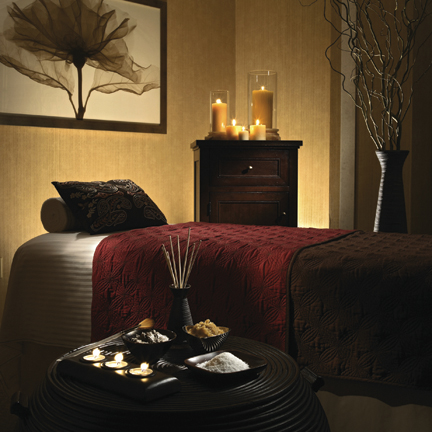 Spa at Omni Interlocken Resort, Broomfield, Colo.
While cultural exploration is always in order with any exotic destination, Mexico makes it practically built in for visitors. Mayakoba in Riviera Maya is a case in point. The continuing appeal of Mayan culture and history makes Fairmont Mayakoba Riviera Maya in Playa del Carmen, south of Cancun, especially attractive for interested groups. The Five-Diamond resort has developed a variety of Mayan-inspired options for guests, including spa treatments, special tasting menus and activities through December. The 47-acre resort has 401 luxurious guest rooms, two Four-Diamond restaurants and Mexico's only PGA golf course. A range of meeting and function areas cover 26,495 sq. ft. Indoors and also include an 8,000-square-foot outdoor venue. The resort also specializes in corporate responsibility programs for visiting groups.
Boutique Resorts for Retreats
Whether the objectives of a meeting are education, strategy sessions or incentive rewards, many boutique resorts, typically with under 200 guest rooms, have a two-fold advantage: a relaxing break from routine and the intimacy that keeps a group focused.
The 173-room Viceroy Snowmass in Colorado near Aspen is a luxury resort at the foot of the Snowmass Ski Resort that stands alone as a yearround meeting destination for small groups. It has 9,000 sq. ft. Of function space as well as outdoor areas for tented events. Activity options include dessert and chef-led cooking challenges and wine and cheese tastings, along with outdoor skiing and hiking adventures at the resort's doorstep.
Renovated this year, the Mayfair Hotel & Spa is a bit more of a romantic affair with a sensuous spa atmosphere. This 179-room resort in central Coconut Grove, Fla., is a hop, skip and jump from Miami's urban hot spots, and the refreshed 15,000 sq. ft. Of indoor and outdoor function space befits a focus on corporate retreats and incentive programs. Large plush guest rooms have Japanese soaking tubs on a terrace. The onsite Jurlique Spa has also been renovated this year.
The Sea Pines Resort on Hilton Head Island, S. C., pairs the luxury 60-room Inn at Harbour Town with villas and home rentals along with two conference facilities offering a total of 17,000 sq. ft. Of meeting space. A marina, beach, water sports and golf at Harbour Town Golf Links, home of the PGA Tour's RBC Heritage tournament, are all onsite. Multiple dining and event options are available, including the Liberty Oak space, ideal for an oyster roast overlooking the marina.
In Utah's mountain country, a handful of superior lodges fit the all-under-one-roof profile. Montage Deer Valley in the Park City area has 154 guest rooms with about 600 sq. ft. Of living space, as well as 66 suites and residences that run up to 3,200 sq. ft., large enough for a small board meeting. The property has true ski in/ski out convenience, 35,000 sq. ft. Of indoor and outdoor function space, and a full-service spa. The Park City Convention and Visitors Bureau can help locate other inviting resorts in the area.
Located in the 2,000-acre Stonewall Jackson Lake State Park near Weston, W. Va., the Stonewall Resort is two hours south of Pittsburgh and four hours west of Washington, DC. Set on parklands overlooking the lake with an adjacent Arnold Palmer signature 18-hole championship golf course, the 198-room resort offers 15,000 sq. ft. Of conference space, a full-service spa, a 100-passenger excursion boat, 16 miles of hiking and mountain biking trails, kayaking, canoes, paddleboats and a 374-slip marina.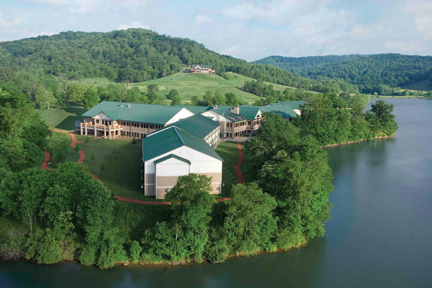 Stonewall Resort, Weston, W. Va.
Deluxe Incentives
For some groups who have seen it all, only the top destinations and latest properties fit the bill. That's where one-of-a-kind places come into play: Think Banff, Palm Springs, Bermuda and Mexico's Pacific Coast.
The Fairmont Banff Springs provides a breathtaking step into history; this magnificent Four- Diamond property has served guests since 1888. The mountain setting, championship golf course, access to skiing or hiking and European-style spa make this a prime choice for high-end events. No less than 10 onsite dining and lounge options serve a range of functions, from casual networking to formal dinners. The property has 768 rooms and 76,000 sq. ft. Of meeting space.
Hyatt Regency Indian Wells Resort & Spa in California is a stellar option situated in a 45-acre desert oasis with two 18-hole championship golf courses, serious tennis instruction with USTA pros, a peaceful adults-only pool and the Agua Serena Spa and Salon. The property has 530 guest rooms with garden, mountain, golf or pool views. Upgraded meeting space totals 88,000 sq. ft. Indoors and outdoors.
For a deluxe executive or incentive program, the Elbow Beach Bermuda Hotel, a Mandarin Oriental property, has 98 guest rooms and suites spread over 50 acres of lush gardens, as well as 4,700 sq. ft. Of intimate meeting space. A variety of activities from tennis and golf to kayaking and diving are available. Review the property's website for current meeting package offers.

Elbow Beach Bermuda Hotel
Groups might also be driven to productivity when the reward is a visit to the exclusive, luxurious Four Season Resort Punta Mita, 45 minutes from Puerto Vallarta. It has 173 guest rooms resembling traditional Mexican-style casitas and 3,718 sq. ft. Of formal indoor space and a variety of terraces and garden venues for special events. An onsite Jack Nicklaus-designed golf course has a rare natural island green. Other activities include tennis, water sports and yoga on an ocean cliff.
Fabulous & Family-Friendly
In an effort to support the concept of work-life balance for employees, more employers are arranging programs where attendee's families can join before, during or after meetings. In many instances, it can help build bonds between employees and clients to have their kids and spouses interacting together.
The Midwest offers an array of all-season resorts. The Four-Diamond Grand Geneva Resort & Spa sits on 1,300 acres between Milwaukee and Chicago and has 355 guest rooms; the Well Spa and Salon; two championship 18-hole golf courses; The Mountain Top, a three-chair/18-run ski and snowboard facility; 62,000 sq. ft. Of meeting space with 35 breakout rooms; three restaurants; and an executive airport. An additional children-oriented facility contains a water park and lodge. Extensive group services include team-building programs, special rates for airport shuttles and seasonal events onsite.
Grand Traverse Resort & Spa in Michigan sits on 900 acres surrounded by orchards, vineyards and Lake Michigan views. It boasts an impressive 86,500 sq. ft. Of meeting and function space topped only by its 100,000-square-foot health club and tennis facilities. Operated by the Grand Traverse Band of Ottawa and Chippewa Indians, a casino is also nearby, in addition to multiple dining spots and three highly rated golf courses. For the kids, a massive complex of indoor and outdoor water facilities and Dylan's Candy Bar emporium won't disappoint.
Farther south, La Toretta Lake Resort & Spa in Montgomery, Texas, an hour north of Houston, offers a luxury setting that's just right for those traveling with family. The property's 445 suites and villas boast lake or golf course views. The IACC conference center has 19 rooms covering 73,000 sq. ft., including an amphitheater and a 9,500-square-foot ballroom. Onsite activities include golf, a 3.5-acre water park, boating, tennis, the full-service Spa- Terre and a kid's camp. Four dining options, with fare ranging from fine French cuisine and sushi to American classics served at a casual poolside grill, offer ample variety for meetings or play.
Several Southern California options give groups a multitude of choices year-round. The solid Hyatt Regency Huntington Beach Resort and Spa has much to offer all demographics as well as accompanying family (if the temptation of nearby theme parks can be suppressed). The property, with direct access to the Pacific Ocean, is a surfer's paradise, with 517 rooms and more than 100,000 sq. ft. Of indoor and outdoor function space. Camp Hyatt can entertain the kids during work, team-building or spa time.
The Hilton San Diego Resort and Spa has been hosting conferences in its resort setting for more than 50 years. Renovations over the past few years have revived its status as a leading facility for family- friendly conferences and incentive programs. It has 357 guest rooms and 41,000 sq. ft. Of indoor and outdoor function space. The location on Mission Bay means plenty of boating and swimming along with expansive team-building options, and Kids Kamp can keep the family busy while parents convene.
Resorts that offer a wealth of venues, from ballrooms to breakout meeting space, along with championship golf and onsite activities for attendees, spouses and children, allow groups to keep focused on meetings, networking and camaraderie. As an added bonus, it can be easier on the budget when a single contract can cover the majority of costs associated with a meeting or incentive program and transportation costs are minimized.
---
5 Top Trends at Resorts
1. There is a continued effort by developers to build resorts for year-round activities rather than seasonal facilities, particularly for ski-focused or four-season water sportoriented properties. Owners also want added activities to keep guests on property.
2. Properties are working on enhanced web connectivity, addressing the needs of attendees with multiple devices, and including Internet access as part of the guest or meeting room rental rates.
3. More active and extreme sports and outdoor adventures are being offered to attendees.
4. Meeting packages are now featuring inclusive pricing per attendee.
5. There's increased development of familyfriendly programs for attendees traveling with children.
---
Resort Meets Global Seminar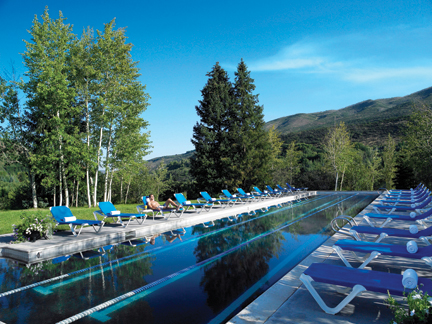 The Aspen Meadows Resort, a Dolce Hotels and Resorts affiliate, is a stunning mountain property in Colorado. It is home to the world-famous Aspen Institute, a pioneer ofthe mind-bodyspirit approach to convening. The institute has hosted a multitude of programs for more than 60 years, attracting many prominent world leaders and experts across many fields. Its mission was conceived by Walter Paepcke, a Chicago businessman who first came to Aspen in the 1940s and called it a place for "civil discourse that cuts through partisan debate on some of the world's most pressing issues in attempts to And a common ground in an often-polarizing environment." Inspired bythe surrounding natural beauty, Paepcke organized a gathering to celebrate the 200th birthday of German poet and philosopher Johann Wolfgang von Goethe, drawing more than 2,000 prominent intellectuals and artists to what came to be known as the Executive Seminar. At this forum, based on the writings of leading past and present thinkers, attendees examine the challenges facing their immediate societies and the global community. "The Executive Seminar was not intended to make a corporate treasurer a more skilled corporate treasurer, but to help a leader gain access to his or her own humanity by becoming more self-aware, more self-correcting and more self-fulfilling," Paepcke once told his guests. The Executive Forum tradition continues and groups can incorporate its principles into programs no matter what topic is being discussed.
The 40-acre resort and conference center has 94 Bauhaus-inspired accommodations in several buildings. Meeting space includes 22,000 sq. ft. Encompassing 13venues with stateof- the-art equipment and ranging from outdoor terraces to intimate library-like boardrooms. F&B options include group dining in celebrated Plato's, a glass-walled restaurant with fare emphasizing healthy, simple, locally sourced ingredients.
---
Urban Alternative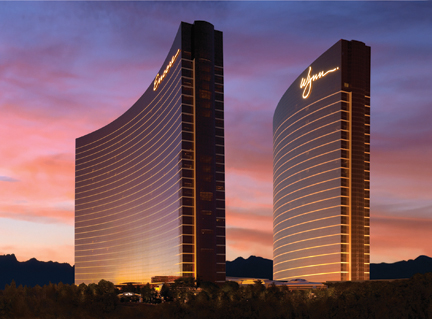 Some groups want the best of both worlds: an urban escape with many of the same attributes found at traditional resorts. The Five-Star blockbuster known as the Wynn Las Vegas and Encore Hotel excites even jaded Las Vegas visitors. The combination of 260,000 sq. ft. Of meeting space, dazzling nightclubs and award-winning restaurants among 35 dining options onsite can accommodate most any size group. Together, the towers hold 4,750 guest rooms, including a range of configurations to accommodate a tiered incentive program with appropriate room levels. The complex includes an astonishing array of activities, including six pools, spa services and the requisite gaming.