Sponsored by Estancia La Jolla Hotel & Spa
Corporate wellness programs continue to gain in popularity. According to a survey conducted by GlobalFit, a leading provider of healthy living programs, 86% of the 2,000 U.S. companies surveyed had implemented a company wellness program. Not only have wellness programs been proven to decrease health care costs, boost workplace morale and improve work performance, they have become quite luxurious as well. They're so luxurious, in fact, that they make for an ideal executive retreat.
"The goal [of a wellness retreat] is to motivate people to live a healthier life and to take [the idea] home with them," says Daniella Gallego, marketing and PR manager for Canyon Ranch Hotel & Spa in Miami Beach. "You can't live in a bubble, but you can find a time in your day to incorporate fitness, time to de-stress or get away from the noise of your daily life."
Joan Kelly, director of well-being for Humana, planned a wellness retreat at the Miraval Resort in Tucson, Ariz., in January for a group of top innovators from organizations around the world who work with Humana on its innovation strategy. Since the insurance company is transforming from simply providing insurance to actually helping its members achieve lifelong well-being, Kelly wanted to put these top executives in a place where they could experience it firsthand.
"I wanted to be able to deliver an event where people…got a feeling for what well-being was on a personal level, but also for our company," Kelly says. "People used to think that [wellness] is about me, but it's the me and the we—my work, my home and the community."
Finding a state of well-being is particularly important for corporate leaders, because if they can find a balance in their 60-hour work weeks, then they can inspire employees to do the same: to lead healthier, happier lives at home, at work and in the community. So, whisk executives off to one of these resorts, and let them escape to a healthier state of mind.
Wellness Education
One of the first steps to wellness is learning exactly what it is. The holistic view teaches that people have to look at all aspects of their lives and how these can affect their health. Everything from what they eat to how much they work can equally contribute to how healthy an individual is. "If you only focus on one area, that means something is out of balance," Kelly says.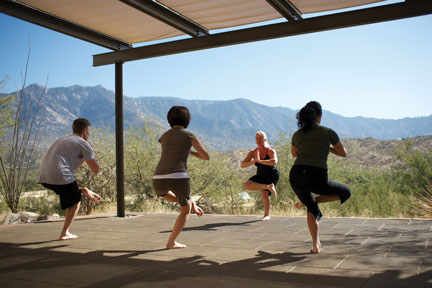 Miraval Resort, Tucson, Ariz.
With that in mind, some wellness resorts have incorporated holistic medical practices into their teachings. At Canyon Ranch Hotel & Spa in Miami Beach, for example, a staff of physicians "practices integrated medicine in which they try to incorporate all aspects of health and wellness and study all aspects of someone's life," Gallego says.
Planners can choose to have executives meet individually with the resort's medical director for an 80-minute consultation, or schedule life-management sessions for the entire group. The ideal size for corporate retreats of 30 people or fewer, the resort features 150 guest rooms and meeting space for up to 300 reception-style in the Ocean Garden.
The Taheima Wellness Resort & Spa in Puerto Vallarta, Mexico, also focuses on holistic health and offers a team of experts to help guests learn about wellness and lifestyle topics. From labyrinth meditation, which "takes us to the center of our being," to Tai Chi, or "the circulation of life energy within the body," the resort asks executives to come and experience its holistic-minded activities to create a harmony among the body, mind and spirit. The 131-suite resort features a 6,471-square-foot ballroom, as well other smaller meeting rooms.
The 210-room Estancia La Jolla Hotel & Spa near San Diego partnered with Scripps Center for Executive Health to build resort packages that encourage executives to learn about living a healthier lifestyle. The Whole Person Examination at Scripps can be completed in just one visit, and creates a unique personal profile and plan to integrate into an individual's everyday life. In between consultations, planners can incorporate meetings in the hotel's 31,374 sq. ft. of indoor and outdoor function space. The Executive Learning Center features fully ergonomic chairs, nonglare tables, and programmable lighting and acoustics.
Fitness
The fitness aspect of wellness tends to be the most difficult. Lack of time, exhaustion and being out of shape are hurdles that every busy executive must overcome. "When you think about how busy your month is, you think, 'I don't have time for this—I don't have time for a massage or walk'—when it ends up being the thing that replenishes," Kelly says.
Michael Tompkins, president and general manager of Miraval Resort, in Tucson, Ariz., is a true testament to this. Spending 12–15 hours a day in the office, Tompkins thought he didn't have time to work out; then he met with a physiologist who encouraged him to get on the treadmill for 30 minutes a day, six days a week. "After my four years here, I've lost 75 pounds," Tompkins says.
That's why the 118-room resort focuses on motivational and challenge programs, including high and low ropes courses, tennis, mountain biking and desert hiking. "Conquering self-doubt is a huge benefit to those who participate," Tompkins says. "People come off those [rope courses] feeling empowered, like if they can do that, they can do anything."
Terranea Resort in Rancho Palos Verdes, Calif., also features a fitness and wellness program for guests with a fitness center overlooking the ocean, as well as fitness classes, including the Terranea Boot Camp, Cardio Kickboxing, Circuit Training and more. The resort features 20 oceanfront bungalows, 50 ocean-view casitas and 32 villas, as well as 60,000 sq. ft. of indoor meeting space, including the 18,000-square-foot Palos Verdes Grand Ballroom, and 75,000 sq. ft. of outdoor space.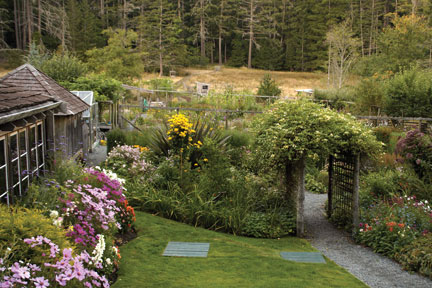 Herb garden at the Hastings House, Salt Spring Island, British Columbia.
Mountain Harbor Resort & Spa in Mount Ida, Ark., is an ideal lakeside retreat. Set on Lake Ouachita—Arkansas' largest lake—the resort's Turtle Cove Spa focuses on several fitness activities, including Yoga in the Wild, kayaking, canoeing and guided hikes. Guest accommodations vary from one-room studios at the Mountain Harbor Lodge Area to two- and three-bedroom cottages. Groups can meet in the resort's lake-view meeting facilities, which include the Lodge Conference Center.
Nutrition
Nutrition is another important aspect of wellness. At Kelly's Humana retreat, she ensured that the executives understood how and why the F&B items were chosen by educating them on the nutritional factors that go into serving and preparing a meal. Not only does cooking your own food inspire healthier options, so does growing it—or at least buying from someone who does at, say, a farmers market. This is why wellness resorts often opt for nutritional and sustainable foods.
The 3,000-acre Rancho La Puerta in Baja California, Mexico, is known for its implementation of the Slow Food concept, freshly-picked produce from its on-site organic farm and La Cocina Que Canta, the resort's culinary center that offers groups cooking classes. The resort can host 125 guests in its classic one-week program, or guests can experience the best of the resort in its new one-day Saturdays at the Ranch course, which incorporates education at the culinary center with fitness classes and spa treatments. The property features five kinds of casitas that are each different in size, architecture and orientation, as well as several meeting facilities, including the Los Olivos Conference Room for up to 30 guests and the 3,588-square-foot Oak Tree Pavilion.
Set amid the Blue Ridge Mountains, the Westglow Resort & Spa in Blowing Rock, N.C., helps guests determine what is healthy, what food labels mean and how to prepare foods that are low in salt and fat. They offer various nutrition and weight-loss programs, which could include a body composition analysis, a cooking class or a health food grocery store tour, to name a few. Ideal for smaller retreats, the resort can accommodate up to 24 people overnight, and offers a conference room for 12, as well as the BlueRidge Parlor for larger events.
The Hastings House on Salt Spring Island, British Columbia, takes inspiration from Olympic athletes to create retreats for small groups. Attendees can experience daily yoga training and activities to help with concentration, tension release, posture, body toning and quieting the mind. Apart from hiking, kayaking and meditative walks, the resort's Chef Marcel Kauer and Head Gardener and Nutritionist Shelley Kobylka create a healthy menu, as well as incorporate cooking classes into the retreats. This year, the resort will present its 2011 Chefs Across The Water Series, where top British Columbia chefs will prepare multicourse meals made from seafood and livestock on Salt Spring Island and homegrown fruits and vegetables from the property's garden. Accommodations are spread out among several cottages and manors on-site, while the meeting rooms can seat six to 60.
Meditation & Breathing Techniques
Practicing meditation and breathing techniques can help reduce stress levels, especially in the workplace. The idea behind meditation is that it helps people focus on the present moment or the "now" through breathing, the body and the senses. Learning some of these quick relaxation techniques can help executives at the office or in a meeting. For example, if discussions get heated in the boardroom, focusing one's breathing on the problem is a way to dissolve the issue right then and there.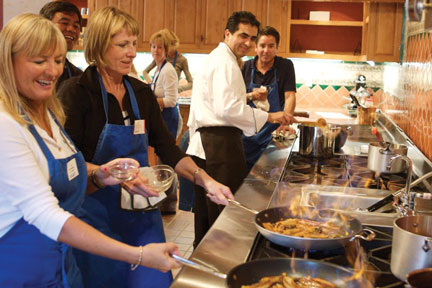 Rancha La Puerta, Baja California, Mexico.
The 732-room Westin Kierland Resort & Spa in Scottsdale, Ariz., offers all the amenities of an ideal executive retreat—golf, a spa, various restaurants and a whopping 183,000 sq. ft. of indoor and outdoor meeting space—while also focusing on yoga and meditation at the Vaughn Center. The resort's wellness programs are designed to align an individual's breathing to help them grasp a state of calm.
The 30-year-old Shambhala Mountain Center in Red Feather Lakes, Colo., offers hundreds of programs that emphasize Buddhist meditation, yoga and other contemplative disciplines. The center provides various housing options that can accommodate up to 150 guests in the winter and more than 500 in the summer on its 600-acre property. In between the center's various renewal programs, groups can meet in the Sacred Studies Hall, which features three meeting rooms (equipped with a zen garden) that can accommodate 80–100 guests.
While a more well-balanced, stress-free life is certainly key for executives, passing these ideals down to other employees in the workplace can help a company as a whole. "My experience has been that the more balanced the individual, the better work they put out," Miraval's Tompkins says.
Humana's Kelly echoes this sentiment, which is why she believes wellness retreats will become an even bigger trend in the future. "I see that the trend will start evolving for retreats and for spas that encompass the whole self," she says. "You can't just unplug and get away by yourself because you'll have to plug back in and [become] tired again in six months. The question now is how do we put it in organizations so that it has that kind of balance—that's where we want to take the world."