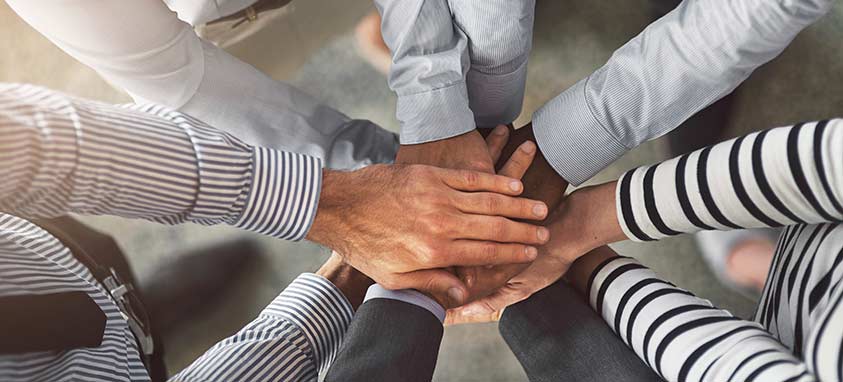 "OK, your turn. Act like a Monte Cristo sandwich."
If you attended a meeting that utilized the services of Los Angeles-based Wise Guys Events, you might actually hear these words. Myles Nye ("The Talent" behind the operation) and Greg Snyder ("The Brains") have helped planners integrate collaborative activities into events across the country. And, yes, one of those is a charades game involving sandwiches.
An activity like this may seem facetious, but it can be critical for a company's success. In the office, employees are often buttoned-up, afraid to be themselves and bond with peers. Letting go of these inhibitions makes it infinitely easier to form relationships, which allows the organization as a whole to improve.
"In the context of the average day, it's very uncommon to see someone standing up," Nye says. "You forget that person has needs, but when you put them outside in a scavenger hunt and see them ham it up for the camera or do an interpretive dance or act like a wooden figurine on a cuckoo clock, you appreciate them in a whole other context—and that carries over into the office."
This is true even in the face of inevitable hesitation. Snyder says, "Skepticism is very common. It seems like discretionary spending. People ask, 'Why am I wasting my time when I could be in the office?'" But, he says, "At the end of the day, everyone's all smiles, and they recognize immediately how it can increase overall productivity."
To help you make team building a valuable part of your event, here's a primer addressing every question you may have. Take note, and before long you and your attendees could also be acting like a sandwich—and reaping the rewards.
Who?
One of the first questions you may have about team building is: Who should do it?
The easy answer: Every kind of company. But there are certain situations when team building can be particularly useful.
Tiffany Chan, creative director at Bixel & Co., a meetings management and event production company based in L.A. that helps integrate team building into meetings, says groups with new members can especially benefit. Often times, newbies to a staff feel uncomfortable and insecure among their peers, because everyone else has already established their relationships. Chan says team-building games "break down those barriers. And once that happens, they can get silly and come out of their shells."
A similar situation occurs after company mergers, when—a la The Brady Bunch—two existing groups with their own customs and ways must learn to understand one another and build new partnerships. Karen Gillingham, regional sales director for the American Airlines Training and Conference Center in Dallas, which has an extensive team-building program, says newly formed companies have a lot to gain by getting together outside the office. "With many organizations re-organizing, they are left with a brand new team that needs to be bonded," she says.
It's also valuable for higher-ups to team build, because the bonds they forge can trickle down to the rest of the staff.  Brittny Jarman, an event planner for San Diego, Calif.-based Bridgepoint Education, who used Wise Guys during a Hollywood event in April, says that "Team building is so important with leaders. If they don't have a strong connection, there's no way to manage the people below them."
The second who question that might come up is: Who can help? For planners interested in team building but unsure about creating and executing activities themselves, there's a bevy of consulting companies out there. And each has its own distinctive flair.
Wise Guys Events—as evidenced by the sandwich game—favors quirky and fun exercises. "We are games guys who view everything as a game," Nye says. "When we look at a monument in a city, we think, 'Could this be turned into a puzzle?'"
Nye and Snyder also work for the hit reality show Survivor, and while Nye says "some of those games are a little too dangerous for the corporate world," the work has taught them that getting creative is key.
In one popular activity, they prepare canisters with different amounts of alka seltzer inside, so each goes off at a different time. Then, they send attendees off to chase them down—a "great delegation task," Nye says.
Bixel & Co., meanwhile, is a pro at scavenger hunt games. At a July FAM trip in Santa Monica, Calif., for example, they set up a hunt at The Getty Center, a Southern California landmark. Attendees were sent to different areas throughout the sprawling museum, and while performing various tasks—such as finding and acting out specific paintings, and designing sculptures for the outdoor sculpture garden—they snapped photos and took videos to view later when team results were tallied.
The company has also found an unlikely muse in reality TV. Their
Project Funway activity is a take on Project Runway, in which attendees purchase random supplies such as bubble wrap and wrapping paper and design clothing out of them. At the end, the fashionistas take to the stage for a show. In another activity inspired by The Amazing Race, teams partake in a mad dash to see certain parts of Southern California, and complete a physical or mental challenge once there.
Other consulting company choices include the Corporate Learning Institute, a company outside Chicago that helps design strategic, adventure-based activities; and Executive Edge, Inc., a company based in Ohio that works with planners to design custom team-building packages.
What?
With the who questions answered, the next query is: What types of team building are there?
The answer: several. And each type comes with distinguishing benefits.
For a long time, the standard-bearer of team building has been ice breakers. But we've come a long way since the days when that meant making a human knot or playing "Have you ever?" Today, ice breakers often involve getting physical and having a whole lot of fun.
Stein Eriksen Lodge in Park City, Utah, for example, is nearby the world's steepest zipline. When Smart Meetings' staff hosted The Smart Meeting at the property in June, they took to the course with meeting planners and hoteliers, and found it was an immediate and exhilarating way to breach barriers and form relationships.
Similarly, The Adventure Group Whistler, in Canada, allows participants to tighten bonds by participating in such activities as ziplining, dogsledding and a Hummer tour. "When you're having fun, you can't help but get closer and break down the walls," says Leanne Fitzpatrick, sales and marketing manager for the company.
Since ice breakers like these help participants bypass social anxiety, they're ideally suited for newly merged companies or groups with new members.
You can also team build by flexing mental muscle. Wise Guys, for example, offers a team-building series called Funcyclopedia, which is specifically devoted to brain-busting IQ games. Sample questions include "What can you do with a broom, gun, line and shark?" (spoiler answer: jump them) and "What do a chair, money, listening and rider have in common?" (answer: they can all be easy). Puzzles like this work best for established companies that want to heighten their future teamwork, since they demonstrate the unique intellectual skills of different people on staff.
Another popular type of team building allows you to build morale while doing good. Bixel & Co. is a major advocate for CSR; in one activity, they gave attendees a photo of an iconic landmark and told them to create sculptures of the structure using canned goods. Once the construction was complete, the cans were sent packing to local food banks. The exercise was exciting and collaborative—with the added benefit of having an impact long after the event was finished.
Some companies even provide a specific focus on community service. The aptly named Impact 4 Good, based in Maryland, offers an activity menu rife with do-good options, including a cake-designing contest in which the sweet results are donated to community organizations, and a bookshelf-building venture that provides the finished products to local schools.
Impact 4 Good also offers an opportunity to build solar-powered cars, an exercise that demonstrates how prominent green activities have become in the socially-conscious movement. Some venues, too, are getting in on the environmental act. At NormandyFarm Hotel & Conference Center in Philadelphia, you can not only build solar-powered cars, but also take part in an Ecosino, wherein teams scheme ways to maximize their winnings at casino tables, and win prize packages with goods to green their home or community.
When?
The next question you might ask yourself is: When should I team build?
The answer: Team building is beneficial any time of the year. But many properties provide activities specific to the season.
The Adventure Group Whistler switches its options depending on the time of year. In the snowy months, participants can engage in activities including snowshoeing, snowmobiling and sleigh-riding, while the sunny months come with horseback riding and white-water rafting options.
For a culinary experience designed by season, meanwhile, there's Simple Gourmet. The Redondo Beach, Calif.-based company helps participants prepare delicious meals using seasonal ingredients. Their spring/summer menu features light dishes such as a chunky gazpacho salad, oregano-scented white bean puree, and fresh corn and asparagus succotash.
Other venues promise activities geared toward one particular season. During the summer, NormandyFarm Hotel is a prime choice. In addition to its eco-friendly activities, it offers a Caribbean BBQ with lawn games, a cheeseburger grilling contest, and a golf course challenge with blindfolded putting and relay races. During the winter months, you can head to the Tahoe Adventure Company, based in the wintertime haven of Lake Tahoe, Calif. In the company's Team Olympics Games Challenge, groups are pitted against one another in contests modeled after the winter games.
Where?
You may now find yourself wondering: Where can I go to team build?
Luckily, this answer is easy—there are scores of hotels and conference centers that provide engaging team-building activities right on-site.
The American Airlines Training and Conference Center in Dallas is a one-stop shop for building camaraderie. The culinary-minded can take on challengers in a salsa or chili cook-off. The adventurous can try a challenging ropes course. And game lovers can partake in a scavenger hunt. Gillingham says the site has worked with all types of organizations, ranging in size from 20–200. And after sitting in a training class all day, she says attendees relish the chance to get active and get connected. "Everyone thoroughly enjoys the time spent connecting with new colleagues, as well as the chance to have some fun," she says.
F&B is also the focus of a popular team-building exercise at Hilton Hawaiian Village in Waikiki Beach. The expansive resort offers a Top Chef challenge at its high-end Bali Steak & Seafood restaurant. During a recent FAM trip on the island, attendees broke into teams to prepare a four-course meal, complete with a seafood platter and crème brulee, under the guidance of restaurant chefs. Once finished, the entire group convened to enjoy the scrumptious offerings they had carefully cooked up—and as a fun touch, participants even received embroidered aprons and certificates of achievement. For food lovers (and who isn't?) it was a memorable way to experience fine cuisine while creating meaningful bonds.
Another great pit stop for team building is the UCLA Lake Arrowhead Conference Center. The mountain resort offers a host of team-building options, which take advantage of the beautiful outdoors in Lake Arrowhead, Calif. Attendees can take a guided hike through the San Bernardino Mountains, kayak in Lake Arrowhead or mountain bike through the area's lush terrain. The center even offers a triathlon for fit attendees, with a one-mile run, 2.5-mile bike ride and 100-yard swim in a heated pool.
At Chaminade Resort and Spa in Santa Cruz, Calif., you'll find some usual suspects—such as a ropes course and Wild West chili cook-off—alongside outside-of-the-box options. In an activity that hearkens back to elementary school, attendees can do an egg drop, designing contraptions to keep an egg from cracking when dropped from above. Or, they can experience geocaching, a high-tech treasure hunt in which hidden items are uncovered using GPS systems.
Finally, two enticing venues promise team building for the sports lovers of the world. The Emory Conference Center in Atlanta recently debuted a six-lane bowling alley, where attendees can bond over strikes, spares and gutter balls. The property is also equipped with a bar and a game area with Wii sports.
At the ESPN Zone, which has locations in Los Angeles and Anaheim, Calif., attendees can shoot hoops, slap hockey pucks against a computerized goalie or put the pedal to the medal in a Formula One racecar that spins around an indoor track. After working up a sweat, they can sit back in one of the venue's dining areas and nosh on pub fare and beer while catching a game on one of several TV screens.
Why?
Now that we've answered the who, what, when and where of team building, it's time to tackle the most important query of all: Why do it in the first place?
When this question is posed to companies, hotels and meeting planners involved with team building, the response is immediate—there are lots of reasons to do it.
Chan, from Bixel & Co., says team building is an ideal way to illustrate company goals and objectives. From effective delegation to positive collaboration and the ability to take initiative, there are myriad objectives companies can get across via team-building. "It can increase brand awareness and demonstrate what can be achieved," Chan says.
Brittny Jarman, the event planner who worked with Wise Guys at a Hollywood-based event, says it can also help keep attendees engaged, which is especially critical when more serious sessions make up the rest of an event agenda. "After all the meetings (at our event), the team building livened everyone up," she says.
But the most important reason to team build is simple: It brings people together, and creates positive, long-lasting staff relationships. Dabney Bixel, president of Bixel & Co., says this is especially valuable now that the economy has gone south. In lieu of expensive galas or events, she says, "Sometimes a team-building event is all a client will do to have synergy and do something together." This is an especially solvent point because team building doesn't require an overdrawn account to be successful. Many of the companies and venues mentioned work closely with a planner's budget, and even something as simple—and cheap—as a team picnic can forge important connections.
Fitzpatrick, from The Adventure Group Whistler, says she has seen the value of team building within her own company. "Just speaking from experience, we're quite a big operation, and sometimes we'll do something like all go rafting down the river," she says. "It's so valuable to just be able to get together and laugh, and not worry about who's the accountant or who's the operations guy."
But the best example may be the exception that proves the rule. As a former employee at a film studio, Wise Guys' Snyder says he witnessed a competitive, cutthroat attitude among his peers, which led to a toxic environment and reduced productivity.
"I kept thinking while I was there, 'There's no reason why these people can't work together,'" he says. "If they did, not only would things run more smoothly, but people would have a better feeling about their job. People were trading off happiness in the workplace for the possibility of success, when the two aren't mutually exclusive."
Au contraire, in fact—success is often entirely contingent on the ability to work proactively and happily with the people in your company. As Wise Guys' Nye says, "I always intuited that the workplace is like anything else, and people accomplish more if they are getting along better. I thought I was being naïve, but now that we're in the team-building business I know…it is true."