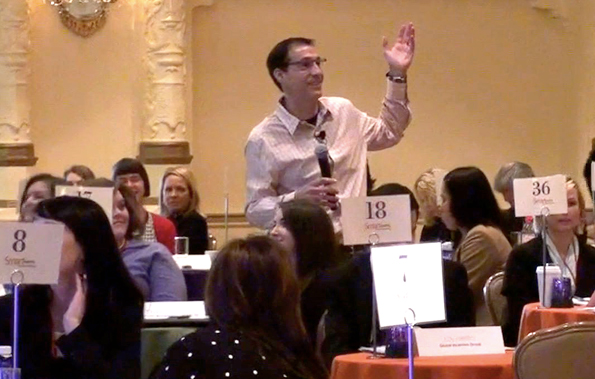 Billy Kirsch gets song lyrics suggestions from attendees at the Smart Event Seattle.
Keynote presenter Billy Kirsch's session on creativity at the Smart Event Seattle last week culminated with the Grammy-nominated songwriter leading attendees through the process of composing a little ditty about the meetings industry. The result is an anthem for planners and suppliers that celebrates everything from innovation to ROI. "What's a song without ROI?" Kirsch asked the participants.
The hook, "I'll give you all that I have," highlights the passion and commitment that event professionals bring to their jobs.
It's already stuck in your head, isn't it? Feel free to download it and share with it with  your boss the next time he asks, "What exactly do you do?"
In case you missed a line, here are the lyrics:
Planners, suppliers, sellers, buyers
With imagination and innovation
Venues, menus and room blocks to grab
ROI to make, customers to celebrate
I'll give you all that I have
Not bad for less than 30 minutes of brainstorming, searching for rhymes and setting it all to music. Here's a glimpse at what the process of putting it all together was like.

Video by Diego Vallejo and Bill Chapin

Kirsch's Kidbilly Music offers similar sessions as a team-building activity for large groups or small teams. He has helped groups write songs about industries ranging from educational software to healthcare management to aluminum production. For more on Kirsch's philosophy of how the songwriting process can help anybody with their job, see "Singing the Praises of Team Building."
—Bill Chapin
Don't miss out on your chance to experience the fun and inspiration of a Smart Event. Sign up for the three-day Smart Event San Diego, April 28–30 at the elegant Park Hyatt Aviara Resort in Carlsbad, Calif., or see our events page for details on more upcoming opportunities.