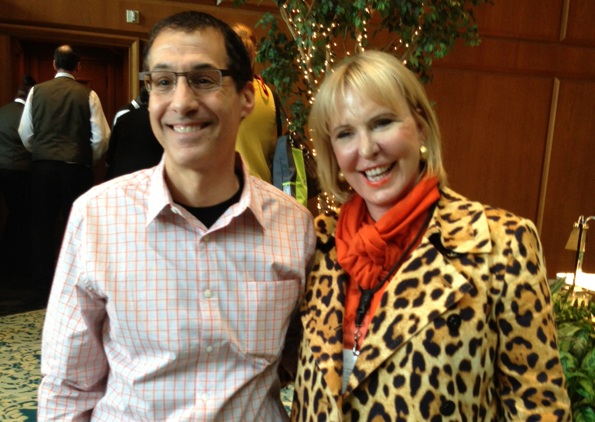 Songwriter and speaker Billy Kirsch with
Smart Meetings
founder and CEO Marin Bright at the
Smart Event Seattle.
Let's face it—it's not easy to be creative. And in the meetings industry, where fresh ideas and new approaches are the keys to organizing successful event s, this can be a major problem. To help stir those hidden creative juices found in all of us, Billy Kirsch—a Grammy and Emmy-nominated, Country Music Association and Academy of Country Music award-winning songwriter—offered a few words of wisdom at today's Smart Event Seattle at the Fairmont Olympic Hotel.
After briefly serenading the audience and describing his struggles with creativity as a teenager, Kirsch posed a question: Why should the meeting planners and suppliers in attendance care whether or not they have an outlet for creativity? After a brief moment of silence, he continued: "Because creativity is a very important part of problem solving, and problem solving is central to business, which is why we're all here."
Kirsch went on to explain that, like anything, being creative takes practice. He said that behind all of his hit songs were hundreds of others that were absolutely horrible, but his persistence eventually led him to produce something memorable. "The creative process is like a sponge—it absorbs the exact amount of time you put into it," he says.
As the presentation progressed, Kirsch eventually asked the audience to come up with different meetings-oriented phrases and terms, with which he would create a short song. After a number of planners and suppliers threw out various industry terms, Kirsch came up with an very entertaining tune, ending in the chorus, "ROI to make, hands to shake…I'll give you all that I have." After some convincing, an audience member even participated in the singing, blowing the entire room away with her singing prowess.
The lesson learned—we must embrace the chaos created by clocks and deadlines, let go of any fear or hesitation, and be creative.
"ROI is not return on investment, but return on inspiration," Kirsch said. "Date but don't marry your ideas, because the more you do creative things, the easier it gets."
—Diego Vallejo