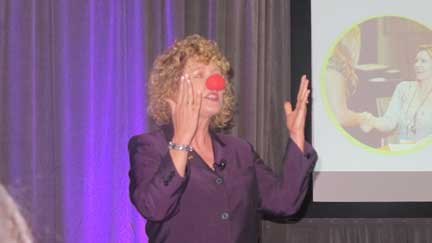 Karyn Buxman speaking at The Smart Mart San Diego
As professions go, meeting planners don't have a whole roster of jokes associated with them the way that, say, lawyers do. But here's an item taken from an evaluation that only a planner could see the humor in: "I don't know why they needed to hire a meeting planner," the attendee wrote. "All she did was stand at the back of the room and everything went great without her."
What we find funny often centers on the things that frustrate us, whether it's in our personal or profession lives. That was one of the points that humor expert Karyn Buxman made during her presentation at The Smart Mart San Diego this afternoon. Buxman has investigated humor from an academic standpoint and written about how humor can enhance health, education and business. That final item was the focus of Buxman's session, which demonstrated the power of laughter to provide a competitive business edge. As an example, she cited Southwest Airlines, which allows its flight attendants to exercise their sense of humor. "They understand funny means money," Buxman says.
"People always ask, 'Can you help me be funny?'" Buxman says. "Here is some really good news: You don't have to be funny. The world's greatest leaders and most powerful businesspeople are not humor initiators, they are humor appreciators."
To help Smart Mart attendees with their humor appreciation, Buxman offered the following stress-busting suggestions, occasionally making use of props:
–A clown nose to wear while driving. If someone isn't letting you merge, just put it on and "one of two things will happen," she says. "Either they'll pretend like they didn't see you, or they'll slow down, which gives you an opportunity to pull in front of them."
–A wand with streaming ribbons, so that when someone at your office asks for the impossible, you can wave it like a magic wand and say, "Your wish is granted."
–A marshmallow blow gun: "You actually can eat your ammunition."
–Simply grinning like an idiot. If nothing else, it may convince people to leave you alone.
Her other suggestions for humor-impaired people included seeking out humor every day, collecting jokes and funny quotes, and stepping outside your comfort zone. "Nobody ever died of feeling silly," Buxman says. "I would wish you more silliness in so many things."
There's just one more Smart Event left in 2012. Don't miss out! Sign up for The Smart Mart Dallas today, and check out our preliminary 2013 Events Calendar to start making plans for next year.
—Bill Chapin