PCMA CEO and President Deborah Sexton and Smart Meetings
Editorial Christine Loomis
Move over, Oscars and Emmys; there's a new awards show in town. And as far as Smart Meetings is concerned, it's got those other galas beat.
Last night marked the Professional Convention Management Association (PCMA) Northern California Chapter's third annual Bay Area Meeting Industry Excellence Awards, or BAMIEs, honoring the most inspiring leaders in the local events scene. Our very own Marin Bright won the Legend Award last year and was on hand, along with other staff members, to pass on the torch and toast the industry's finest. Along the way, fabulous raffle and auction prizes were used to raise money for the incredibly worthy PCMA Education Foundation, which supports professional development, and Boys & Girls Clubs of San Francisco. And Linda Thompson, an industry leader who sadly passed away, was honored in a moving tribute.
As for the awards themselves, the winners included (drumroll, please): Brian Bouchelle, beloved national sales director for Disney Destinations, who as former president of PCMA's Northern California chapter helped grow membership and support; Andrew Walls, a hospitality and tourism professor at San Francisco State University; and Anna Marie Presutti, general manager of Hotel Nikko in San Francisco, who won the esteemed Legend Award (and, for the record, gave a hilarious speech while accepting it).
True, the BAMIEs don't have a red carpet or paparazzi. But they do support and honor some wonderful, hard-working influencers in the industry while raising money for terrific causes and fostering a great time in a beautiful venue. And for those reasons, we think it's the best awards show around.
A few more snapshots from the festivities:

Caesars Entertainment's Western Region Director of In-Market Sales
Steve Lowe and Smart Meetings founder and CEO Marin Bright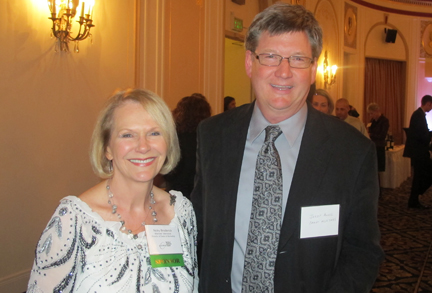 Marines' Memorial Club & Hotel Director of Sales and Marketing Nicky
Broderick and Smart Meetings Managing Editor Josef Aukee
—Nikki Gloudeman