How do you host an event when the majority of your attendees can't make it? Planview, a leading independent provider of portfolio management solutions for large businesses, was faced with this challenge when budgetary restrictions limited the travel of many of their customers. Planview decided to take their annual event, which is typically held in Austin, Texas, to the Web and host its first large-scale virtual event.

To compensate for the lack of face-to-face contact, Planview created a very customized virtual event with supreme content and interactivity held Oct. 6–8, 2009. They had of a Planview command center where 14 key executives were present and available at all times, had a keynote address from Guy Kawasaki, more than 200 meet-the-expert sessions, live Q&A; interactive video, 29 customer presentations, real-time networking and more.
We spoke with Planview's Kimberly Stone, manager of web and creative service, who discussed how she and her team planned and executed their first virtual event.
Why did you decide to conduct a virtual event?
The attendees have to pay their own flight, hotel and conference fee. We had already selected a hotel, and we were hearing from customers that they would not be able to come due to travel budget restrictions. So what do you do [in this case?] Do we have it at a hotel and have a handful of them come? That is a sub-par experience, because part of benefit is a bunch of customers getting to talk to each other, network and share tips and tricks. Another option was to scrap the conference altogether—no one was excited about that idea at all. The conference is so much fun, and we put so much energy into it, that seemed like the worst-case scenario. The executives [then] threw around the idea of going virtual.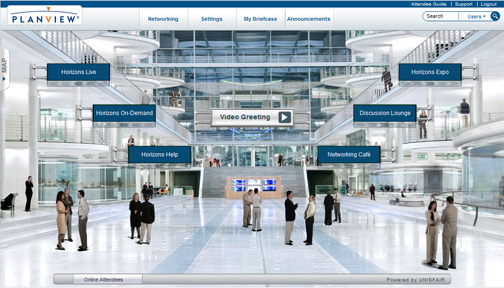 Planview's virtual event.
How did you find your virtual meeting provider?
I attended Virtual Edge, and it was such a great conference. I learned what to expect about virtual events. They had the key vendors demo-ing their environments. [I realized] that we could do something amazing, but it's not cheap. Our event is for our customers, so we don't put on our event to make money.
Why did you select Unisfair?
From the beginning Unisfair stood out. It has a very great point-and-click usability. They are very user friendly, as it had to be easy for the various types of attendees. [My team and I] listed out every single aspect of the physical event down to networking in the halls. Unisfair hit the most on our list.
How did you overcome the digital connection and make it more like face-to-face contact?
Unisfair has some interesting things [to ease the transition] like a chat in the system. We hosted a general chat with our executives in the lounge. We also had a second lounge that was just for a specific topic, and we scheduled Q&A sessions in there. You can chat privately with a booth rep or have a group chat about a topic. You can also chat person-to-person. We had heard that people really used the chat feature—you would be surprised as to how much people used the community aspect—the chat was huge! I also had 112 staffers actively involved in the event itself.
Anything that could have been customized on their platform was—it is set up for customization. We had 15 topical booths with avatars with pictures of that person from the company; it came out great. We also created 50-plus videos, plus pieces of collateral, and we customized the background and the colors. We mailed welcome kits to everyone with a "How To" guide, agenda, T-shirts and really nice notebooks. For live sessions we actually made sure that people came during the conference days. We had one-time-play-only and concurrent events going on. With live Q&A, people would type in their questions.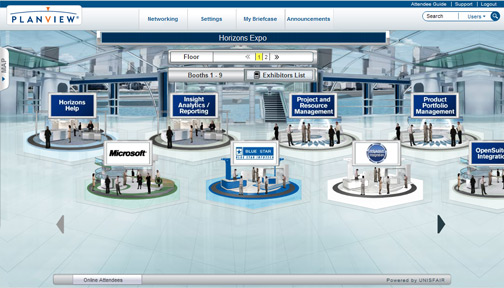 Planview's virtual expo.
How long did it take to put it together?
I did nothing for two quarters except for this—it took about 4.5 months to get this going. It was pretty much all I did from the moment we went down this path and it took a huge amount of people to pull it off. This had to be as good as or better than, our physical conference.
For a virtual event there are so many steps [in creation], then you have post-production and review. For an in-person event, you hook up their computer and let it roll. Because the software a Web application, it's a formal publication process with all the reviews and things in the system.
Was the event as successful as last year? Why?
It was epic, and we were really proud of that. We considered it a huge success, and the customers responded very positively. There was a huge increase in attendance. A lot of them commented on the depth of the conference. We had 80% attendance [out of those who signed up] because people paid for it. We reduced the cost [per attendee]; for the price of one person, they could send five. We also offered catering to the attendee's office. Some groups also went off-site to get away from their desks. We were concerned about the Boomers because they don't chat live, but they were fine. The only negative side was that they missed the party aspect of it, and they missed us and the hugs. But, the vast majority of them would not have been able to come at all.
Would you do an event like this again?
We are going to do a different type of one in February. We are sold on the Unisfair platform and the virtual events as an excellent way to distribute good-quality content and connect with people and get immediate feedback. The trust level is high, and we pride ourselves on our close relationships with our customers. Because there was a trust and they already knew us, the event was all kicked up a notch.
Next year is a bit up for grabs. We need to see what our customers are doing. Our customers will drive the type of event. We would like to do another physical one; in a dream world the event would be a hybrid. They are a lot of options for the hybrids. Virtual events are not cheap and they're labor-intensive; we hired several part-timers. It didn't cost any less than a full physical event at a nice hotel—we took it to that level.
What advice do you have for someone trying to plan a similar event?
I would recommend attending the Virtual Edge Conference in Santa Clara, Calif. It's free to attend. [It's coming up Feb. 22, 23 at the Santa Clara Convention Center.] Read up as much as possible and plan to manage it like a technical project. I did formal project management for this. You can save money by doing as much as possible in-house, but that requires that you have executive buy-in not to pull those resources off-project. The third thing: be aware of time zones and international dialing numbers. Everyone is confused from a global perspective, so we sent a time conversion chart.